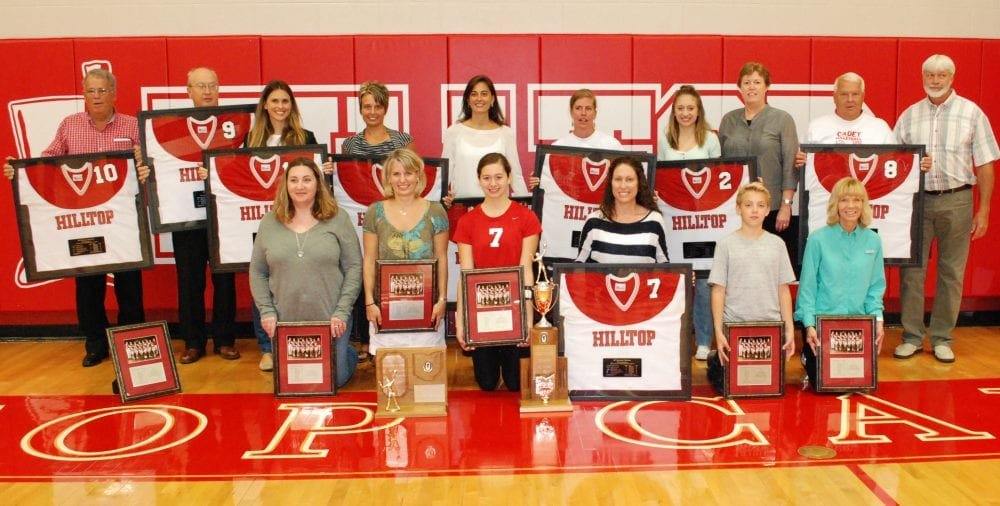 Twenty-five years ago an un-ranked team from Hilltop High School made school history as the only team to win a state championship title. These nine girls did so by defeating Stryker in the district tournament, then Fort Recovery; the defending Division IV state champions in the regional tournament. They followed that up with a win over Convoy Crestview in the semi final match to make it to the State Championship match where they defeated Centerburg in two games; 15-13 and 17-15.
As printed in the November 13, 1991 edition of the Advance Reporter, a huge celebration ensued. It began with a parade through town and then a reception at the high school with family, friends and proclamations by then Mayor Marvin Stuckey. Coach Janice Bruner thanked everyone for their support and noted that determination and team effort were two of the keys to success. Each girl was also given an opportunity to give her thanks before the presentation of the trophy was awarded and the pep band played the fight song.
Saturday, September 17, these girls – along with team members from the 1992 team who made it to the state semi final match – were welcomed back to a new school and a new gymnasium but many of the same fans and a bunch of new ones.
Present for the ceremony were current Superintendent Larry Long, former superintendent James Hutchinson, current principal Steve Riley, former principal and athletic director Mick Belcher and former athletic director Bob Sauder.
Plaques were awarded to 1991 assistant coach Michele Engel, 1992 assistant coach Cristin Hagans and head coach of both seasons, Bruner. A plaque was also presented to manager of the teams Laura Mahan Smith.
Members of the 1991 championship team were: Jennifer Borton Horner, Kris Belcher Parker, Becky Fruchey Lammon, Lynne Borton Roth, Mandy Balser Dunson, Brooke Belcher, Lisa Cromwell Conley, Hollie Borton Heisler and Kris Engel Semrad. They received a frame containing their former championship jersey.
Members of the 1992 semi championship team were: Becky Fruchey Lammon, Lynne Borton Roth, Erica Rooney, Shannon Traxler, Gaye Filip Beckman, Mandy Balser, Brooke Belcher, Lisa Cromwell Conley, Carrie Miller Dennison, Hollie Borton Heisler, Kris Engel Semrad and Tanya Gable Beltz. They received a plaque with their team photo.
While not every woman was able to come back, those that did were treated to a home football game on Friday night followed by a pizza buffet at Wyse Guys. Saturday morning started with a breakfast, the game and celebration and was finished by a luncheon with present team members of the Hilltop Volleyball team.
Televisions in the commons and lobby replayed the championship games and memorabilia from the seasons was set out for old and new fans to view. As with every homecoming, the weekend was filled with stories, hugs and laughter.
Monica Smith may be reached at
monica@thevillagereporter.com