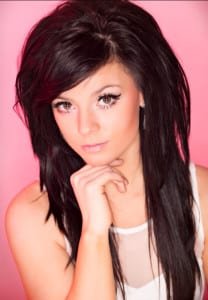 By: T.J. Hug
The Village Reporter
A graduate of Hilltop High School, Taylor Batt heard about the Miss Ohio United States Pageant from a friend on twitter. By the beginning of January, she had decided to compete in the event.
This decision was an unorthodox one, for a very simple reason.
"This is my first pageant." Batt confessed. "I've never done one before."
With this serving as her introduction into the world of pageants, Batt understandably has a few butterflies in her stomach.
"Yeah, I'm a little nervous."
So what made her decide to take part in the contest to begin with?
"I thought it would be a cool and fun opportunity." Batt stated. "You get to promote good causes and be a role model."
There are several reasons why kids, and even adults, should look up to Batt, and this pageant is just one of them. At the top of the list would be her work with Operation Underground Railroad. The organization has made it their mission to stop human trafficking, particularly of children, on a global scale.
Working with the Railroad since well before deciding to do the pageant, Batt cites her mother, Nickie Creamer, as the one who pointed her in their direction.
"My mom had told me about it a while ago." Recited Batts.
The primary goal of Batt's run at queenhood isn't to win, necessarily, though that is a important. But Batt views the Miss Ohio United States Pageant as a big stage she can use to help make people aware of the Underground Railroad, as each contestant has to take up a cause as a requirement of entry.
One aspect of the organization in which Batt would like to emphasize in her fundraising campaign is the travel required for mission trips. Some of those trips cost as much as $25,000.
Yet taking up a cause is but one portion of the competition. As she has no previous experience in pageants, Batt has taken to studying up on what to expect.
"I have been looking up tips for pageants."
There will be four categories in which Batt will have to compete in the pageant. During the competition, contestants will have to take part in an interview, a swim wear competition, an evening wear competition, and an onstage question. That last portion of the contest is perhaps the most nerve racking for her. In order to prepare for the onstage question, she has been looking up questions from previous years. Contestants are not given any indication of what questions they may be asked in the current year, however.
No matter how she performs during the pageant, Batt knows she has a legion of fans cheering her on back in her hometown of West Unity.
"It's crazy." Batt said of her support in West Unity. "It just shows how we all bond together."
That support goes beyond her participation in the Miss Ohio pageant. Currently in her second year at Miami University (in Ohio), Batt is a Pre-Med student majoring in Psychology. Her long term goal is to work in the operating room.
"I want to become a surgeon after medical school."
The pageant will be taking place on March 6 and 7, at the Anderson Center Theater in Cincinnati. Whoever wins the competition will go on to represent the State of Ohio in the Miss United States Pageant.
With her priorities straight and her heart in the right place, Batt will already be a winner, even before she steps onto the stage in the Anderson Center Theater.
T.J. Hug can be reached at
publisher@thevillagereporter.com