HAMER TECH … Related to the late Lou Gerig back row from left to right are great grandson Ian Hoffman, grandson Matt Gerig, son Tom Gerig, grandson Tony Gerig and daughter Cathie Batt; front row – visiting guest Jake Fluke (seated), great granddaughter Kenzi Gerig, great grandson Logan Gerig and great granddaughter Isabella Hoffman. All these were gathered on August 12, 2021 to meet former Hamer Tech basketball player, Jacob Fluke, who came from Bluffton, Indiana to bring a picture of the team. He wanted it to be kept by someone who would know the members and appreciate owning it.
---
By: Rebecca Miller
As the amazing generation in their 90's gather their historical items together and try to determine who would most appreciate them, one such gentleman, Jake Fluke of Bluffton, Indiana, decided to try to find someone in West Unity, Ohio who might want a picture of an almost forgotten Basketball Team.
He drove to West Unity and asked around for anyone that might remember the Hamer Tech team and could find no one.
Eventually someone recognized that one of the players in the picture was the grandfather of Tony Gerig who is the Athletic Director at Hilltop Schools and the father of the secretary, Cathie Batt.
Thus began a wonderful moment for an entire West Unity family and for Mr. Fluke. On Thursday afternoon, August 12, 2021, Mr. Fluke arrived at Hilltop School with his son in law, Gib Young.
The two men had driven all the way from Bluffton just to reconnect this piece of history with someone else who might be happy to see it and to meet them. Mrs. Batt had gathered her brother, and other family members at the school office and they welcomed him with joy.
Fluke is the last living member of the team that is in the picture that he brought. Mrs. Batt shared that there is one other Hamer Tech substitute player, Paul Koch, who is also still living, but he was not in any of the pictures they found, and he was unable to attend the small gathering.
His brother, Shorty (Darrell) Koch, was on the team and Paul Koch said they would call him when they needed a sub.
All this was centered around a Basketball team from the 1940's called Hamer Tech. Mrs. Batt explained that there was a little grocery store on Rt. 127 called Hamer's and the guys who started the team thought it would be fun to name the team in a way that sounded like they were a college level team.
The players were all in their 20's and had finished school but still wanted to compete in their beloved sport so they competed against a number of other area young men's teams.
Many of them had already returned from their service in the military and were in great shape to play basketball. Home games were played in the gym at Hilltop that was called "the dungeon." They played lots of away games also, all over southern Michigan, Ohio and Indiana.
When Mr. Fluke arrived everyone shook hands and welcomed him and immediately began connecting. Mr. Fluke played with the Semi-pro team for one year, 1946-47, while he was living with his family, Ralph and Elizabeth Walker, in West Unity that year.
Many of his family members lived in the area and over the years he has visited there often, but that year, while living there, someone found out he liked to play basketball and they invited him to be on the team. "It was great," Mr. Fluke said. "We had a lot of fun and it was good to be around other guys who had been in the military like I had."
Mrs. Batt's father, Lou (Lloyd) Gerig, graduated in 1944 and was on the team. The picture they were excited to share along with a number of others which were brought by Mrs. Batt's brother Tom Gerig, was from 1946-47.
Mr. Fluke's brother in law came home from the South Pacific and was not well so Jake spent the winter with them to help care for him.
He worked at Yeagers and was playing basketball with the American Legion. "Some nights I played two games a night!" he said, "We won the trophy at Defiance College after we played three games one night."
"We beat Ney in the Championship Game. We played a team called Tony's Bumpshop and Ned Garver was on that team." He chuckled and said he had a double foul in every game that night.
Mrs. Batt asked him questions about her parents, but his memories were pretty much of the basketball team and games. He did remember the couples who got married coming to see him in Indiana and continuing their friendships.
He looked at the picture and named every one of the members with whom he played. He and Tom and Cathie reminisced about each member and what he remembered. He said he didn't know who sponsored the team but said, "They got a big kick out of calling it Hamer Tech."
Presently Mr. Fluke lives in a Retirement Home in Bluffton, Indiana and said that he and his son in law really enjoyed the ride to West Unity. He remembered the winter he was in West Unity, they went to the funeral home to see in the New Year with Bill and some others.
He was happy to meet the principal, Steve Riley, and Superintendent Jim Wyse, who both said they were honored to meet him.
They all spoke of how the school teams are rated, how they all love to watch them play and how athletically minded they all are or have been.
It was evident that Mr. Fluke never lost interest in playing or watching basketball and just about any sport available to watch. He still buys a season ticket for his area teams even though he can't go and watch them anymore. Basketball is surely deep in his heart and he still loves to talk about it.
The Lou Gerig family members who were present gathered around Mr. Fluke, and the pictures and keepsakes which Tom Gerig had brought for the event, to get some historical pictures taken.
Tom held his dad's jacket to be a part of the picture. The young ones got to see the importance of history during this moment, hearing their parents, grandparents and Aunt talk about the past with such excitement and joy.
Rebecca can be reached at publisher@thevillagereporter.com
---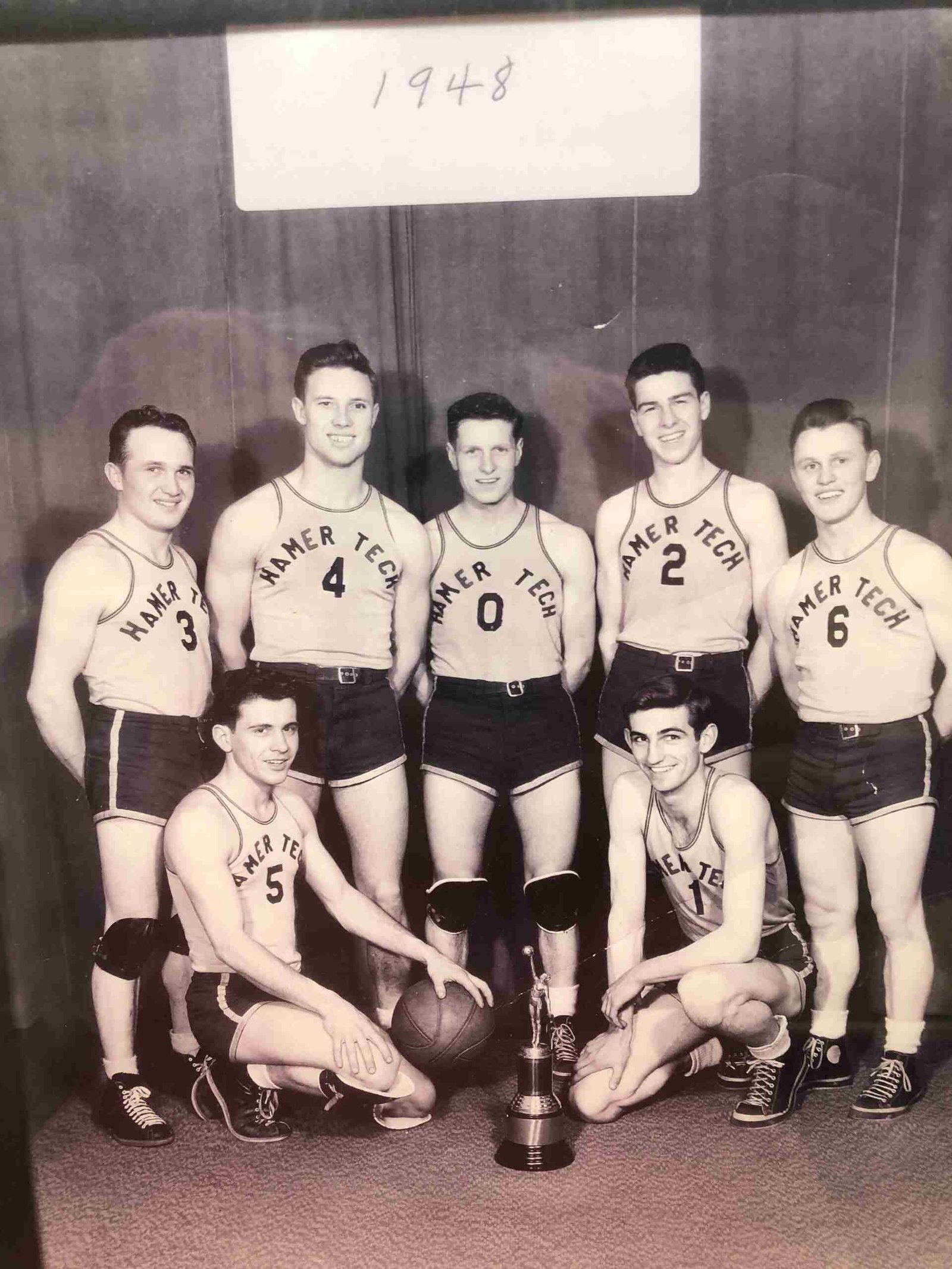 MEMORIES … Hamer Tech Basketball Team picture for the 1946-47 year included #1 Jake Fluke who was the center of attention at a mini "reunion" on August 12, 2021. The rest of the members in the picture that brought this gathering into being were #2 Chuck Chamberlin, #4 Bill Hollingshead, #0 Lou (Lloyd) Gerig, #7 Dale Hornung, #3 Jake Myers and #5 Shorty (Darrell) Koch.
---