Northwest Ohio native, Jesse Houk is poised to bring Hollywood to his hometown of Pioneer, Ohio. He is the writer and producer of a high school comedy called SIEGFRIED THE BOY, which is in the vein of EASY A and JUNO, with a touch of NAPOLEON DYNAMITE.
SIEGFRIED THE BOY is a movie project that has been picking up momentum. In addition to receiving a favorable review from a former SATURDAY NIGHT LIVE writer, Houk has received a letter of intent from one of Hollywood's hottest up-and-coming actors.
"I've always wanted to bring the excitement of Hollywood back to where I grew up," said Houk. "Ohio has many great locations that have never been used in a feature film and I would like to show them off to the rest of the world. I would also love to give the people of Ohio a chance to get behind the scenes and see how movies are made."
While on a visit in January, Houk and his producing partner/actress wife, Holly, were able to scout out locations. They received permission from North Central Local Schools Superintendent, Ken Boyer and the school board, to use the same high school that Houk graduated from in 2000.
"We received permission to shoot at some great locations including a leather shop, a pig farm, and my old high school," said Houk. "I think it's awesome that we'll be shooting this film in the very halls that I walked during my school days."
Houk said they are in discussions with several directors and are looking to expand the number of committed named actors. Houk plans on blending Hollywood talent with regional actors that he has become acquainted with over the years.
"I know some very talented regional actors, some of the funniest people I know," said Houk. "I want SIEGFRIED THE BOY to be a collaborative effort between the pros of Hollywood and regional actors that are looking for a chance to breakout."
Houk plans on shooting the movie in July of 2014, but still has some investments he needs to raise in order to pull every piece of the project together. He and his wife have created a Kickstarter video campaign, which features actor and comedian Andy Dick, which can be viewed at https://www.kickstarter.com/projects/siegfriedtheboy/siegfried-the-boy?ref=live or by going to www.kickstarter.com and searching for SIEGFRIED THE BOY.
Kickstarter is the world's largest platform for funding creative projects. It allows anyone to contribute directly to projects they believe in. Houk is hoping a lot of people believe in his project.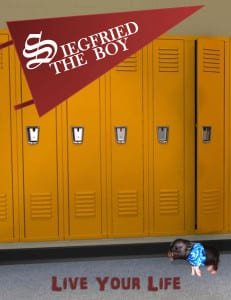 "Although we have made great progress on SIEGFRIED THE BOY, we still need help raising funds. This is a dream of mine and I'm hoping that people show up in a big way and help me accomplish something I could never do on my own."