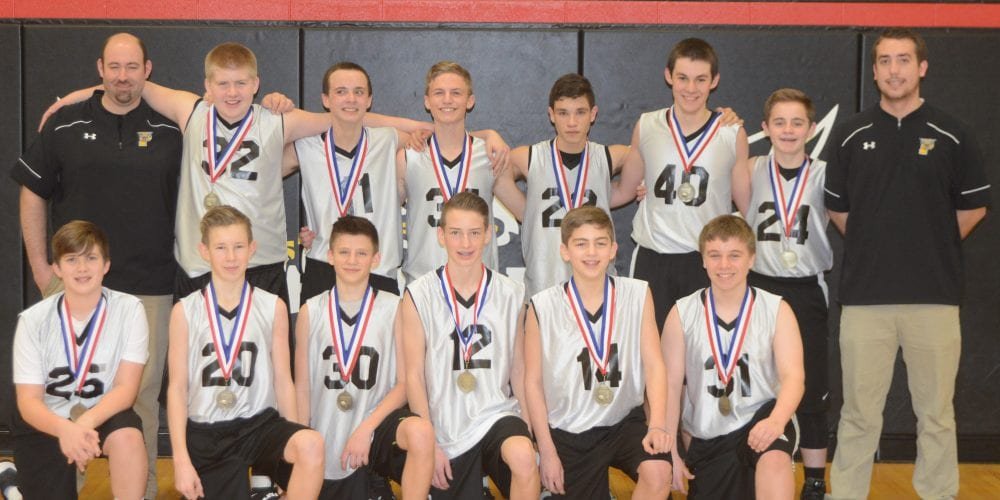 The Pettisville Blackbirds and the Stryker Panthers met in the North Central gymnasium on the morning of February 11 to contend for the 2016-17 eighth grade boys' championship of the Buckeye Border Conference. After a back and forth first half, the Blackbirds' long range attack threatened to blow out the Panther Pack, but it was Pettisville that had to withstand a furious fourth quarter onslaught in order to secure the championship with a 44-42 win.
Spencer Clingaman opened with a trifecta for Stryker, but Brayden Barrett promptly returned the favor for Pettisville. Neither team was able to distance itself from the other, and the first half ended in a 13-13 stalemate.
The Blackbirds dialed in their long distance game in the third period, with Barrett and Max Leppelmeier each splashing down a pair of trifectas. Isaac St. John added a pair of field goals in a period where the Panthers found themselves hanging on for dear life. Late in the period though, Stryker got off the mat and began a comeback. By the end of the third, they had whittled the deficit down to seven at 31-24.
In the final frame, Clingaman and Kaleb Holsopple became a two-man wrecking crew for the Panthers. Clingaman canned two deuces and another trey, and Holsopple went off for a field goal and a trio of threes. Stryker put in 18 points in the period, but Leppelmeier drained two more threes and St. John posted another pair of field goals to help Pettisville keep pace. The clock killed the Stryker rally two points short of the tying mark.
Leppelmeier and St. John each had a team high 14 points for the BBC Champion Blackbirds, with Barrett finishing with 9. Holsopple led all scorers with 19 for the Panthers, while Clingaman and Brandon Bowers each added 10.
Timothy Kays can be reached at tim@thevillagereporter.com