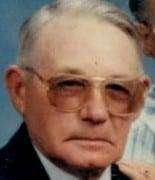 ---
Kenneth E. Norrick, age 103, of Bryan, Ohio, died at 8:20 P.M. on Saturday, August 4, 2018 at Park View Nursing Center in Edgerton where he was a resident. Kenneth retired from GM PowerTrain in Defiance on June 30, 1978 with 24 years of service. He was also a long time farmer. He was a member of the West Unity Church of Christ.

Kenneth E. Norrick was born on June 29, 1915, in Farmer Township, Ohio, the son of William E. and Cassie M. (Core) Norrick. He was a 1933 graduate of Farmer High School. He married Olive Smith on July 12, 1937 and she preceded him in death on January 15, 1990; he later married Florence (Pontius) in 1991 and she died in 1994 and he married Rachel (Byers) in 1995 and she died in 2015.

Kenneth is survived by his children, Shirley (Don) Ridenour, of Coldwater, Michigan, Charlotte Rettig, of Holgate, Ohio, Lee (Jane) Norrick, of Edon, Cassandra (Andy) Hasty, of Hawkins, Texas, Juanita Venderley, of Fort Wayne and Dawn (Paul) Crawford, of Oakdale, Minnesota; 20 grandchildren; many great grandchildren, great-great grandchildren, step grand children, step great grandchildren and step great-great grandchildren and one sister, VeNeta Taylor, of Williamsburg, Virginia. He was preceded in death by his parents, wives, daughter, Rhonda Vaccaro; son, Kenneth "Sonny" Norrick, Jr.; brothers, Kermit and Richard Norrick and sisters, Eleanor Blosser and Betty Christman.

Visitation for Kenneth will be held on Friday, August 10, 2018 from 11:00 A.M. until the funeral service begins at 1:00 P.M. at Krill Funeral Home, 860 West Mulberry Street, Bryan with Pastor Jay Stoner officiating. Burial will follow the service in Farmer Cemetery.

Memorial donations are requested to the American Cancer Society or Great Lakes Caring Hospice.