---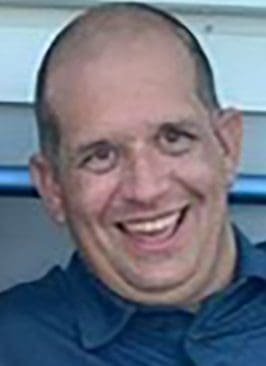 Kevin Lee Moore was born in Montpelier, Ohio, on January 31, 1978. He was healed by receiving his new and perfect body in heaven on August 17, 2023.
He took his last breaths while surrounded by his parents and siblings: Darold and Cathy Moore, Kristina Hutchinson, Kaleb and Denise Moore, and Kurtis and Catie Moore.
Kevin loved his immediate and extended family and was a proud uncle to many nephews and nieces: Logan Hutchinson (Savannah and Wesley), Tre Hutchinson (Kimberly), Kaity Jo Baldwin, Dawson Moore, Mya Moore, Baylee Moore, and Brynnlee Moore.
However, this is not where his love ended, as he was a firm believer that blood was not the only thing that made him an uncle. He was also "Uncle Kevin" to other families, including the Saneholtzes, Saneholtzes (Sloans), Smiths, and many more.
Most will remember Kevin for his love of all thing's sports including officiating for over 25 years, his passion for his dogs, his sarcastic humor, his dance moves, and his large belly laughs.
He was always ready for a debate, whether it be about the world's problems, history, religion, or anything random.
He didn't lack for an opinion and was perfectly confident about sharing it. After walking through decades of sickness, Kevin's family and friends are rejoicing with him that he is now healed according to the promise of Revelation 21:4: "He will wipe away every tear from their eyes. There will be no more death or mourning or crying or pain, for the old order of things has passed."
Kevin's family welcomes your love and laughter at a Visitation and Memorial Celebration held at New Hope Community Church (203 Old Farm Trail, Bryan, Ohio). Visitation will be on Tuesday, August 22, 2023, from 2:00–7:00 p.m. Memorial Celebration and Tailgate will be on Wednesday, August 23, 2023, at 5:30 p.m. with tailgate to follow.  Additionally, for both gatherings, his family asks for you to come comfortably dressed in your favorite sports attire and jeans, as they know this is what Kevin would prefer. GO BUCKS!!!
Memorials can be made to the family (c/o Kaleb Moore) to offset the cost of Kevin's final arrangements.  Arrangements have been entrusted to the Thompson Funeral Home in Montpelier.
Condolences for the family can be left at www.thethompsonfuneralhome.com