---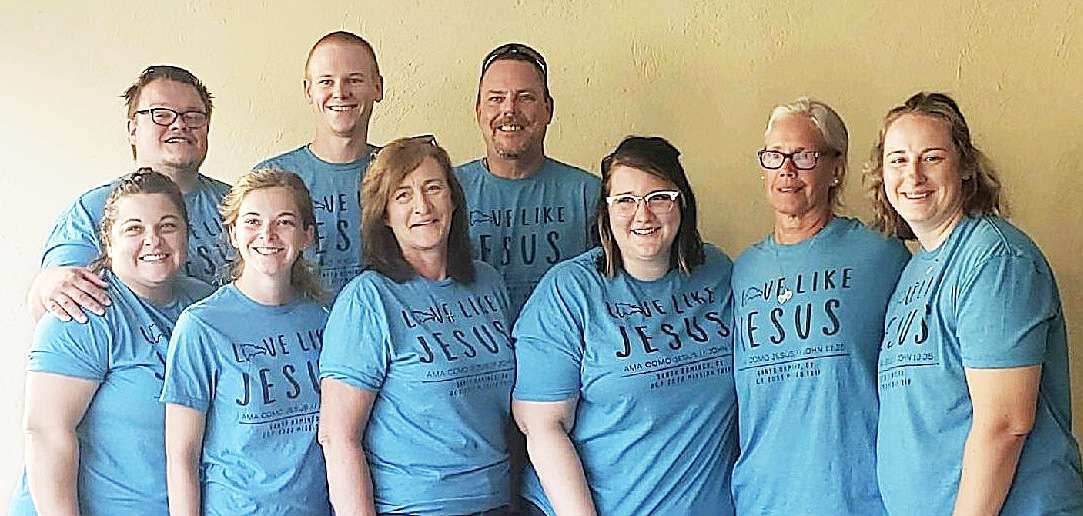 OCTOBER 22 TEAM … Sporting their team shirts that say Love Like Jesus, in English and in Spanish, the mission team who went to Santo Domingo from Life Changing Church was made up of (back row) Mitchell Smith, Tanner Wall and Scott Ray; (front row) Aleasha Smith, Aleesha Wall, Amy Ray, Tori flower, Rhonda Walz and Dani Brubaker. (PHOTO PROVIDED)
---
By Rebecca Miller
For many years, teams of volunteers from Life Changing Church (LCC), which used to be Life Changing Realities Fellowship or LCRF, in Edgerton, Ohio, have been going to the same place in Santo Domingo on mission trips.
Due to COVID there have been a few years off, so they were happy to return this year.
Team member Tori Flower has gone a few times and shared in an interview, how great it was to get back there and see the recognition in the eyes of the children and the friends she had made in the past.
The 2022 mission team was made up of three couples and three singles, all eager to help in any way they could.
LCC has is connected with Iglesias Grand Commission (IGC) in Santo Domingo and helps them in their mission to build homes for the needy there in their country.
In Nigua, a nearby city about 30-40 minutes away, the team joined in with the workers from IGC to build a home for an older gentleman, this time.
He was living alone and was in need of a better home, so they tore down his old one and began the process of building a new house of cinder blocks, which will last a long time.
Each time they go, they either join in to finish a house that has been started or they start a new one that is completed by the home team after they come back to the states.
The mission trip lasted one week and included time spent building, visiting with the local people, as well as sorting and delivering a great number of items they had taken along to give away.
Each year they have asked what is needed and this time they were told that backpacks would be a great help.
LCC put out the word and they were able to take along over 100 backpacks. They also took items like school supplies, sandals, under ware, household needs, and diapers.
One team member got to help deliver some of the diapers to the Intensive Care unit of a hospital.
Mothers there are required to supply six diapers per day for their babies who are in ICU and this will be a great help for them.
As they are working on the house, and are out and about amongst the people, they have opportunity to share Christ with individuals.
"There is always someone around who can translate for you, so the language is not a barrier," Flower explained.
"We took colorful bracelets and gospel tract cards along with us and the kids would ask for a bracelet."
"When they did, we would take the opportunity to explain the plan of salvation and how to meet Jesus, to them."
Many of the older people are just blessed to have someone sit with them, she said. They are often lonely and welcome the fact that they have company.
For Flower, a few of the highlights this trip involved moments like that, where they were joyfully welcomed by people who just needed some human contact.
They got to go visit a lady who had been the recipient of one of the first houses they helped to build and her response to their visit was heart-warming.
They also visited the family of a boy who has micro acephaly, due to his mom having the Zika virus when she was pregnant with him.
Rando is almost six now and he remembered when another team had come to see them. "It was special to see how relationships can pick right back up," Flower said.
The trip costs around $2,000 per person, they stay in homes of people from their host church, and the mission lasts a week.
While there they work with the Dominican contractor and his team, as well as getting to fellowship with others who are part of the church there. It is all a very fulfilling experience.
In the past they have sent two teams a year but are hoping to begin sending four teams a year to offer the opportunity to more people.
Rebecca can be reached at rebecca@thevillagereporter.com
---