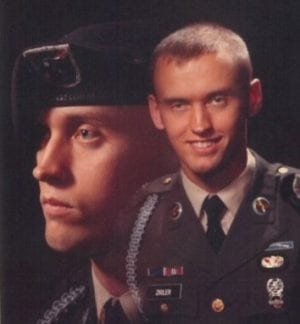 Lyle W. Zigler, 58 years, of Dickinson, Texas, passed away unexpectedly on Monday, December 4, 2017 at his residence.
Lyle was born February 2, 1959 in Bryan, Ohio, the youngest son of the late Glen J. and Wilma (Schrock) Zigler.  He was a 1977 graduate of Bryan High School and later graduated from Alvin Community College, Alvin, Texas.
Lyle served his country from 1977 to 1994 in the United States Army, achieving the rank of Sergeant First Class.  He served in the Special Forces as an Airborne Army Ranger with the 1st Battalion, 75th Infantry Group, and was honorable discharged in August 1994.  After his military retirement, Lyle was employed for the past 19 years for Home Depot, Galveston, Texas.  For the past 17 years, Lyle was a DJ for a Friday night radio show for 89.7 KACC Radio, Alvin, Texas, with many loyal listeners.
Lyle is survived by a daughter, Cody Livingston, Laramie, Wyoming; two grandchildren; two brothers, Lee (Cindi) Zigler of Bryan, Ohio and LaMar (Sandy) Zigler of Columbus, Ohio; one sister, Lori (Al) Peugeot of Sandusky, Ohio along with two nieces and seven nephews, nine great-nieces and five great-nephews.  He was preceded in death by his parents and maternal and paternal grandparents.
Graveside funeral services for Lyle W. Zigler will be held at 11:00 a.m. Saturday, April 14, 2018 in Fountain Grove Cemetery, Bryan with Pastor Bill Holsopple officiating.  Military Graveside Rites will be accorded by the Bryan VFW Post 2489.  Arrangements are under the care of Oberlin-Turnbull Funeral Home, Bryan.
Lyle will be remembered as a person with a positive attitude.  He always tried to brighten everyone's day and was always there to help those in need.  He will be missed by many friends and KACC Radio fans in the Galveston, Texas area and by his family in Ohio.
In lieu of flowers, those planning an expression of sympathy are asked to consider memorial donations be given to Lick Creek Church of the Brethren, 1500 Center Street, Bryan, Ohio 43506.
You can send your condolences or share your memories with the family by visiting his obituary page at www.oberlinturnbull.com