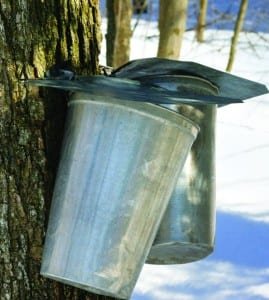 It's that time of year for the Annual Maple Syrup Day on Saturday, March 23rd. This year's event will be held in conjunction with the Northwest Ohio Woodland & Wildlife Family Festival at the Williams County Fairgrounds in Montpelier, Ohio.
[emember_protected custom_msg="Full content protected for online subscribers. Purchase a one week subscription from the top menu bar for just $1.99 to read all online content (full access). Longer subscription plans are also available. Subscriptions cover our costs to attend local events; bringing forth Hometown News Coverage to our communities."]
Events begin at 8:00 a.m. and continue until noon in the Gillette Building with pancakes and sausage prepared by the Williams County Fair Foundation topped with "real" maple syrup provided by the Northwest Ohio Maple Syrup Producers. Breakfast will be served starting at 7:30 a.m. and there will be 2 serving lines to better serve those attending. Handicap parking will be available on the west side of the Gillette Building. Both the east and west entrances will be open.
Horse drawn wagons (weather permitting) will be on hand for rides across the covered bridge to the sugar shack. The sugar shack is complete with an evaporator, holding tank and filtering unit. See both the tree tapping process of gathering the sap and the boiling process in the evaporator until the sap becomes syrup.
The Woodland events of the festival will include a portable sawmill demonstration, chainsaw carver, the 'dos and don'ts' of chainsaw safety, basics of hunting edible mushrooms, samples of native hardwoods, blacksmith & logging tools and Indian artifacts.
John Mueller and Joe Puperi, Division of Forestry, will be available to answer all your tree and forestry questions!
The Wildlife events will include an exhibit of pelts and animal mounts, live raptors from the Black Swamp Raptor Rehab Center, what's the 'Buzz on Bees' from a local beekeeper, make rope the old-fashioned way, learn about wildlife programs from the Division of Wildlife and Pheasants Forever, 'Incorporating wild ones, native plants, and natural landscapes into your landscape', get updated on 'What's the Backyard Buzz', updates on the restoration and hunting of wild turkeys from the National Wild Turkey Federation, and find out the latest on invasive species in our area.
There will also be representatives and displays from the following organizations: Williams County Master Gardeners, Montpelier Tree Commission, Maumee Valley Archeological Society, Northwest Ohio Soil & Water Conservation District Joint Display, and Project Learning Tree.
The Northwest Ohio Maple Syrup Producers will have real maple syrup products that can be purchased along with maple sugar, maple cotton candy, and maple fudge. Kettle corn from 'Poppin George' will also be available to purchase.
The Williams Soil & Water Conservation District will have tree seedlings for sale during their annual seedling sale.
So bring your family and friends to the Williams County Fairgrounds in Montpelier, Ohio, on Saturday, March 23, for a fun-filled day while enjoying "real" maple syrup, pancakes and sausage, plus loads of woodland and wildlife fun! There is no charge for the events or entry to the fairgrounds; there is a charge for the breakfast.
This event is being sponsored by the Northwest Ohio Maple Syrup Producers, Williams County Fair Foundation, Williams County Senior Fair Board, ODNR Division of Forestry, Soil and Water Conservation Districts of Northwestern Ohio, Ohio State University Extension Williams County, and the Williams Soil and Water Conservation District.
If you would like more information, contact the Williams Soil and Water Conservation District at 419-636-9395 or 419-636-2349 ext. 3.
[/emember_protected]