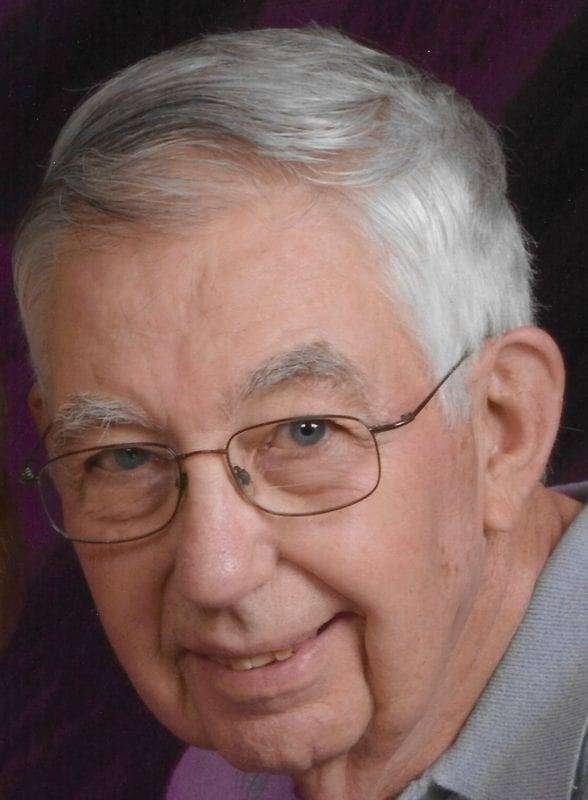 Marvin Boehm, 80, passed away June 8, 2018, at Hicksville Hospital as a result of a heart attack. Marvin was a lifetime member of the rural Sherwood community and St. John Lutheran Church, born to Louis and Helen Boehm and graduated as valedictorian of Mark Township High School in 1955. He served two years in the US Army and was a devoted patriot. He loved farming as his father did and enjoyed collecting trains, operating his excavator, and time with family, including annual hot dog roasts in the woods.
Marv was married to Janet Louise Cline on June 19, 1960 in Mark Center, Ohio. They were married for 43 years until Janet died on January 15, 2003, and had three daughters who survive, Jennie Bishop of Deltona, Florida, Susan (Curt) Dhaenens of Sherwood and Holly (Rob Loveless, deceased) Boehm of Bradenton, Florida . Marv had five grandchildren: Vashti (Jeff) Bishop-Walker, Christianna Bishop, Kimberly (Randy) Wieland-Schmeltz, Nathan Dhaenens and Caleb Dhaenens and three great-grandsons.
In 2004, Marvin married Roa Yvonne (Rohn) Cline. Four stepchildren survive, Larry (Marie) Cline of Defiance, Paul Cline of Pierceton, Indiana, Sharon Schlater of Defiance, and Todd (Jessica) Cline of Fisher, Indiana. Marv enjoyed 6 step-grandchildren: Chris (Misty) Cline, Caleb Cline, Nathan Cline, Shaunte (Alex) Vasquez, Jamie Ridenour and Josh Cline, and three step-greatgrandchildren with Roa.
Marv worked in television repair right after high school, and at Fulton Tubing in Archbold for 6 years. He farmed with his father all his life, and operated his own insurance agency with German Mutual for more than 20 years, traveling and serving on the board. For a time he served as a board member at Defiance County Landmark. At St. John Marv managed the cemetery plots for years as a church trustee, and enjoyed supporting the VBS program. He also enjoyed serving the Mark Center Alumni for years.
Funeral Services for Marvin L. Boehm will be held 11:00 a.m. on Thursday, June 14, 2018 at St. John Lutheran, 9088 Openlander Road, Sherwood, Ohio with Pastor Eric Moquin officiating. Interment will follow in Sherwood Cemetery. Visitation will be held from 2:00-4:00 PM and 6:00-8:00 PM on Wednesday, June 13 at Oberlin-Turnbull Funeral Home, 230 East Elm Street, Sherwood, Ohio.
Those planning an expression of sympathy are asked to consider memorial contributions be made to St. John Lutheran Church or St. John Lutheran Church Building Fund. Condolences may be sent to the family or the online guest book may be signed at www.oberlinturnbull.com
---