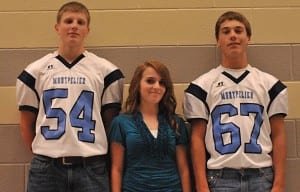 ---
It's Homecoming Week at Montpelier High School. The Court is mostly set, but the drama of who will be named King and Queen is still unresolved. There are three senior attendants (making three possible Homecoming Queens).
One such attendant is Lauren Dye, daughter of Roberta and Scott Dye. Lauren has an older brother, Devin, who is 21. Lauren is involved in basketball, softball, Fellowship of Christian Athletes, and National Honor Society at school as well as being the student council secretary and the Senior Class Vice President. Outside of school, Miss Dye is a part of Bridgewater Community Church; she also works at Cool Beanz. In what free time she has, Lauren enjoys hanging out with friends and family, playing basketball, backyard volleyball, and listening to music. Lauren plans to attend Bowling Green State University and major in Early Childhood Education. Miss Dye will be escorted by Collin Mercer, son of Danette and Dough Mercer, and Corbynn Hamrick, son of Kim Sentle and Gary Hamrick.
Miss Kitana Phouthavanh is also a senior attendant and, thus, a candidate for Homecoming Queen honors. Kitana is daughter of Chala and Tie Phouthavanh; she also has a younger brother, Raven. In school, Kitana is active in cheerleading and a member of NTHS at Four County Career Center. In her free time, Kitana likes reading, dancing, cooking, and hanging out with friends and family. Upon graduation, Kitana plans to go to either The Ohio State University or the University of Cincinati to major in biology and then attend medical school for dermatology or pediatrics. Miss Phouthavanh will be escorted by Tyler Benner, son of Jennifer and Jay Benner, and Daniel Hand, son of Liz Sisco.
Last but not least, Montpelier's third queen candidate is Miss Cassandra Rudolph, daughter of Candi and Terry Rudolph. She has an older sister, Julia, and three dogs, one cat, and a guinea pig. Cassandra is a cheerleader for both football and basketball as well as being active in choir, track, and student council. Out of school, Miss Rudolph attends House of Prayer where she is involved in the student leadership program, and Cassandra also works at Miller's New Market. After graduation, Miss Rudolph plans to intern at the Honors Academy in Texas for a year, find a suitable college, and eventually have a family with whom she can travel the world and attain her life's goal: to live, laugh, and love. Miss Rudolph will be escorted by Alexander Cook, son of Rhonda and Carl Cook, and Jonathan Kulpinski, son of Angela Gearhart and Mathew Kulpinski.
The junior class attendant, is Miss Amber Cooley. She is the daughter of Cyndi and Troy Cooley and has an older sister, Kelsey, 20, younger brother, Stephan, 14, and a younger sister, Lauren, 11. Amber attends Life Changing Realities in Edgerton as well as working at McDonalds. She also enjoys hanging out with friends and spending time with her family. After high school, Miss Cooley plans to go to college to become a deaycare teacher, work part time, and spend her free time with Kinley. Miss Cooley will be escorted by Keegan Hitzman, son of Wendy Porath and Jason Stahler, and Sean Taylor, son of Erica Taylor and Terry taylor.
Representing the sophomore class as attendant is Miss Kayla Schlosser, daughter of Carl Schlosser and Dawn Klender. Kayla is the baby of the family with three older siblings; two older brothers, Brandon Schlosser and Kyle Klender, and one older sister who was recently married, Jennifer Coleman. In school, Kayla is active in cheerleading, archery, and Spanish Club. When school isn't in session, Miss Schlosser fills her time attending Solid Rock Community Church and, in her free time, enjoys hanging out with friends and practicing shooting her bow. After high school, Kayla plans to attend college and do something with animals such as become a veterinarian or a marine biologist. Miss Schlosser will be escorted by Tyler McDaniel, son of Gail McDaniel and Steve Sanders, and Nate McCord, son of Jen and Paul McCord.
Last but not least, Miss Mikayla Schilt will be the freshmen class attendant. Mikayla is daughter of Tiffany Schilt and Reymond Pelland and has one sister, Whitney, and three brothers, Gavin, Connor, and Drake. In school, Mikayla is active in softball. Outside of school, she attends Life Changing Realities in Edgerton and, in her free time, enjoys hanging out with her friends and listening to music. In the future, Miss Schilt plans to go to college and become a nurse or a cosmetologist. Mikayla will be escorted by Jordan Birdsall, son of Tammy Hutchison and Dave Birdsall, and Alex Zuver, son of Andy Zuver and the late Kristy Stuckey.