---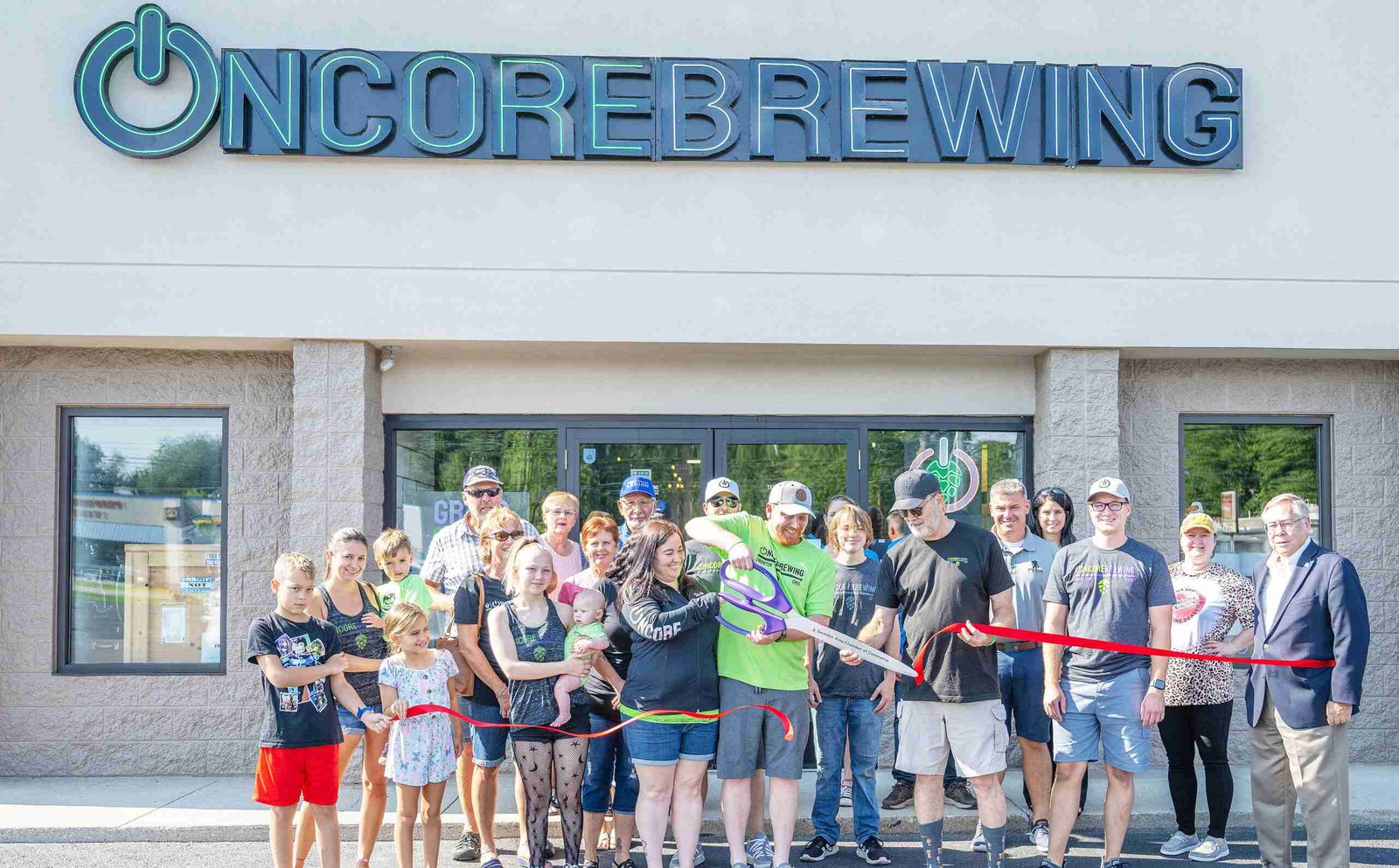 RIBBON CUTTING … The owners of Oncore Brewing, friends, family, and Swanton village officials participate in the ribbon cutting for the new business. (PHOTO BY JACOB KESSLER, STAFF)
---
By: Jacob Kessler
The Oncore Brewing Company in Swanton held a ribbon cutting to celebrate the new company on Thursday, July 28th.
The new brewery is located at 14249 Airport Highway and will be officially opening to the public on August 6th. The brewery will be offering thirteen different craft beers.
In the future, the hope is to also serve ciders, hard lemonades, meads and possibly a house made root beer.
These additional selections will become available once a wine license is obtained. Owner Keith Baker explained that a wine license is needed in order to make additional beverages that are not beers, but wine is not anticipated in the future at this time.
Mr. Baker also explained that he has been home brewing for around fifteen years.
The company name is a tribute to his father who was a drummer in a band. When he was trying to come up with a name, he remembered when people would chant encore for his dad's band when he played, and he thought this would make a good name.
Mr. Baker also explained that he has been a local electrician for the past 23 years. "I love being an electrician. It provided me with a great life. I'm excited to turn my hobby into my job and my job will become my hobby."
Much excitement has surrounded the opening of the new brewery, especially with the soft openings that have taken place.
This has helped Baker and business partner Dale Black know that they will be a success. "I am really looking forward to the future. I want to make sure people know that we want to have something for everyone from all walks of life, to come in and have a good time, enjoy the beer and each other's company in a relaxed environment."
"The people here in Swanton have been absolutely incredible and welcoming. There are so many people we want to say thanks to for the overwhelming support," said Baker.
Jacob can be reached at jacob@thevillagereporter.com
---