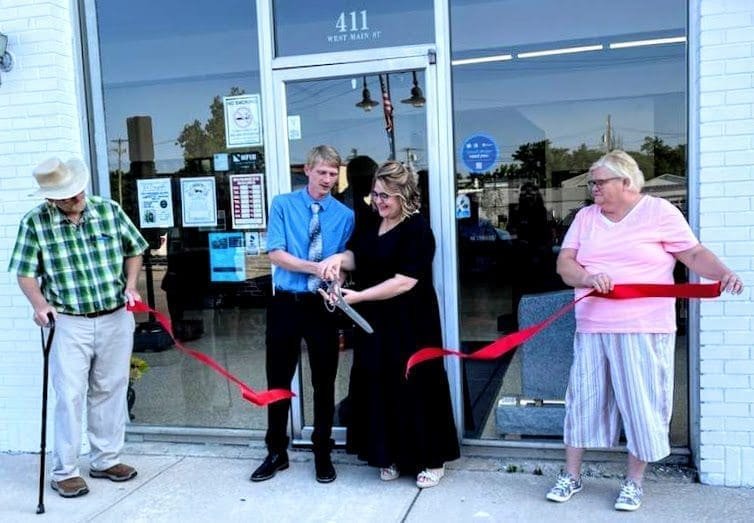 By: Anna Wozniak
THE VILLAGE REPORTER
Main Street Montpelier saw some early morning activity on Monday, July 10, 2023. At 8 a.m., Fackler Monument Company, Inc. and Montpelier Chamber of Commerce members gathered at 411 West Main Street to celebrate the commemoration of the business being handed down to yet another generation.
The first owners, Leo and Edith Fackler, founded Fackler Monument Company, Inc. in 1924. Then George Roerig, already an experienced monument businessman, purchased the business in 1966 with his wife Agnes. George, Agnes, and their 8 children packed up to move to Montpelier.
It was thereafter that George, along with his sons Jerry, Paul, and Dan, built the company up to one of the largest of its kind in the tri-state area.
In 1996, Mr. George Roerig passed down the ownership of Fackler Monument to his son Dan, and Dan's wife, Andrea.
When Dan passed away in 2007, Andrea became the sole owner -until both she and George passed away in 2020.
In March of 2022, Paul Roerig Jr. and soon to be Mrs. Sierra (Savage) Roerig moved to Montpelier to purchase the company -making it officially a third-generation family business on May 4, 2023.
Paul and Sierra plan on continuing the great craftsmanship and service that Fackler Monument Company Inc. has a reputation for.
They also said they "just wanted to let the community know that the business is still in the Roerig family, and that we are excited to continue the tradition of serving the families of the tri-state area for generations to come."
Anna can be reached at anna@thevillagereporter.com
---