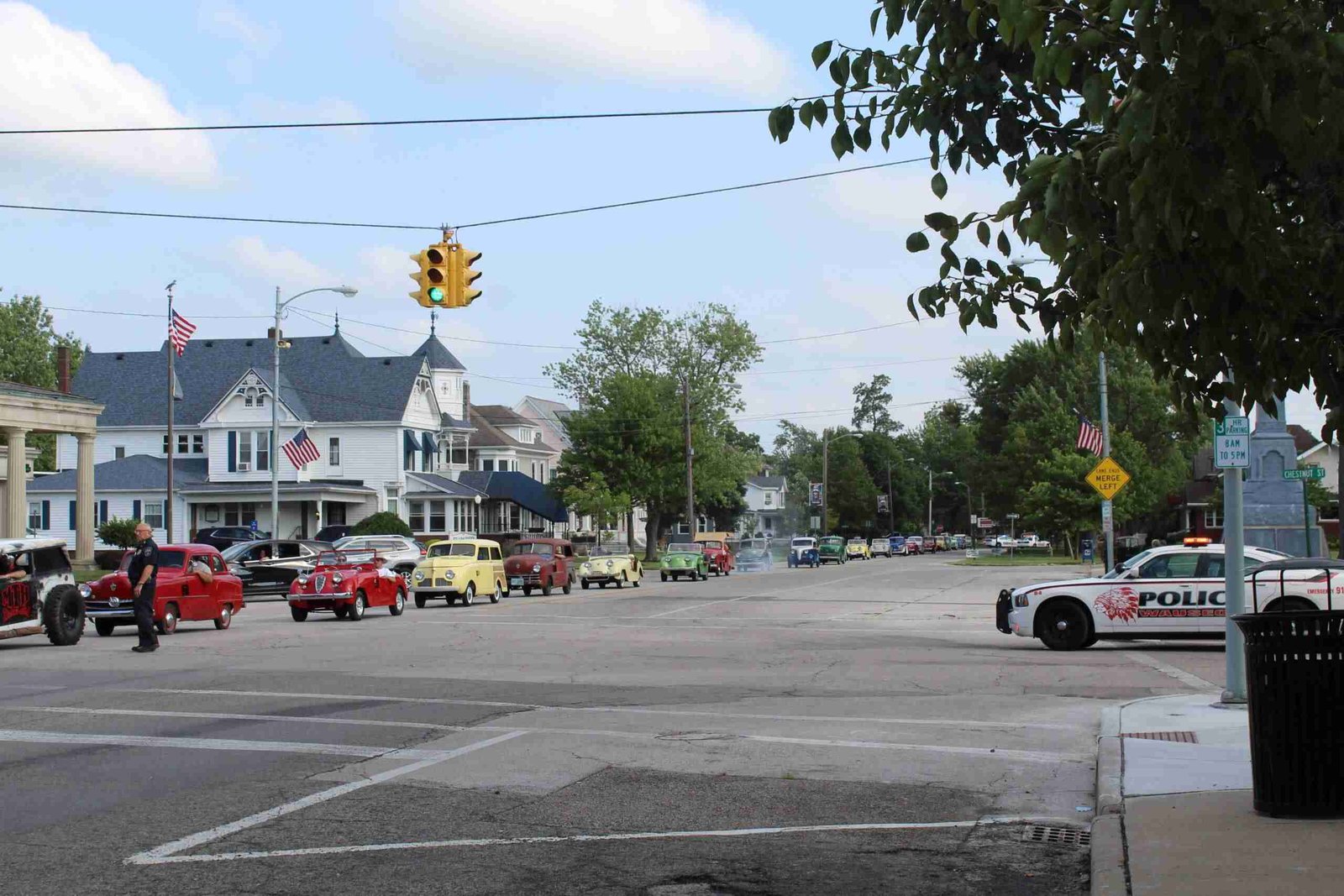 CROSLEY PARADE … The Crosley Auto Club held their road rally on Thursday July 8th. The rally was escorted by the Wauseon Police Department as they drove from the fairgrounds in Wauseon to downtown Wauseon. The cars drove around South Park before heading back up Fulton Street to go to their destination of Tiny's Dairy Barn. (PHOTO BY JACOB KESSLER, STAFF)
---
By: Jacob Kessler
The Crosley Auto Club met at the Fulton County Fairgrounds in Wauseon for an event that lasted from July 8th to July 10th. The Crosley automobiles are a smaller economy and are sometimes mentioned as no-frills cars.
The Crosley company started making vehicles in 1939 with the slogan Crosley a fine car and ended production in 1952. Crosley made all kinds of vehicles from sports cars, trucks, sedans, and farming vehicles.
The event at the fairgrounds featured a road rally from the fairgrounds to Tiny's Dairy Barn in Wauseon. There were also several types of crafting events, coloring contests, silent auctions, and a drive-in movie night featuring the movie Cars.
The rally started at the fairgrounds and took the cars to Wauseon's South Park downtown. The cars circled the park before heading back up Fulton Street to make their way to Tiny's.
People that were aware of the rally gathered to watch as the cars drove by and received candy that was thrown by some of the cars.
The Fulton County Fairgrounds event was sponsored by the Keystones region chapter. The group has been meeting at the fairgrounds since 1973 except for 2020 due to COVID restrictions.
Jeffrey Gladden is the President of the Keystone region as well as the Director of regions for the national club. Jeffrey explained that they hope to keep making the event bigger and that it is all about the people.
"It is always about the people, the cars bring us together and we are happy to be here with everyone," Jeffrey said.
The Crosley Auto Club would like to thank everyone for coming out to visit as well as the Wauseon Police Department and Tiny's for their support and great service.
Jacob can be reached at jacob@thevillagereporter.com
---