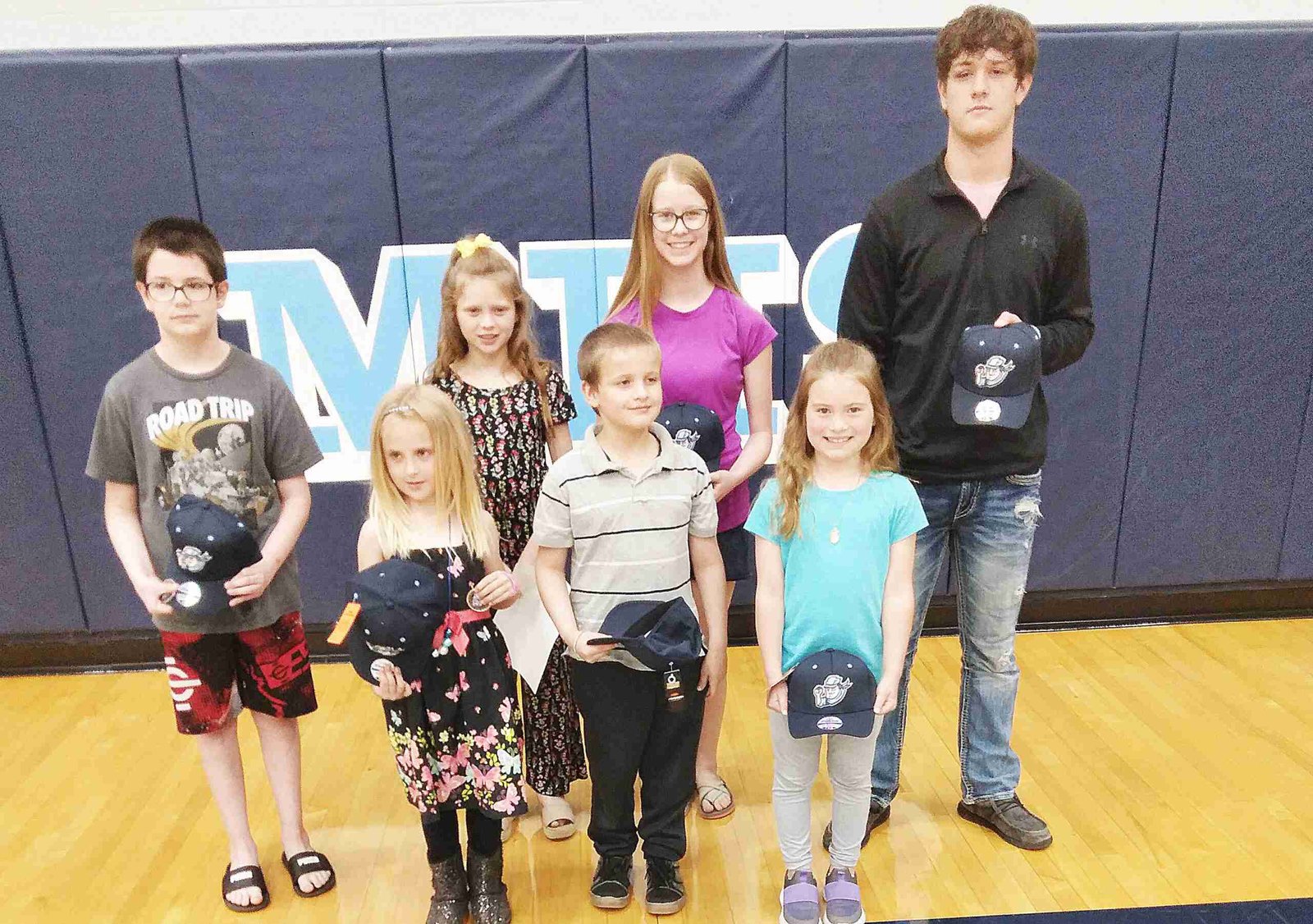 STUDENTS OF THE MONTH … Montpelier students of the month are, front row, Addison Dohner, Mathew Smith, Maggie Oates and Brody Terry. Back row is Tristan O'Donnell, Payton Reichley and Olivia Kannel. (PHOTO BY DANIEL COOLEY, STAFF)
---
By: Daniel Cooley
The Montpelier School Board meeting of May 17 began with the call to order, followed by the Pledge of Allegiance. All five board members, Jeremy Clinger, Dunne Gambler, Nate Rose, Patti Rockey and Shawn Owen, were present.
Students of the month were named: Kindergarten, Addison Dohner; first grade, Mathew Smith; second grade, Maggie Oates; third grade, Melvin Bible and Payton Reichley; fourth grade, Tristan O'Donley; fifth grade, Charlotte Frank; seventh grade, Olivia Kannel; high school, Brody Terry.
In the junior high/high school principal's report, Su Thorp stated that 54 students are on track for graduation and $100,000 in scholarship money will be given out.
The military students were able to go on a trip and junior high students attended a Mud Hens game. Thorp reported that the blood drive was a success and the prom/post prom was successful.
A career fair was held, students held a spring choir and band concert and a signing day for colleges was held. Also, a Camp Palmer Team Building Day was held, there will be a senior trip on May 23 and graduation will be on May 29.
In the elementary principal's report, Lance Thorp stated that preschoolers got a tour of the school and grandparents day for K-second grade was held.
In Right to Read Week, Mrs. Berkey did the reading and then talked about what is involved in writing a book. Fifth and sixth graders got to go to the roller rink and grade cards will be handed out May 24. The last day of school will be May 25.
Also, beginning June 1, Brown Road will be closed, to put in a turning lane. Food trucks will be available for teacher workday.
Treasurer Carla Rice gave a five-year projection report and the forecast is that there will be a deficit.
In a summary of Elementary and Secondary School Emergency Relief Fund (ESSER), grant moneys received for ESSER 1 will be $161,593; for ESSER II, $641,809 and ESSER III, $1,442,436.
The Covid Relief Fund for Rural Small Town was $40,855. a total of $40,855 went for salaries for a new intervention teacher for '23 and $3,024 went for a technology purchase for preschool classrooms.
Next the school board approved of the meeting minutes from the April 19 meeting.
The board then approved of the following financial reports: the month of April report; donations from the Grand Rapids Community Foundation to Robotics, a total of $7,464 to baseball, softball, track and boys golf and $1,000 from Church Women United for the prom and bus account; a new special cost center for a school bus purchase grant and modifications to the amended certificate and appropriations.
Next, the board approved the five-year forecast as presented by the treasurer and directed her to file the forecast with the Ohio Department of Education.
The board then approved of the following employment of certificated staff; employ Brooke Fund as an intervention specialist; employ Kayla Beattie, intervention specialist for third grade; employ Kailee Mitchell, elementary teacher; employ Christina Saneholtz as a substitute teacher; non-renew all certificated supplemental contracts; administrative contracts and supplemental contracts.
That was followed by the board approving Jodi Grime as Senior Class Advisor.
Next, the board approved of the following areas of employment of classified staff: employ Lisa Shanks as fiscal services consultant; the resignation of Helen Elkins bus driver; the resignation of Keshia Shoup, nurse; add Keshia Shoup to the substitute nurse list; non-renew all supplemental contracts; add TaSondra Harrington the substitute aide list; administrative contracts; supplemental contracts for Co-Right to Read Week for Kaitlin Tippin; corrected retirement date of Timothy Pawlowicz to May 31; addendum to Wendy Chamberlain's employment contract to pay 100% of tuition expenses for college coursework and to obtain her teacher's license; Grayson Saneholtz and Rylan JoHantgen as light and sound technicians; add Kailee Mitchell to the substitute aide list and the hourly rate for bus drivers for after prom activities.
Next, the board approved of the following purchases and service contracts for the following: agreement with Christopher M. Kannel Architect for the Fitness Center Addition to the Recreation Center; the sixth grade fees at $35 per grade; the JH/HS fees; the Montpelier Elementary School Student/Parent Handbook; the Montpelier Exempted Village School District Athletic Handbook; the Montpelier Junior/Senior High School Coaches Rules; Montpelier Athletic Department Ticket Prices; Montpelier Athletic Department Athletic Worker Rates; Montpelier Exempted Village Schools Drug Testing Policy; approved the list of graduates for the MHS class of 22; MHS boys basketball to attend Findlay boys basketball team camp; JH track to attend the JH state track meet; the Northwest Ohio Educational Service Center substitute teacher list; the resignation of Nate Rose of the Four County Career Board and appoint Jeremy Clinger to the same board and the principal of $20,000 for the George Haverstock Scholarship Fund be used to offer a $1,000 scholarship fund annually to one senior.
The board then moved into executive session.
Dan can be reached at publisher@thevillagereporter.com
---