ALL-TOURNAMENT TEAM … Halle Frank hits a tee shot on her way to an 85 as she earned all-tournament honors and helped Wauseon to the tournament title. (PHOTOS BY JACOB KESSLER, STAFF)
---
By: Nate Calvin
BRYAN-Sixty golfers converged on Suburban Golf Course near Bryan last Friday to get their season started in the 4th Annual Lady Locos Golf Invitational.
Coming off an appearance at state last year, the Wauseon Lady Indians showed no signs of slowing down as they fired a 367 to take the top spot.
Callaway Gerken and Halle Frank paced Wauseon with rounds of 85 to place them in the all-tournament team. A 92 from Jordan King and 105 by Ashley Fisher rounded out the scoring for Wauseon.
Hilltop's Jaime Chester posted a 79 to earn tournament medalist honors and help the Cadets to a second-place finish with a 386.
Avrie Reed's 89, Ella Calvin with a 93, and Ingrid Hoffman with a 125 completed the Hilltop effort.
Archbold totaled a 410 to finish in sixth led by Brayton Huffman who fired a 90 and Carly Grime carded a 91.
Edgerton came home in seventh led by a 103 from Gretta Brown and host school Montpelier was eighth as Kinsey Word had the low score for the Locos with a 91.
The rest of the all-tournament team comprised of Kenzie Schroeder from Hicksville (80), Autumn Osborne of Ayersville (80), and Mallory Weaver from Defiance (83).
TEAM SCORES: 1. Wauseon 367 (Gerken 85, Frank 85, King 92, Fisher 105); 2. Hilltop 386 (Chester 79, Reed, Calvin 93, Hoffman 125); 3. Hicksville 394; 4. Fairview 400; 5. AW 406; 6. Archbold 410 (Huffman 90, Grime 91, Bickel 107, Rodriguez 122); 7. Edgerton 430 (Brown 103, Blalock 107, Reliford 109, Sleesman 111); 8. Defiance 434; 9. Montpelier 456 (Word 91, Kreischer 117, Taylor 121, Schaffter 127); 10. Wayne Trace 479; 11. Ayersville DNF; Evergreen DNF
Nate can be reached at publisher@thevillagereporter.com
---
MONTPELIER MEDALIST … Kinsey Word had the low score for the Locos with a 91.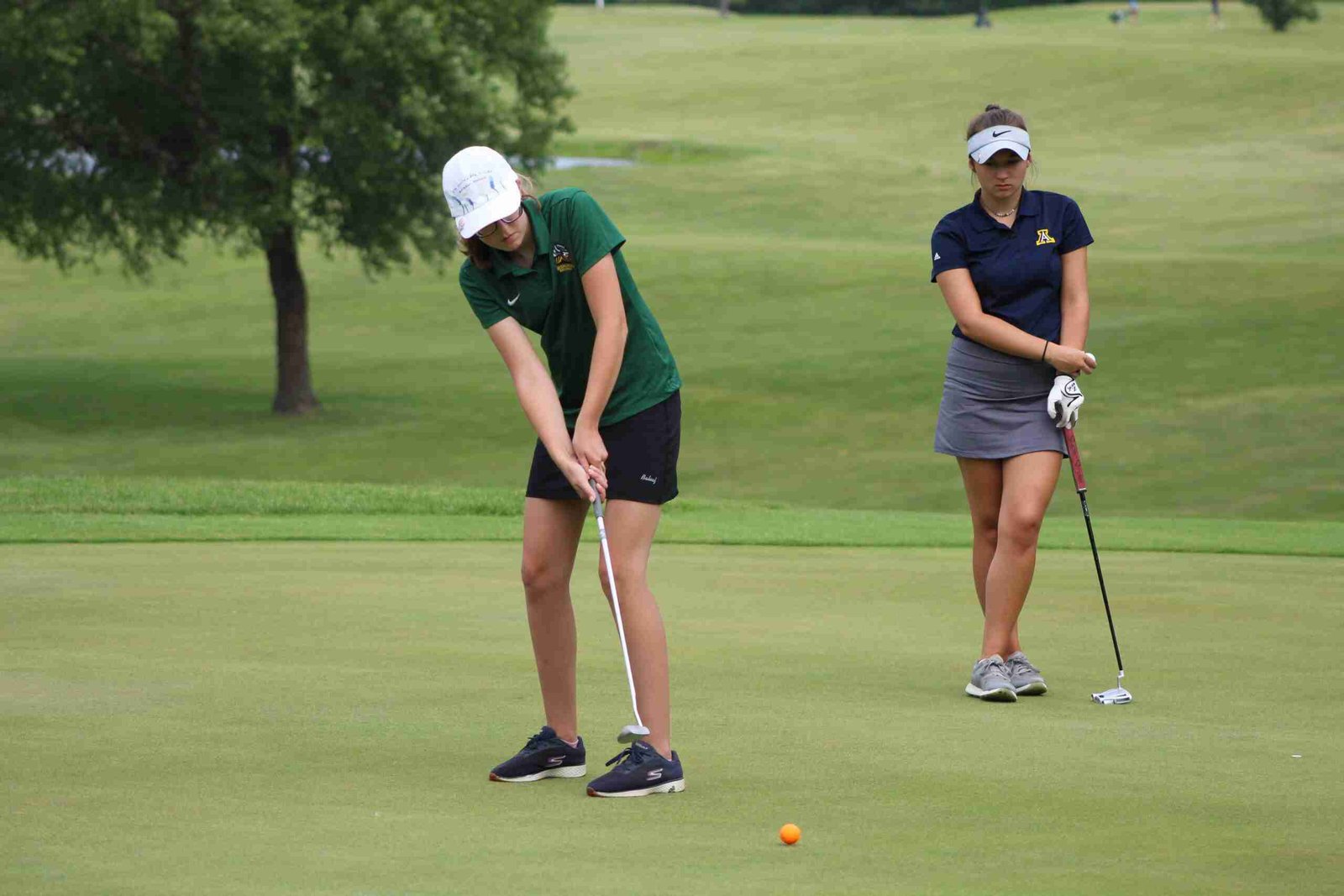 LADY LOCOS INVITE … Archbold's Brayton Huffman looks on as Chloe Creque from Evergreen attempts a putt.
---