BOMB DISPOSAL ROBOT … The Toledo Bomb squad brought their bomb disposal robot to the event. The robot was driving around the area where the bomb squad truck was located and allowed people to go into the truck and watch and interact with the operations of the robot. (PHOTOS BY JACOB KESSLER, STAFF)
---
By: Jacob Kessler
The Williams County Sheriff's Department hosted the D.A.R.E. Extravaganza at the county fairgrounds in Montpelier on Saturday July 10th.
The event hosted multiple different jurisdictions bringing knowledge and demonstrations from counites in Ohio, Michigan and Indiana. The D.A.R.E. program made IDs for children that the parents can keep in case their children were to ever get lost.
The cards would contain a picture, name, address and a sample of their children's DNA. The Bryan Fire Department demonstrated a 100 ft. rope rappel from their ladder truck while the Brady Township and Edgerton Village Fire Departments had hose's ready for children to shoot water at cones as well as a mock house.
The Williams County Sheriff's Office K9 deputies as well as the K9 officer from Bryan were also there doing demonstrations for people.
The demonstrations entailed a wooden wall with holes that led to different spots on the other side. Some holes had drugs in it, and they would send the dog to the wall and wait for the dog to signal which of the holes had the drugs in it.
Steuben County Sheriff's Department brought their Diamondback Marine Patrol boat, and the Hillsdale County Sheriff's Department brought their jet ski that is used for marine patrol as well.
The Allen County Sheriff's Department came with their Bear Cat SWAT vehicle that is equipped with a ram on the front. The Bear Cat is capable of bursting through steel doors, creating a method of communication, and even pulling cars.
The Toledo Bomb Squad was also present and brought out their bomb disposal robot. Multiple other agencies were also present with a scheduled landing of both Promedica Air and Life Flight planned, State Bank providing a free will donation for food and the Montpelier Fire Department performing a live extrication example on a crushed vehicle.
Williams County Sheriff's Deputy Kyle Miller explained that this is the first year for the event and if people want it again, we will see what we can do.
"We normally do a D.A.R.E. camp but with last year and the Covid restrictions that wasn't possible. With them lifting most of the restrictions we wanted to hold an event and here we are now."
"It is all about the kids and I am thankful that everyone was able to come out and see what we are able to offer and interact with us," Deputy Miller said.
With a packed fairgrounds and the multiple jurisdictions that came to give their support, it was a good day for the community of Montpelier.
Jacob can be reached at jacob@thevillagereporter.com
---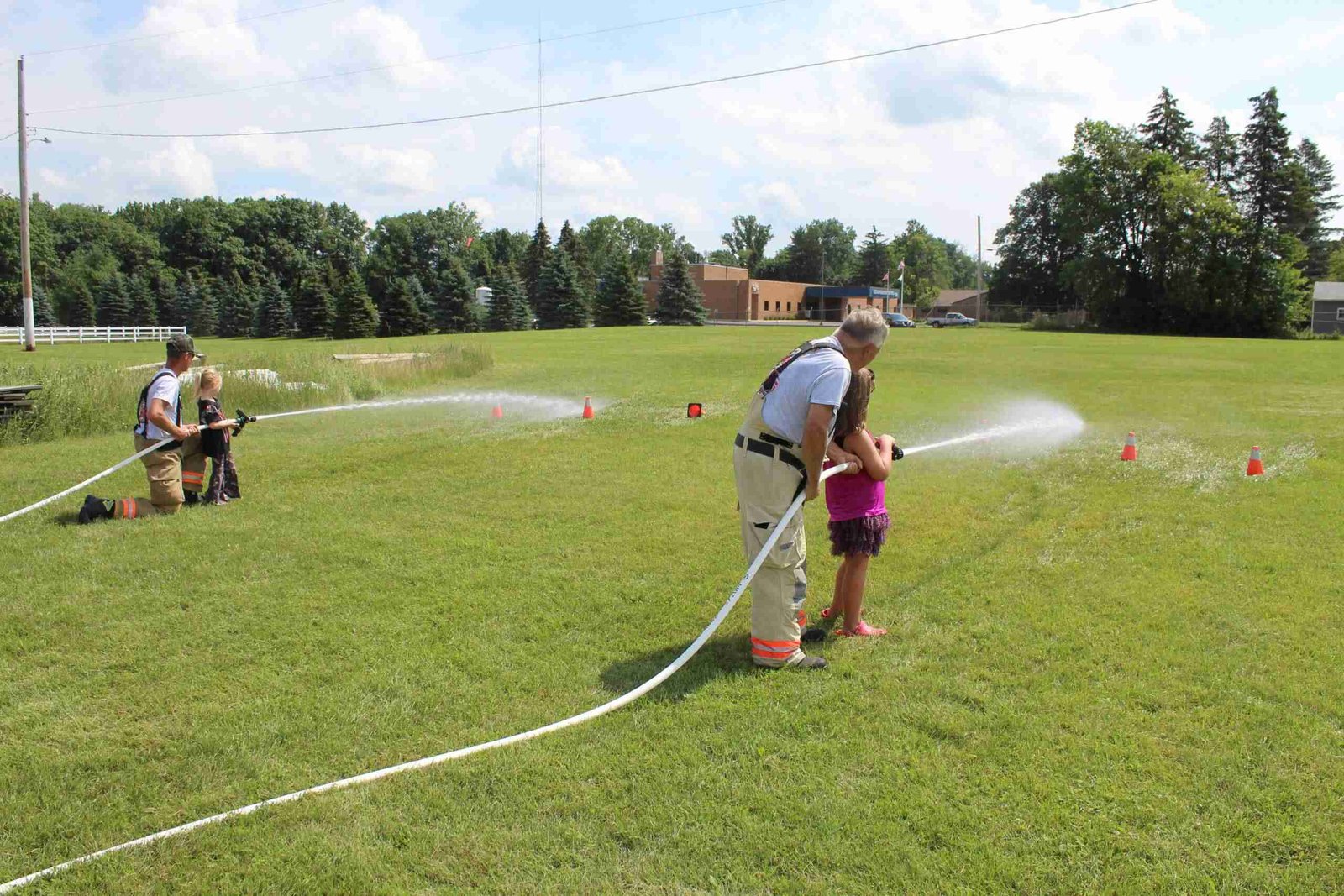 FIRE HOSE… The Edgerton Fire Department and Brady Township Fire Department allowed children to shoot water from their fire hoses at targets.
SCENT WORK … William's County Sheriff's Deputy Jason Randall and his K9 work at scent detection.
ALLEN COUNTY SWAT … The Allen County Sheriff Department's Bear Cat SWAT vehicle was brought to the D.A.R.E. event. Children were able to climb into the vehicle and look out from the turret.
---