---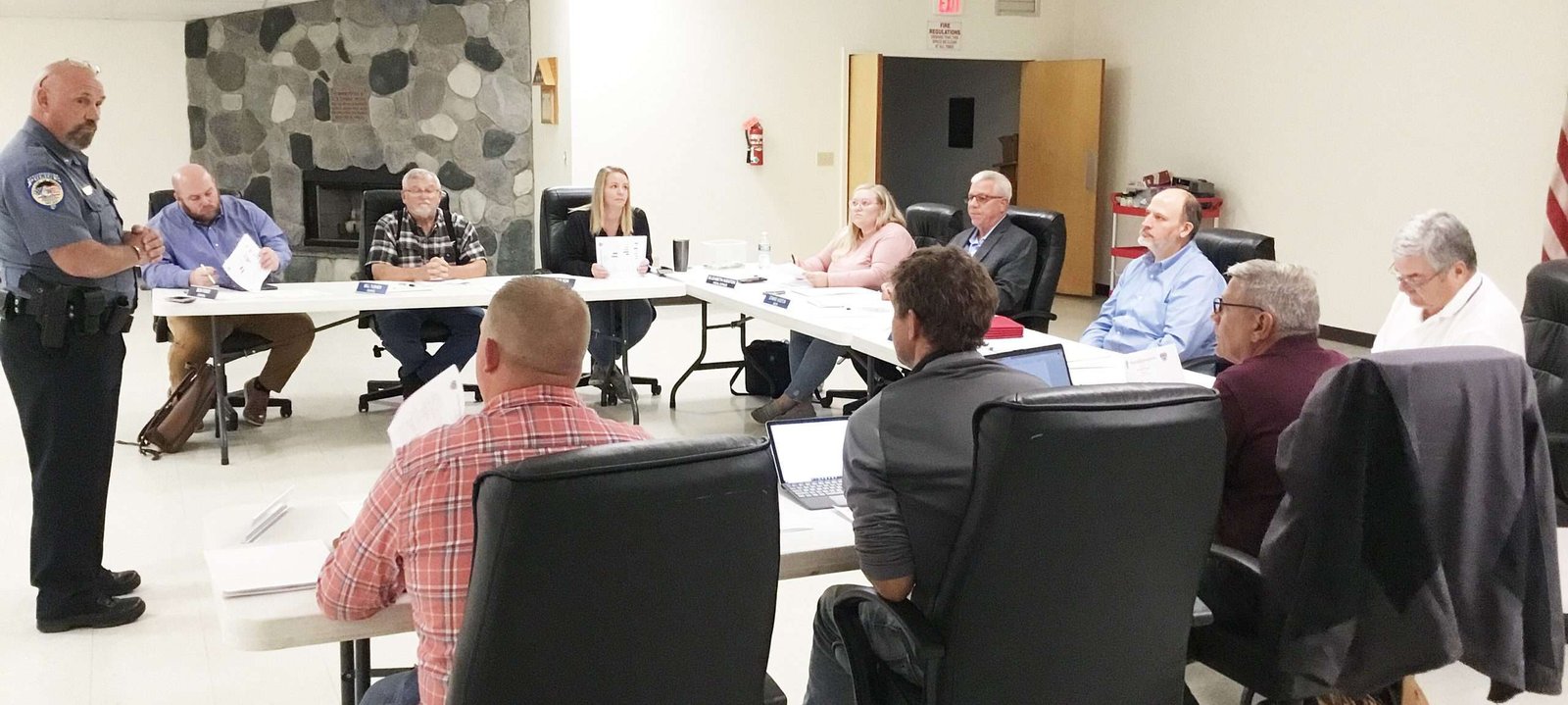 COUNCIL HEARS REPORTS … Pioneer Village Council heard monthly report from Police Chief Tim Livengood at the September 12, 2022 council meeting. From left to right around the tables facing the chief are council members Ben Fiser, Bill Turner and Traci Filson, Fiscal Officer Lizzie Kidston, Mayor Ed Kidston, Solicitor Tom Thompson, Village Administrator Al Fiser, Council President Randy Cochran and council members Will Cable and Trever West. (PHOTO BY REBECCA MILLER, STAFF)
---
By: Rebecca Miller
As a part of the Monday night Pioneer Village Council meeting held at 8 p.m. on September 12, 2022, Mayor Ed Kidston aired his frustration with Pioneer residents making fraud accusations.
Village Fiscal Officer Lizzie Kidston reported that they met with the auditors last month and there were only two small corrections in the 2020-21 audit, that need to be made: 1. money that needs to be put in different line items (which had been done before this meeting), and 2. a drug ordinance that needs to be done.
Other than that, it was very straight forward and she was grateful for their patience as it took a lot of time for her to find everything, even though April McMillen had left it all in great shape.
Mayor Kidston said that concerning the audit, accusations of fraud have happened a number of times over the years and it was so good to hear the auditors state clearly and beyond a doubt that they had checked clear back to 1975 and there is not a single thing in the well-kept village records of any fraud.
"They looked not only at the entries for two years, but they looked back," Kidston said, "because they got a couple calls during the audit with some wild, false claims of fraud."
"They checked them out completely and totally and found absolutely no basis for fraud, whatsoever."
"It gets frustrating," he said. "This audit took about thirty days longer, costing the tax payers more money, because of these wild claims made by two residents that are totally baseless."
"It came back with a clean bill of health just like it always has. We have so many checks and balances in this village that it would be absolutely impossible for fraud to take place. It never has. It never will."
Village Administrator Al Fiser added that he was in the meeting when the report was given and, "The auditors elaborated quite a bit on it, commenting that it is a busy village and it has been well run and they have searched accusations of ethics and fraud violations, over the last 25 years of records, and we have always had a clean bill of health."
Kidston stressed that the village is transparent and everything is on the website for anyone to check. The frustration of wasting the taxpayers' money and the auditor's time were mentioned also.
Congratulations were given for April and Lizzie in their excellent efforts, and thanks to Solicitor Tom Thompson for all his help.
Council approved the agenda with corrections (moving one change order to end of meeting so mayor could leave for that), minutes of the last meeting, the financial report and the payment of bills, including a separate vote to approve the payment of Pioneer Hardware invoice with Cable abstaining as he is the owner.
The meeting was moved to 8 p.m. instead of the regular time to accommodate the attendance of anyone wishing to attend the town hall meeting with the EPA.
In his report to council, Police Chief Tim Livengood pointed out that a few changes were made with zoning that have helped the statistics to be clearer; plans were approved for fall festival and they are getting ready for that; training continues for the department; and he asked last two council members who were absent last month to please sign the contract for the SRO at the school.
Councilor Traci Filson asked for a safety meeting to be scheduled and following some discussion, Mayor Kidston asked committee chair Trever West to take care of scheduling that before the next council meeting, with the other members and to include Chief Livengood and Fire Chief Denny Fackler in the meeting as they both have things that need to be discussed, including possibilities of a K-9 unit, grants for that, and a new fire house.
Livengood also spoke about an MOU for the SRO that was discussed last month, asking council to let him know if they have any concerns.
Mayor Kidston asked that next year before they send the MOU through council for signatures, that they have a meeting to discuss it and make any changes they might think are necessary.
"I am not against it in any way, I just believe we should review it and make sure we are still doing what we want to be doing," he stated. The SRO is paid 60/40 by the village and the school at this time.
Chief Fackler informed council that a breakfast will be hosted at the fire station on October 8th to kick off fall fest. Pastor Gene McBride, from Pioneer Church of the Nazarene, was present at the meeting as he had sent an email, to Mayor Kidston and Village Administrator Al Fiser, concerning the suggestion of a 24/7 food pantry of some kind to be set up in the village.
Currently, and for many years, the church has had a well-run food pantry that continues to be used by residents in need.
He said he was there in a potential advisory role. Kidston said they had not heard back from the people who suggested the new one and until they do, "thank you for running the pantry that you do, and we will stay with what we have for now."
Pastor McBride said he is "not trying to protect turf, but thought it might be good to know what is available. It might help them form their decision."
Kidston said he would forward the email to council members as he had forgotten to do that.
Fiser reported that the town crew is keeping up with everything. He presented two change orders at that time, explaining them to councilsaying that both are in the village's favor as they were able to save quite a bit of money.
There is a short list of items that need to be done and the crew is on schedule to get them completed. Kidston informed council that he saw comments on Facebook about a splash pad and he thinks it is a good idea, so he is checking into a possible grant for a village splash pad. They will consider it together at a later date in council.
Councilor Trever West mentioned the speed sign that is still 25 mph and Fiser said it will go back to 35.
He brought it to Fiser and Kidston's attention that there is a dip in the new road right in front of Cogswell's Body Shop, as the road is sinking and needs to be repaired as soon as possible.
Councilman Randy Cochran asked about the new patrol car and Livengood said that it is in, but not completely outfitted as they are waiting for backed-up supplies.
The Dodge Charger that is 15 years in the department has quit working so he thanked council for the new car.
They are also waiting for the MARCs radios for the police department and replacement batteries for those. Fortunately, the fire department has theirs.
Mayor Kidston stated his concern that the school should be on the same system and have MARCs radios and Livengood, who is a North Central School Board member, said he agrees and will bring that before the school board.
In other business, Council…
-Scheduled Records Commission meeting for October 10, 2022 at 6:30 p.m.
-Set Trick or Treat for Monday, October 31st from 5:30-7 p.m. with Costume Judging at 7:30 to be held at the Fire Hall with the Legion Auxiliary
-Approved Ordinance 09-2022 amending appropriations for 2022
-Approved Resolution 105-2022 Authorizing the Village Administrator to prepare and submit an application to participate in the Ohio Public Works Commission state capital improvement and/or local transportation improvement programs and to execute contracts as acquired
-Approved Resolution 106-2022 Authorizing the Village Administrator to enter into agreement with the Ohio Department of Transportation for bridge inspection services, authorizing the Village Administrator to sign all documents necessary to effectuate the agreement and declaring an emergency.
-Approved Resolution 107-2022 Amending the Village of Pioneer personnel policies and procedures manual, regarding military leave, and suspending the rules.
At this point in the meeting, the mayor turned the rest of the meeting over to President Randy Cochran and left the building.
Cochran asked Fiser to explain the change order for Kexon Dr., which was done, and council voted to approve the change order.
After verbal approval at the last meeting of Lingvai doing the work, it was done at the price of $49,000 and is part of the change order.
Net change was a positive $85,000, but by eliminating the black top, it will go down again. He also went over the details of the change order/costs of the Kexon Dr. project.
With no further business, council went into executive session to discuss potential litigations and possible acquisition of property. There was no action taken.
Rebecca can be reached at rebecca@thevillagereporter.com
---