---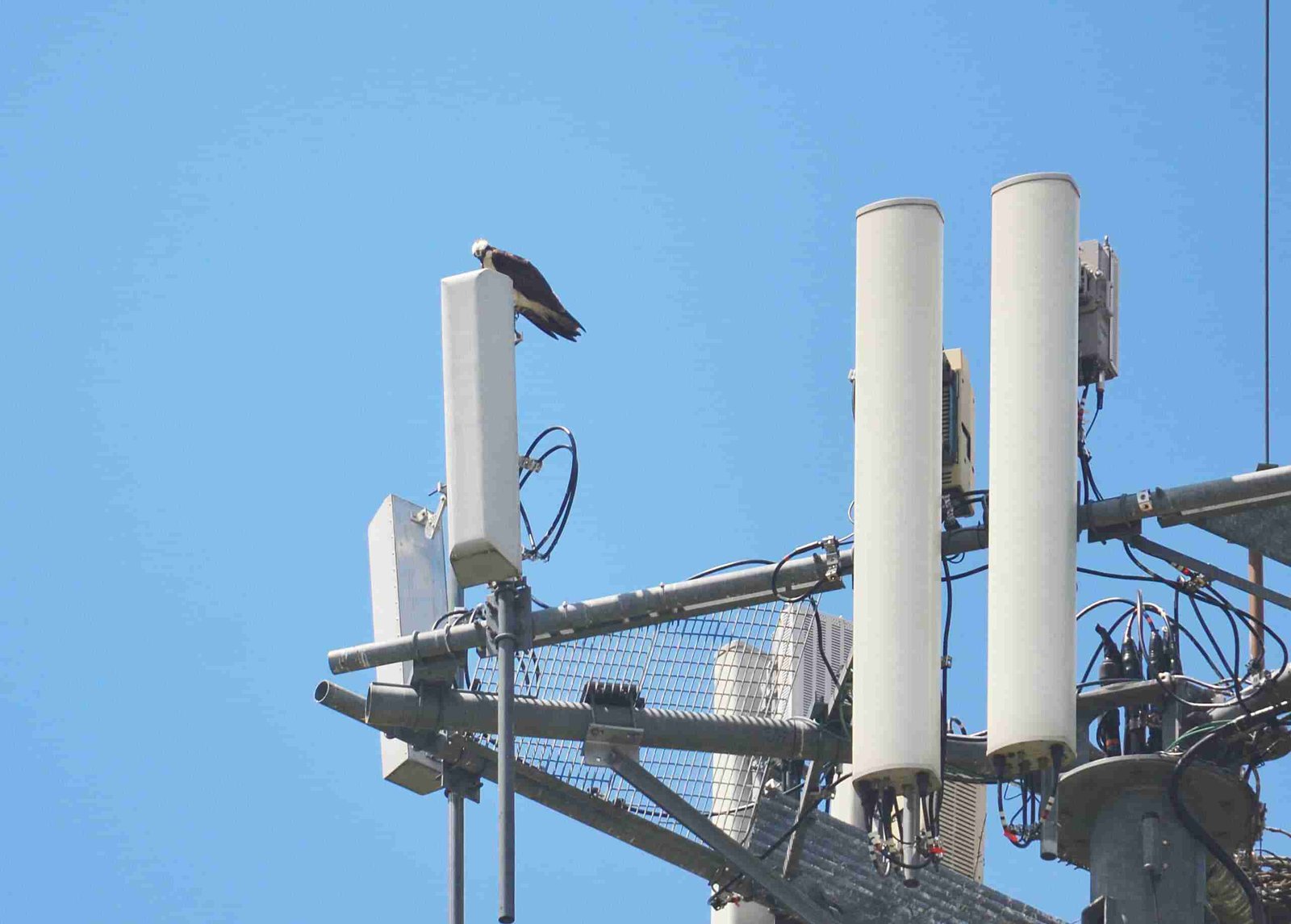 BIRD SIGHTING … The osprey, a rare bird in Williams County, has a nest in the cell tower behind Main Stop in Pioneer. There could possibly be a second nest in the county at the cell tower on County Road 10 near the Ohio Turnpike. An osprey was recently heard calling from that spot. (PHOTOS BY DANIEL COOLEY, STAFF)
---
By: Daniel Cooley
In southeastern Virginia where I lived for 23 years, an osprey sighting was quite common. This bird, a member of the hawk family, could be found wherever there was a decent sized body of water.
Finding one in northwest Ohio, though, was a different story. An osprey sighting was quite rare. So, when I was recently in the Pioneer area and heard the unmistakable whistle call of an osprey, I perked right up.
I was able to follow the sound and discovered an osprey nest, at the top of a cell tower behind Pioneer's Main Stop.
The osprey is the second largest bird of prey found in Ohio, only behind the bald eagle. The osprey stands two feet high and has a wingspan of five feet, only behind the eagle's 31 inch height and six and one-half foot wingspan.
Next is the common red-tailed hawk, which is 19 inches tall and has a four foot wingspan.
The adult osprey has a white head and throat, brown chest and back and chest. It also has a black stripe in the middle of the head, that extends to its yellow eye. The juvenile displays an orange eye. A majority of the osprey's diet is fish.
Because of that diet, according to the allaboutbirds.com website, the osprey has a unique trait. The bird comes equipped with a reversible outer toe.
That enables the osprey to grasp its fish, with two toes in front and two behind the osprey is also unique among hawks, because it dives for its prey.
Now, getting back to the nest and the osprey itself, how common is finding an osprey, let alone an osprey nest, in Williams County? Both are rare especially the nesting part according to Travis Kruse, a Wildlife Area Supervisor. His office is located at Lake La Su An.
"We only see them occasionally here when they are passing through," Kruse said. "The nest at the cell tower has been there for a while, possibly 10 years since the tower was first built, but it may be the only nest in the county."
"To have a nest, there must be an adequate food source, which it could get from the St. Joseph River, but likely Lake Pioneer which is right nearby."
Kruse said that there used to be a nest at another cell tower on County Road 10, just before the Ohio Turnpike. But he said that he hadn't been there for a while so he didn't know if there was still a nest there or not.
I drove to the site on County Road 10 and was ready to leave, when I heard the cry of an osprey. So, there may be two osprey nests in Williams County which still ranks as rare in my book, with just two nests in the entire county.
Unlike the bald eagle which rarely migrates, the osprey migrates in the fall to the southern United States and to South America.
It can migrate long distances in a very short time. In just 13 days, one osprey, which was fitted with a lightweight transmitter, flew from Martha's Vineyard in Massachusetts to French Guyana.
Dan can be reached at publisher@thevillagereporter.com
---