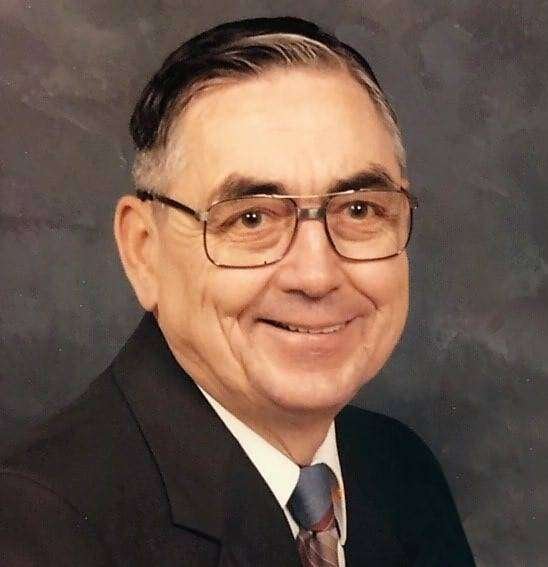 Rev. Robert V. Waggoner, 92 years, went home to be with the Lord on Monday, July 1, 2019 at Fairlawn Haven, Archbold. 
Robert was born August 5, 1926 in Toledo, Ohio, to Charles and Lulu (Penry) Waggoner.  When he was six, his Sunday school teacher asked if any of the boys in his class wanted to receive Christ.  He knew God was calling him but said "if he gives the invitation next week, I'll receive Christ."  Later that week, he had a vision of a dry, barren desert, hot and yellow in color with no trees.  It represented his life without Christ.  The following Sunday, after class the teacher again offered to pray with any boy who wanted to receive Christ as his savior, and Robert couldn't wait and eagerly received Christ Jesus into his life that day. 
As a teenager he heard Bob Jones Senior speak at the Toledo Tabernacle and decided that was where God was calling him.  He finished his senior year of high school on the Bob Jones' College campus and remained afterward for a couple years as a college student.  Called to preach, he went to Luna Pier, Michigan, as pastor of the Christian and Missionary Alliance (C&MA) church. 
After two years, God called him to go to St. Paul Bible College to finish his bachelor's degree and there he met a Canadian student, Betty Ann Allen.  They graduated and were married on August 18, 1951. 
Reverend Waggoner and his bride went to Sauk Rapids, Minnesota, where he pastored the C & MA church for 15 years, and where all seven of their children were born.  The family moved to Lima, Ohio, in 1968 where Reverend Waggoner pastored a C & MA church for two years, and then moved in 1970 to West Unity, Ohio, where he became pastor of the Evangelical Mennonite Church (now Solid Rock).  He pastored there for 13 years, until 1983. 
Robert took a job at Bil-Jax in Archbold, Ohio, working as a drill press operator until 1999.  He pastored the Madison and North Bridgewater Churches of God from 1994 to his retirement at age 80 in 2006. 
Although retired from the pastorate, Reverend Waggoner never retired from the ministry.  When his son, James, a sergeant in the Army Reserves, was sent to Afghanistan the first time, he began to make up laminated cards that fit the battle dress uniform (BDU) shirt pocket.  On these cards were printed Psalm 91 and God's plan of salvation.  During the next ten years, between 40,000 and 50,000 cards were printed, laminated and distributed to thousands of soldiers, sailors, airmen and marines across the world.  A need for the card in Spanish became evident, and thousands of cards were printed in that language and distributed by missionaries all across Mexico.  All of these cards were printed, laminated, cut and distributed from 501 Main Street, West Unity, Ohio. 
At age 86 Reverend Waggoner joined the Living Hope Free Methodist Church and began a ministry to shut-ins on behalf of the church.  When no longer able to drive, volunteers from the church provided transportation so that his ministry could continue.
He was preceded in death by his parents; wife, Betty Ann; son, James Allen Waggoner; two brothers, Walter and Russell Waggoner.  He is survived by his six children, Kenneth (Sharon) Waggoner of West Unity, Robert (Paula) Waggoner of Midlothian, Texas, Betty (Allen) Tanner of West Unity, Karen Waggoner of Edmonton, Alberta, Canada, David (Christi) Waggoner of Edmonton, Alberta, Canada, and Linda (Martin) Schmidt of Archbold, Ohio; 17 grandchildren and 22 great grandchildren.
Visitation for Rev. Robert V. Waggoner will be held Friday, July 5, 2019 from 12:00 noon to 2:00 p.m. in Living Hope Free Methodist Church, 1051 West Jackson Street, West Unity, where funeral services will begin at 2:00 p.m. Friday in the church with his son, Rev. Robert C. Waggoner officiating.  Interment will follow in Floral Grove Cemetery, West Unity.  Arrangements are under the care of Oberlin-Turnbull Funeral Home, 202 North Liberty Street, West Unity, Ohio 43570.
Those planning an expression of sympathy are asked to consider memorial contributions be made to the Special Care Unit of Fairlawn Haven, 407 East Lutz Road, Archbold, Ohio 43502.
Condolences may be sent to the family or the online guest book may be signed at www.oberlinturnbull.com
---