---
By: Jacob Kessler
THE VILLAGE REPORTER
Wednesday, August 16th saw a dedication ceremony and ribbon cutting take place at the newly created Fox Drive Street at Nature Fresh Farms just outside Delta.
The road was dedicated to Mr. Ed Fox who is a retired President of North Star BHP Steel, also located in Delta.
A letter written by Delta Mayor Frank Wilton was included in the program and handed out to everyone who attended the event.
The program reads, "On behalf of the Village of Delta, I want to thank everyone who has participated in or been involved in making this event a success. Today represents the value of a true partnership and positive relationships."
"We especially want to thank Lieutenant Governor Husted for joining the community to acknowledge an individual who had the vision, and belief that Delta, Ohio was the most fitting location to build the steel mill.
Mr. Fox fostered viable business partnerships and valued personal relationships throughout the region giving Delta, Fulton County, and Northwest Ohio a new identity and encouraging outlook for the future.
Today we consider ourselves very privileged to realize the benefits of one man's vision and efforts."
The event for the day was headed up by former Delta Village Administrator Brad Peebles. August 16th was also Mr. Peebles final day working for the village before heading into retirement.
Mr. Peebles explained that the project was put out for bid last September, and cost slightly over $1 million.
This road helps with Nature Fresh Farm's new Distribution Center and future expansion plans for the area.
The new road and future roads planned that will span off from Fox Drive will open up 250 acres of land for future development.
This helps give Nature Fresh more road access but also positions Delta into a strong position in regard to industry.
Master of Ceremonies Mr. Rich Menzel led the event and spoke about Mr. Fox. Menzel explained that Fox was a leader and that he helped to develop the area, with effects still seen today.
"Ed was the leader from North Star that really helped develop the relationship and partnership with the community that has lasted 29 years."
"He was very instrumental in the early days, communicating, listening, and answering questions. That's really the core of why we're here today, the partnerships and relationships he's developed."
"Lots of other steel-related businesses are here now because of how successful North Star was," said retired Vice President of North Star BlueScope Steel Rich Menzel.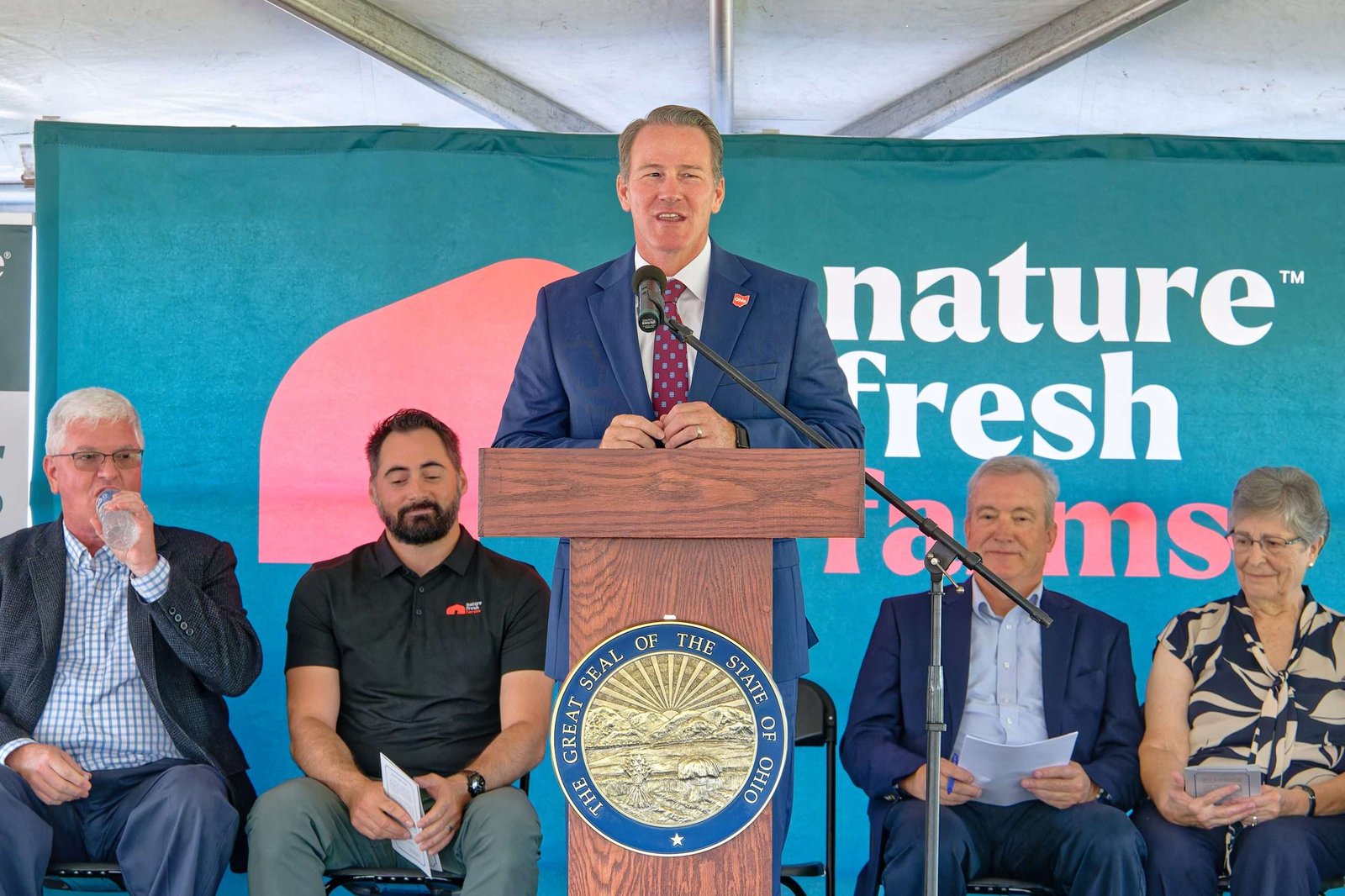 ---
Other individuals also spoke including Fulton County Commissioner Jeff Rupp, Lieutenant Governor Jon Husted, Mr. Ed Fox himself, and Manager of Business Development at Nature Fresh Farms Robert Peeters.
Lt. Governor Jon Husted spoke about a letter received by Delta Mayor Wilton to the Governor and went on to speak about how Governor DeWine was involved in the project when it began in the 1990s.
"Governor DeWine was the Lt. Governor under Governor Voinovich when that happened. He was involved in the project."
"I think that the invitation in itself explains why the work that Ed did and what's happening today is so important. You plant the seeds many many years ago for things that take a lot of time to grow and bloom."
"Remember, the 1990s were different than 2023 economically in Ohio. It was a very different day then. I remember this because my parents actually had to leave Northwest Ohio, growing up in Montpelier because the factory my dad worked at closed and there was no other place to go to work and they had to leave."
"Today in Fulton County you have an unemployment rate that's 3.3% and Ohio has the lowest unemployment rate in the history of our state since we've been keeping the statistic in 1976."
"The unemployment rates have never been lower. A lot of those good things were experiencing today came because of decisions that were made way back when," said Lt. Governor Jon Husted.
He then went on to speak about Mr. Fox and how the work done has allowed future generations to remain where they grew up.
Mr. Fox spoke next and gave a history of how the North Star plant came to be in Delta. He gave examples of going through different areas of the country, looking for a place to put the plant, before they ended up picking Delta due to its net import of rolled steel and net exports of scrap metal from Detroit and Toledo.
He also gave examples of how people felt about the plant coming into the area, with 93% of voters voting to allow its construction.
"The real organizing cry from the people that I heard from, Delta and the County was, we're tired of raising our children, educating them, and then having them move away to find acceptable jobs."
"That was what they wanted, and I think what you're seeing, the development, with what Delta's done, what Brad Peebles has done, has solved that problem for people, I think. We have got a place for the kids to work," said Mr. Fox.
Fox also went on to give thanks to Brad Peebles for the work he did getting the plant project completed. "I purposefully haven't mentioned a lot of people."
"There are so many people that were pivotal when this plant was getting here and getting started, but I can't pass up Brad Peebles. Brad was named by the County Commissioners to be their point man."
"Any one of you that are familiar with military operations, an infantry group forms a triangle if they're trying to approach and dig out where the enemy is and take them out."
"The guy at the front of the triangle is called the point man. That's what Brad was, our point. His job in the infantry is to keep everybody undercover and move as quietly as they can, but he notifies everybody, and he exposes himself to fire. While the people stand up and fire at him, his troops can take them out. That's what Brad did," said Mr. Fox.
Last to speak was Manager of Business Development at Nature Fresh Farms, Robert Peeters. Mr. Peeters explained that the company is very excited and grateful for the support of the community and their help with the road.
He also spoke about other projects currently underway at Nature Fresh, including a new greenhouse that is dedicated completely to organic strawberries. This is the first greenhouse for organic strawberries anywhere in North America, Mr. Peeters explained.
Another project currently being looked into, but not yet approved, is a plan to pipe overheat and CO2 from North Star Blue Scope Steel, that can be used to help grow the plants.
This heat and CO2, which is otherwise left to go out into the surrounding area of the plant, can be used to grow the plants that depend on the CO2 for their growth.
Mr. Peeters also stated that 90% of all water collected is constantly reused and that no chemicals are used for plant growth.
Following all speeches given during the ceremony, a ribbon cutting was held for the newly created Fox Drive. Everyone was then welcomed inside Nature Fresh Farms for a reception.
Jacob can be reached at jacob@thevillagereporter.com
---