---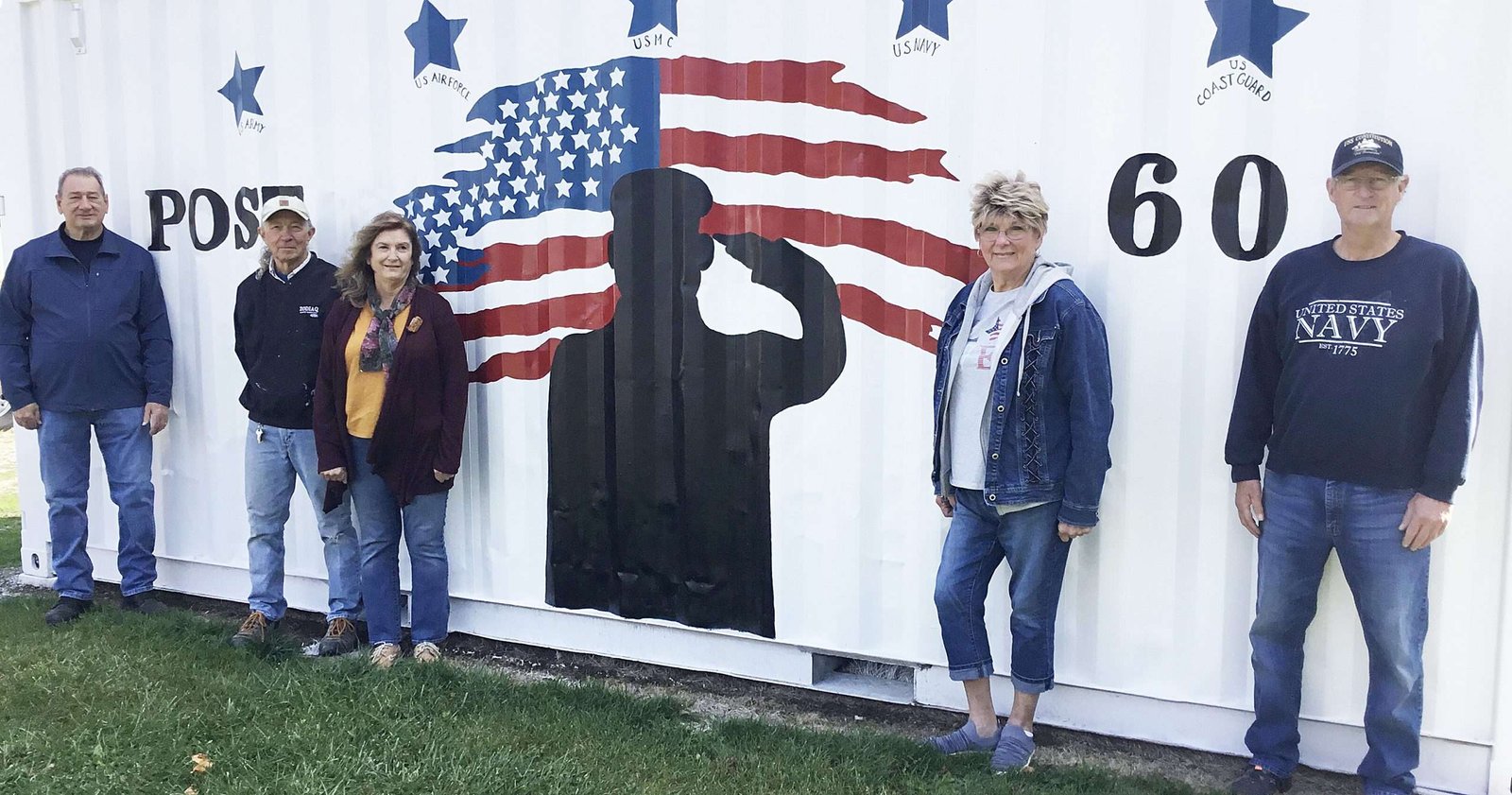 MILITARY MURAL … Just off Curtis St. heading south on Maple St. in Stryker, Ohio a new mural can be seen on the storage container placed out back of the new Yackee-Strong American Legion Post #60. Seen happily sharing their newest addition are, from left to right, Post 60 member Ron Cready, Commander Rick Wityk, artists Sheila Whitlock and Bobbi Schlosser and Chaplain/Finance Officer Don Carroll. From left to right at the top, the stars represent U.S. Army, U.S. Airforce, U.S. Marine Corps, U.S. Navy and U.S. Coast Guard. (PHOTO BY REBECCA MILLER, STAFF)
---
By: Rebecca Miller
As members of Stryker American Legion proudly wrap up their 103rd year in existence, they are thrilled by the gift of art given by two local artists.
Sheila Whitlock and Bobbi Schlosser shared in an interview that they were happy to step up and fulfill the suggestion of Legion 1st Vice Commander Bob Seigneur, who had the idea of giving the storage container a facelift.
Schlosser is known as the Stryker legion's "in house artist", according to Whitlock, and the two of them took on this project together.
To give a little background, the Stryker American Legion sold their old building downtown, where they had met for many years in 2021.
The next nine months were spent in a "homeless" situation until they purchased a small building on the east side of town to make their new home.
The building, remembered by many as the old Clark Oil Company, is located on the corner of East Curtis St. and Maple St.
The 20-foot container being used for storage is set back from both streets and as it faces Maple St. that is the best way to get a good view of the new mural.
Schlosser designed the mural with a desire to be representative of all divisions of the military. In the center a soldier is seen saluting.
"I wanted the American Flag to play a large part, and a silhouette of a soldier," Schlosser said. Commander Rick Wityk suggested that they have a star representing each of the armed forces, so that was incorporated as well.
Schlosser drew the picture on the container and Whitlock was responsible for all the words. "It was a hard surface to draw and paint on", Whitlock said adding, "being both corrugated and metal it made for some difficulty in doing it smoothly."
Legion Chaplain/Finance Officer Don Carroll shared that they are happy to add this piece of art to all the others that Bobbi Schlosser has done which are inside their building.
As of this writing, the hard-working officers and members have moved all of their historical military memorabilia into their new home and are enjoying getting it all set up.
They have put in new flooring, walls, doors, windows and are presently building their new small, but very usable, kitchen.
Anyone wanting to catch a glimpse of this newest addition to the beautification of Stryker, Ohio should turn south on Maple St., off of East Curtis St. and look to the left.
Kudos to these artists who loving donated their energy and time to give this gift to the group they call "our veterans."
Rebecca can be reached at rebecca@thevillagereporter.com
---