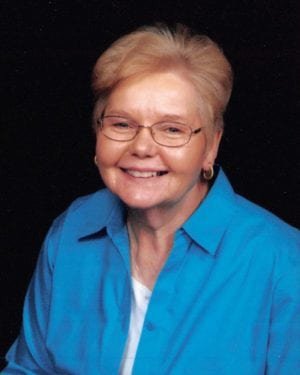 Susan "Sue" M. Robson, 65, of Montpelier passed away early Monday morning at her home.  She was born on August 25, 1952 in Bryan to Frank and Dorothy (Schimmoller) Verhoff.  Sue graduated from Bryan High School in 1970.  On October 16, 1971 she married Michael E. Robson in Bryan and he survives.
Sue was a member of the First Church of Christ in Bryan, Ohio.  She was on the board of Cancer Assistance of Williams County.  In 2016 she retired as the Chief Deputy Treasurer, after 30 years of employment with the Williams County Treasurers Office.  She loved spending time with her grandchildren and family.  She also enjoyed fishing with Mike and spending time gardening.
She is survived by her husband of 46 years Mike; daughters Heather (Jason) Kauffman of Fairfield Township, Ohio and Robyn (Joe) Newberry of Swanton; five grandchildren, Gabe, Jeremiah, Moses and Titus Kauffman and Luke Newberry; siblings Don (Sandy) Verhoff of Oshkosh, Wisconsin, Judy (Bob) Wilcox of Ada, Michigan, Dennis (Denise) Verhoff of Selma, Alabama, Linda (Norman) Blakey of Millbrook, Alabama, Clete (Peggy) Verhoff of Orrville, Alabama, Mark (Patsy) Verhoff of Selma, Alabama and Karen Lawler of Selma, Alabama.
Sue was preceded in death by her parents, sister Marge Elegeer, and granddaughter Emmee Kauffman.
Visitation for Sue will be on Thursday, April 12th from 2-7pm at the Thompson Funeral Home on Main Street in Montpelier.  Services will be on Friday at 11am at the First Church of Christ in Bryan with Pastor Larry Snavely to officiate.  Interment will follow at Shiffler Cemetery in rural Bryan.  Memorial contributions may be made to the First Church of Christ.  Condolences can be left at www.thethompsonfuneralhome.com.