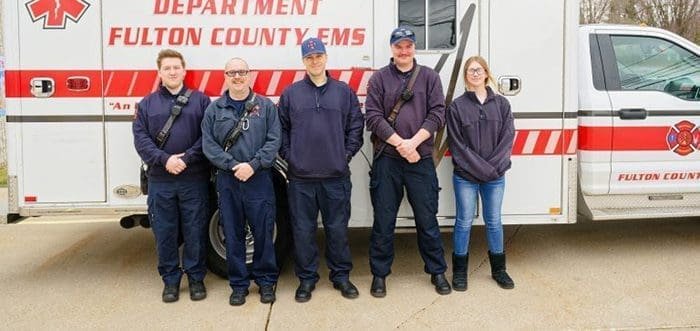 ---
By: Jacob Kessler
THE VILLAGE REPORTER
The Swanton Fire Department has seen many changes throughout this past year. One big change the department has seen thus far is an increase in call volume.
As of July 18th in 2022, calls stood at 648 for the year. On the same day this year, those numbers increased to 727, which is an increase of 79 calls.
Swanton Fire Chief Ed Dziengelewski explain that, in addition to call increases, the fire service has changed everywhere.
"It's a known fact that there are very little to no EMT's, Medics, or Firefighters that are out looking for jobs."
"We rely on our neighboring departments more now than ever and they rely on us as well. Everyone is running with less personnel, but they are doing the same workload, if not more. The men and woman are working more as you can see with the run numbers," said Chief Dziengelewski.
Continuing, "Manpower has been up and down. We are in the same struggle when it comes to this as everyone else. Can we change this? I don't have that answer."
"Let's face it, we have seen a big uptick in fire and EMS after 9/11 and now we have seen a huge decline since COVID."
"We have given raises, Kelly days, more personal time, along with a few other things. I believe that money is also a huge factor in all of this."
Chief Dziengelewski also described many of the changes that have taken place in the department within the past year.
Over the past year many upgrades have been put into place at the department. These include new turnout gear for all firefighters in Swanton, as well as a second set for full-time employees for when the other set is dirty.
New gear lockers have been installed in the bays and helmets/boots have been replaced due to their age.
A battery powered combi tool was purchased which means that Swanton now has a full set of extrication equipment.
Electrical systems are being replaced due to outgrowing the current panels, doors are being replaced due to their age, proximity readers have been put into place for security reasons, and a server was installed in order to speed up connections and back up files.
The training room was updated with new tables, chairs and tv, and the adjoining kitchen has new items as well.
A new exhaust evacuation system has also been put in place in the station in order to help keep the air clean inside the bays when trucks are running.
New computers are going to be installed in each of the trucks that will be linked to dispatch once the new system is up and running, and a new chief's vehicle will be received by the end of July. "So yeah, it's been a very busy year here," stated Chief Dziengelewski.
When asked if there were any capabilities Swanton has that other departments throughout the state and local area might not have, Chief Dziengelewski stated the following.
"I will not say that our department is better than anyone else. I don't believe that anyone should think that. At the end of the day, we are all in the job for the same reason and that is to help the people we all serve."
"We all need to work together for the best outcome with the way the fire service is today. The fire service to me means Pride, Brotherhood, Family, and Teamwork. The stuff the fire service was built on. We are always here to serve and protect."
Jacob can be reached at
jacob@thevillagereporter.com
---