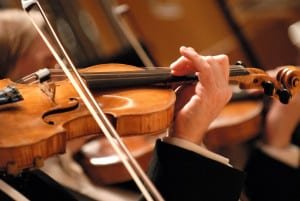 Archbold, OH – On Thursday, March 10th the Toledo Symphony Orchestra will present an evening concert in Founder's Hall at Sauder Village. The performance, which begins at 7:30 p.m., is co-hosted by the Black Swamp Arts Council and Sauder Village.
"This is the 27th year this highly respected orchestra has presented a community concert in Archbold and it is always an honor for us to welcome such talented musicians to Sauder Village," shared Kim Krieger, PR/Media Relations at Sauder Village.
Tickets for the Toledo Symphony concert are now on sale and may be purchased by calling 800.590.9755 or stopping by the Welcome Center at Sauder Village. Advance ticket purchases are recommended. All general admission tickets are $15 in advance and $18 at the door.
Scott O'Neil is the guest conductor for this year's Toledo Symphony performance at Sauder Village. Mr. O'Neil has just completed a nine-year tenure as resident conductor of the Colorado Symphony in Denver, CO and is embarking on a project to create radio and online programs to bring classical music to a wider audience.
From 2000-2006 he served as Associate Conductor for the Utah Symphony. Mr. O'Neil has guest conducted the Houston Symphony, Houston Youth Symphony, Phoenix Symphony, Annapolis Symphony, Florida Philharmonic, Tulsa Philharmonic, and Portland Symphony. He has also been a guest conductor at the Lubbock Symphony, the Boise Philharmonic, the Salt Lake Symphony, the Denver Philharmonic, and the Columbus Symphony in Ohio.
This year's concert is sure to delight music lovers of all ages. The program includes a wonderful mix of music including Tchaikovsky's "Prayer from Mozartiana" and "Symphony No. 32" by Mozart. Other program highlights include "Far and Away Suite" by Williams, "American in Paris" by Gershwin and "Climb Every Mountain" by Rodgers, from The Sound of Music.
The evening concert also provides a great reason to arrive at Sauder Village early to enjoy a delicious meal at the Barn Restaurant. Recognized throughout the region for home-style favorites like roast beef, Barn chicken and real mashed potatoes – enjoying a tasty meal in the relaxed setting of the Barn Restaurant will make the night even more special!
This is the 14th year for the Black Swamp Arts Council to co-host this popular event with non-profit Sauder Village. The 2016 concert is also underwritten by the Farmers & Merchants State Bank and Parkview Physicians Group – Midwest Community Health Associates.
"We are happy to be working with the Black Swamp Arts Council again this year," Krieger added. "We also appreciate the many donations provided by underwriters and patrons throughout the region. These donations help provide music students from local schools with free admission to the Toledo Symphony performance at Sauder Village."
All money raised through ticket sales and patron donations underwrites the costs of bringing the Toledo Symphony to the community on March 10. For more information or for tickets to the Toledo Symphony Orchestra Archbold concert call Sauder Village at 800.590.9755. To learn more about all the special events planned for the 2016 Sauder Village season visit www.saudervillage.org, like Sauder Village on Facebook or follow us on Twitter and Instagram.
INFORMATION PROVIDED