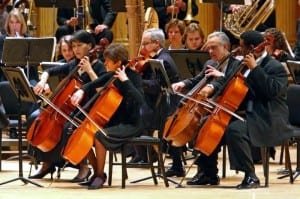 Archbold, OH – On Thursday, March 14th the Toledo Symphony Orchestra will present an evening concert in Founder's Hall at Sauder Village. The performance, which begins at 7:30 p.m., is co-hosted by the Black Swamp Arts Council and Sauder Village.
This is the 24th year this highly respected orchestra has performed in beautiful Founder's Hall in Archbold. Tickets may be purchased by calling 800.590.9755 or stopping by the Welcome Center at Sauder Village. Advance ticket purchases are recommended. All general admission tickets are $15 in advance and $18 at the door.
Resident Conductor Jeffery Pollock will again lead the evening performance at Sauder Village. Mr. Pollock is a conductor known for the intensity of his performances and his ability to connect with audiences. Mr. Pollock was the associate conductor at the Fort Worth Symphony Orchestra for two seasons and the assistant conductor with the North Carolina Symphony for three seasons. In 2001 the American Symphony Orchestra League chose him as a featured conductor for its prestigious National Conductor Preview. His guest conducting appearances included performances with the Houston, Nashville, Charlotte, Lubbock, Harrisburg, Cleveland Chamber and Waterloo-Cedar Falls symphony orchestras. He has had guest conducting appearances with the Eastern Music Festival Orchestra, National Symphony Orchestra of Ukraine, and with members of the Baltimore Symphony Orchestra and Tulsa Philharmonic. Mr. Pollock has also worked for the Baltimore Opera Company, Opera Delaware, and Annapolis Opera.
This year's concert is sure to delight music lovers of all ages. The program includes a wonderful mix of classical music, "Americana" waltzes, jazz and other traditional American music. Some highlights of the Archbold program include Symphony No. 32 by Mozart, Roses From the South Waltz by Strauss, Three Spirituals by Hailstork and The Girl I Left Behind Me arranged by Anderson.
The evening concert also provides a great reason to arrive at Sauder Village early to enjoy a delicious meal at the Barn Restaurant. Recognized throughout the region for home-style favorites like roast beef, Barn chicken and real mashed potatoes – enjoying a tasty meal in the relaxed setting of the Barn Restaurant will make the night even more special!
This is the eleventh year for the Black Swamp Arts Council to co-host this popular event with non-profit Sauder Village. The 2013 concert is also underwritten by the Farmers & Merchants State Bank and Parkview Physicians Group – Midwest Community Health Associates.
"We are happy to be working with Black Swamp Arts Council again this year," shared Jeanette Smith, Director of Sales and Marketing at Sauder Village. "We also appreciate the many donations provided by underwriters and patrons throughout the region. These donations help provide music students from local schools with free admission to the Toledo Symphony performance at Sauder Village."
All money raised through ticket sales and patron donations underwrites the costs of bringing the Toledo Symphony to the community on March 14. For more information or for tickets to the Toledo Symphony Orchestra Archbold concert call Sauder Village at 800.590.9755 or visit www.saudervillage.org To learn more about all the special events planned for the 2013 Sauder Village season visit www.saudervillage.org, like Sauder Village on Facebook or follow us on Twitter @SauderVillage