---
VISIT … Pictured from left to right: Williams County Commissioner Lew Hilkert, Scott Blue, Williams County Commissioner Elect Bart Westfall, Dawn Fitzcharles, Jeff Erb, Ohio Treasurer of State Robert Sprague, Williams County Recorder Patti Rockey, Bryan City Mayor Carrie Schlade, Adam Waggoner. (PHOTOS PROVIDED)
---
Two Ohio Supreme Court Justices- Pat DeWine and Pat Fischer and Ohio Treasurer of State, Robert Sprague, visited Williams County on Wednesday to speak to a group at Season's Bistro on the historic downtown square in Bryan, Ohio.
The stop was part of a multi-city day tour of Northwest Ohio. The group spoke about the newly released State of Ohio AAA credit rating and the November 8 ballot Issue 1 of bail setting for violent offenders.
Fitch Ratings upgraded Ohio's long-term Issuer Default Rating (IDR) to "AAA" from "AA+" reflecting a material strengthening of the state's financial resilience and budget management.
Issue 1 is a constitutional amendment that will be on the November ballot. It would basically repeal the DuBose decision.
"You had four of the Ohio Supreme Court judges who said your trial judges cannot consider public safety when they set bail," DeWine said.
"That decision has led to a lot of dangerous people being released from jail on very low bails."-Justice Pat DeWine.
"What we do really has an impact on the public safety and the legal environment in the entire state of Ohio," he said.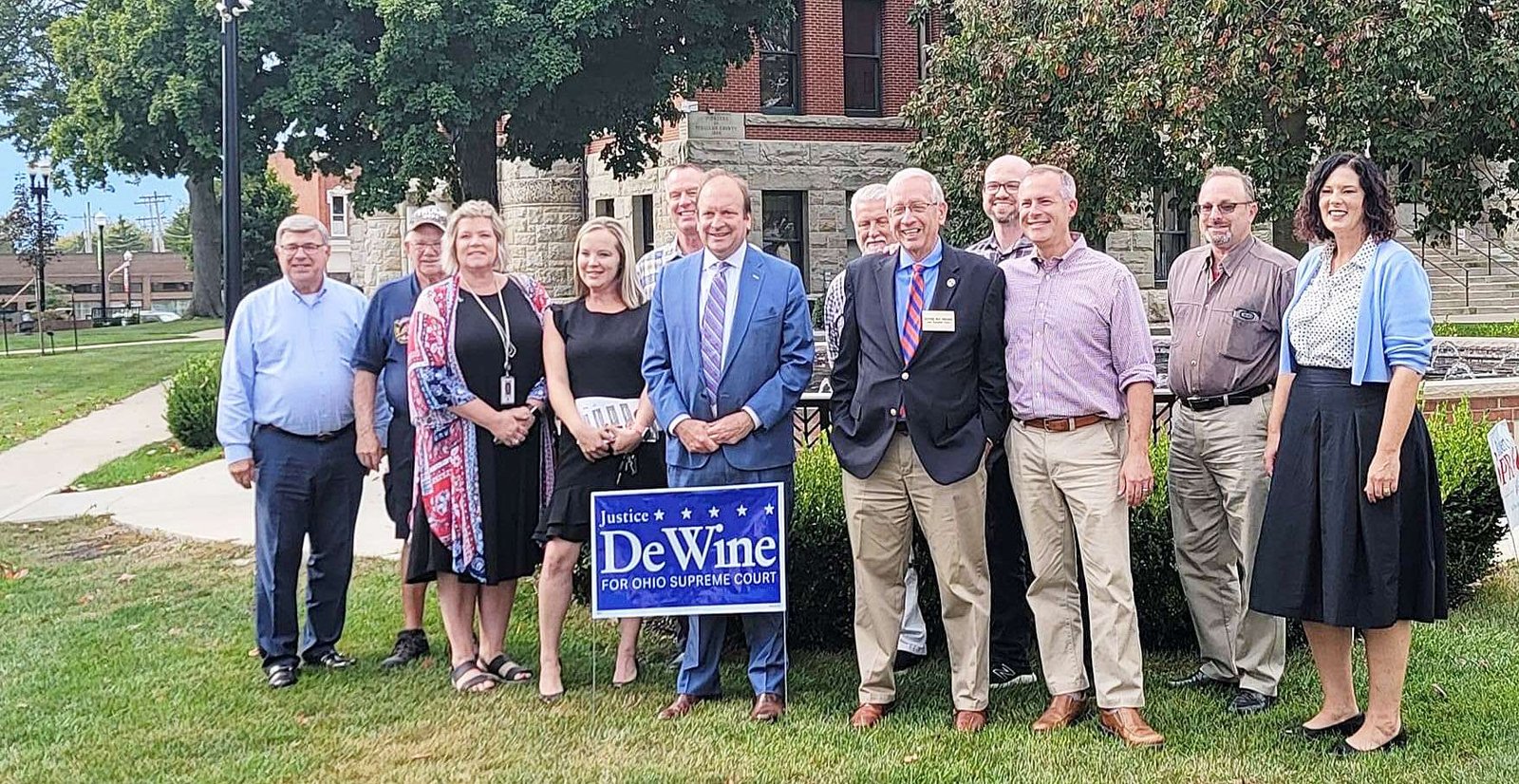 VISIT … Pictured from left to right: Williams County Commissioner Lew Hilkert, Scott Blue, Williams County Recorder Patti Rockey, Dawn Fitzcharles, Jeff Erb, Williams County Commissioner Elect Bart Westfall, Ohio Supreme Court Justices Pat DeWine and Pat Fischer, Ohio Treasurer of State Robert Sprague, Bryan City Mayor Carrie Schlade, Adam Waggoner.
---