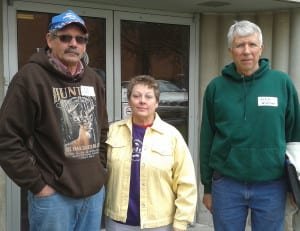 By: Timothy Kays
THE VILLAGE REPORTER
The second quarterly United Way of Williams County Hunger Summit took place on April 23. The updates from the attending representatives of food banks around the county generally reflected the same trends. Overall, there are increases in the amounts of senior citizens visiting local food banks, while other age groups have seen steady to slight increases. This trend remains virtually unchanged from the reports given during the previous quarterly meeting.
Personal care items provided by the We Care Cabinet, items such as deodorant, toothbrushes and especially toilet paper, remain in high demand. Several food bank outlets report that these items are quick to run out, and the needs for such items remains high.
Reports on the use of the red beans and rice and macaroni and cheese dinners that were packaged during the Feeding Williams County event show that despite the occasional anomaly, the dinners are generally being well received. The aforementioned anomalies pertained to bags of red beans and rice dinners that failed to be properly closed in the hermetic sealing process. These packages escaped through the inspection process, and once discovered, cannot be distributed.
The sausage packages distributed through the Farmers and Hunters Feeding the Hungry (FHFH) program have been well received. Every food bank reported that they could always use more food, but meat products are especially in short supply. FHFH contributions are made through chapters across America. While we all know about the contributions made by poultry, beef and pork producers, the concept of venison production and processing remains just outside of common knowledge. According to FHFH, one deer can provide enough meat for 200 meals. Their professionally processed contributions to food banks, both locally and across America, provide a much needed bridge that spans a gap in the most needed item in a food bank…meat. Williams County is fortunate to be home to its own FHFH Chapter. For information about how to contribute to the Williams County Chapter of the FHFH, contact Josh Turnbull, the County FHFH Coordinator at 567-239-2810.
As mentioned earlier, personal care items from the We Care Cabinet are quickly out of stock at the local food banks. Ms. Gina Elick, the Coordinator of the We Care Cabinet, echoed this in her report, noting that she and her family often find themselves putting in overtime in the warehouse in order to get items ready for distribution as quickly as possible. Untied Way Executive Director, Mr. Bill Pepple, reported that he has entered into discussions with the Bryan and Edon Area Ministerial Associations to coordinate their local churches in the collecting of both food items, as well as those in demand personal care items that will be distributed by the We Care Cabinet. Of course, one does not need wait for the word to cone down from the pulpit to take up the cause, as Mr. John Widmer of See and Do in Montpelier pointed out. He noted that Family Dollar of Montpelier coordinated a highly successful local drive for paper products, and expressed his gratitude for their efforts. Personal care items like those mentioned earlier, and other items like bar soap and laundry detergent, are always welcomed. Contact the United Way of Williams County at 419-636-8603 if you are interested in helping the We Care Cabinet accomplish its ongoing mission.
Ms. Michelle Price, a Registered Dietician with the Hicksville Community Memorial Hospital, spoke to the attendees about the need for healthy foods to be distributed at food banks. The handout she provided outlined the need for balanced nutrition, and she said that her program is designed to teach food band clients how to create healthy meals with provided basic staple items, all without losing taste appeal.
Timothy Kays can be reached at
tim@thevillagereporter.com