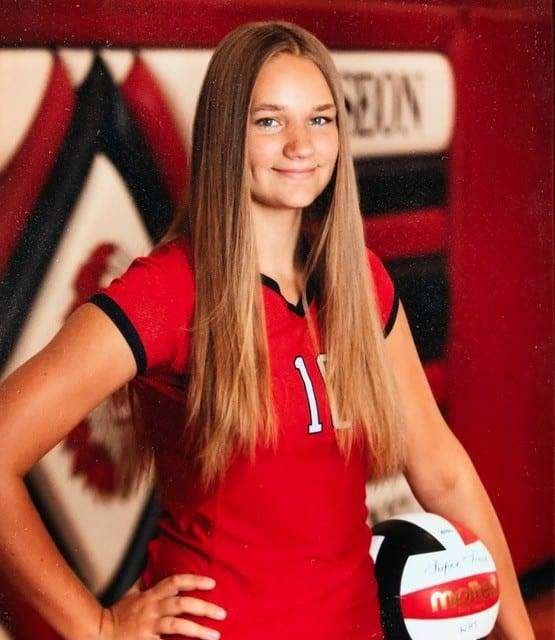 Wauseon High School junior Jennifer Sanders has been presented with the opportunity of a lifetime-a chance to combine her love of volleyball with her love of traveling. It all began with a letter she received in the mail from Down Under Sports inviting her to represent Ohio on the Ohio East Conference Volleyball Team for a summer volleyball competition across oceans in Australia.
After receiving the letter, she requested the informational packet which only piqued her interest more. Her parents participated in an online parents' informational meeting with her. She learned that Down Under Sports had seen her stat sheet from this past season where she is a member of the WHS Volleyball team.
Founded in 1989, Down Under Sports is based upon the dream of a New Zealander by the name of George O'Scanlon who fell in love with athletics, especially American football, as a young man growing up in his native country of New Zealand. As a way to promote football to both New Zealand and Australia, he started the Down Under Bowl which eventually led to the establishment of the Down Under Hoops Classic and the Down Under International Games. The Down Under Sports program desires to "use the common language of sports to bridge the continents and provide a forum for athletes from around the globe to compete head-to-head in the sport they love." The Down Under Sports is proud of the relationships forged with United States athletes over the course of the past twenty-seven years including athletic legends Jake "The Snake" Plummer (Denver Broncos), Ahman Green (Green Bay Packers), Rob Morris (Indianapolis Colts), Dave Dixon (Minnesota Vikings) and Jesse Williams (Seattle Seahawks).
For Jennifer, the idea of Down Under Sports intrigues her as a once in a lifetime opportunity to experience new adventure while playing match after match of the sport she loves.
She explains, "I have always loved the idea of travel. To be able to say I've done this, played in another country, with a completely different group of people, is the reason I want to do this."
Jennifer has been playing volleyball since fourth grade when she first began attending open gyms in Wauseon.
"I knew I needed to be involved in a sport, so I chose volleyball," she explains.
She quickly fell in love with the sport. In seventh grade, she joined the Wauseon Middle School volleyball team and has played every season since. Her key position is in the front on the right side. She has also played on the Glass City club team in Toledo during school off season.
Never once did she imagine this decision to play volleyball would take her miles from home across oceans to amazing adventures.
To participate, Jennifer will depart for Queensland, Australia on Tuesday, July 11, 2017 to compete down under for individual honors and a team championship title. Each participant must raise money to cover the cost of the nine day Australia Tournament Package. Fundraising is an important step to achieve the goal of competing on the international stage.
Jennifer is honored to be selected to be an ambassador of her community, state, and country and will compete with girls from all across the United States and Australia. This supervised trip includes the experience of apartment living with three to five other players who play the same sport. The Australian tournament is from July 11th through the 19th. Following the Australian portion of the trip, the teams will enjoy a tropical getaway to Hawaii including a traditional luau dinner and beach activities.
For a high school girl, this affords her the opportunity to play the sport she loves, travel to faraway lands, form lifelong friendships with people from around the United States and world, and to live a life of adventure unafraid of taking risks.
"I have a lot of nerves but the excitement outweighs them," Jennifer says with a smile and excited anticipation spread across her face.
Her parents, Doug and Tonya Sanders, are supportive although they admit that big brother Jesse who is a sophomore at Anderson University in Anderson, Indiana is probably her biggest cheerleader for this opportunity. He is excited for his sister to be chosen for this adventure. Mom and Dad are equally as proud although admit waving good-bye to their daughter as she boards the plane in a few months won't be without a few tears.
An adventure like this does not happen without the support of family, friends, and a community. Online donations may be made by individuals and business organizations at www.DownUnderSports.com/payment. You can enter Jennifer Sanders under the prompt of "Name of person this payment is for."
Jennifer wishes to thank everyone in advance for their support and prayers for her "Down Under" adventure.
Tammy Allison may be reached at publisher@thevillagereporter.com