---
By: Jennifer Ellison
For teenagers, the world is a daunting, and often intimidating place to be forced into. Some handle the transition from carefree childhood to responsible adulthood better than others.
But there's no denying that all teenagers feel the strain and burden in the fight to gain acceptance and understanding from a world that seems just too busy for them right now.
This is a battle local teen Macy Gerig understands all too well. Not only does she understand it, she wants to help change it.
Her book "Dear Teen: We're in This Together", which was officially published on April 22nd, 2021, tackles the issues that young people deal with from a firsthand perspective.
Macy's inspiration for the book came from noticing a painful lack of relatable media aimed at teenagers, specifically in the Christian genre. Macy found that nearly every book she came across was written by a well-meaning adult who had long since shuffled off the teenage coil.
The advice she came across wasn't matching up with what teenagers actually need. "Adults don't seek advice from 10-year-olds because their experiences and thought processes wouldn't line up accordingly. Likewise, teens want to hear from other teens." Macy said in an interview.
At first, Macy wasn't sure how to go about starting her book when she decided to start writing it in March of 2019. "When I first felt lead to write this book, I spent some time disagreeing with Him [God]. How could/should I write a book? I mean, I was only 16 years old!"
By tapping into her own needs and desires as a teenage girl, Macy started to figure out precisely what she needed to do and how to do it.
She realized her book needed to be different from other Christian books on the market, especially those aimed at teenagers.
It needed to speak their language, open itself up to open up their hearts and minds and most importantly, show them that the author understands their struggles.
"This book must be relatable and real. It must not be too long, or teenagers are going to get bored and put it down." Macy said.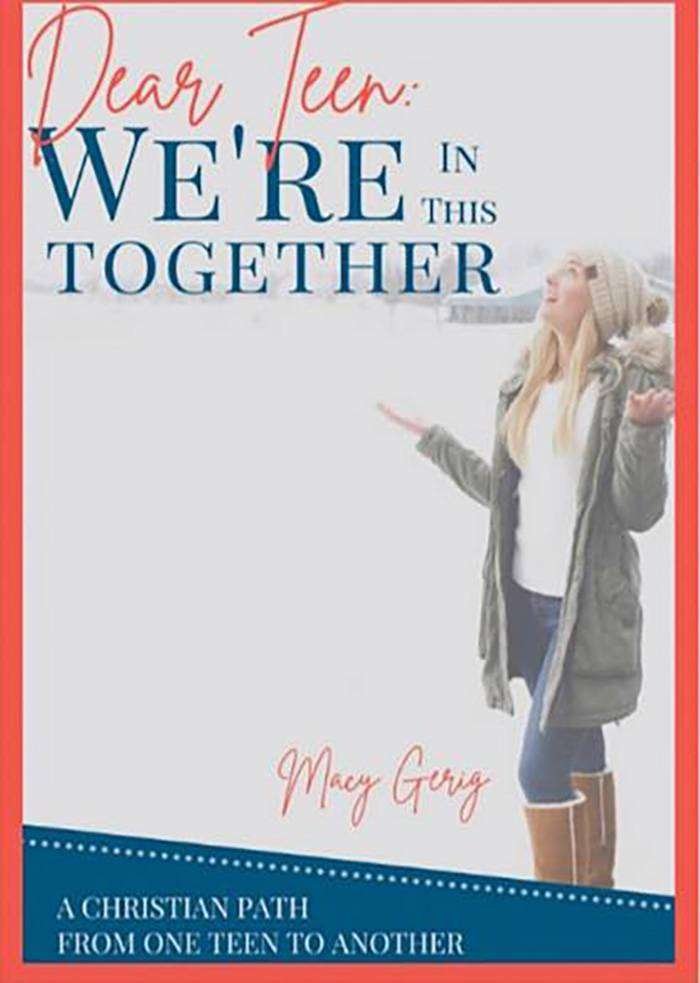 For Macy, the biggest factor was in making sure that teenagers learned there were other ways to live their lives and be closer to God as they tread closer to adulthood.
Macy weaves elegant and informative paragraphs together with inspiring scripture which relate to the topics she discusses. Everything from building friendships and identity, to navigating the tangled webs of relationships, Macy does her best to remind her young readers that God is with them through it all.
"That's exactly what I want every teenager to know and understand. Teenagers are losing their faith when difficulties arise." Macy wants her age group to see that God is always rational in their lives, even if sometimes, it doesn't seem like it.
In this short 119 page book, Macy pours her heart out to her generation, urging them to put their trust in God when the chips are down, and to remember that they are always accepted in His eyes. Macy hopes to keep the message of "Dear Teen: We're in This Together" going through further literary works.
She hopes to begin writing a workbook for bible studies that small groups can use in the future to further develop their relationships with God as they navigate an increasingly complex world.
She encourages teens that it's possible to thrive, not just survive, through trusting in God's plan.
Macy hopes to continue writing as she looks forward to college in pursuit of her dream of becoming a NICU pediatrician.
Her hope for her writing is to progress through each of her life stages, speaking to her age group through each and every transition. In a time when everyone was so negative and depressed,
Macy saw an opportunity to see what God had in store, and her positive outlook and talent for writing are sure to delight and calm the anxious hearts and minds of many young people to come.
Jennifer can be reached at publisher@thevillagereporter.com
---