---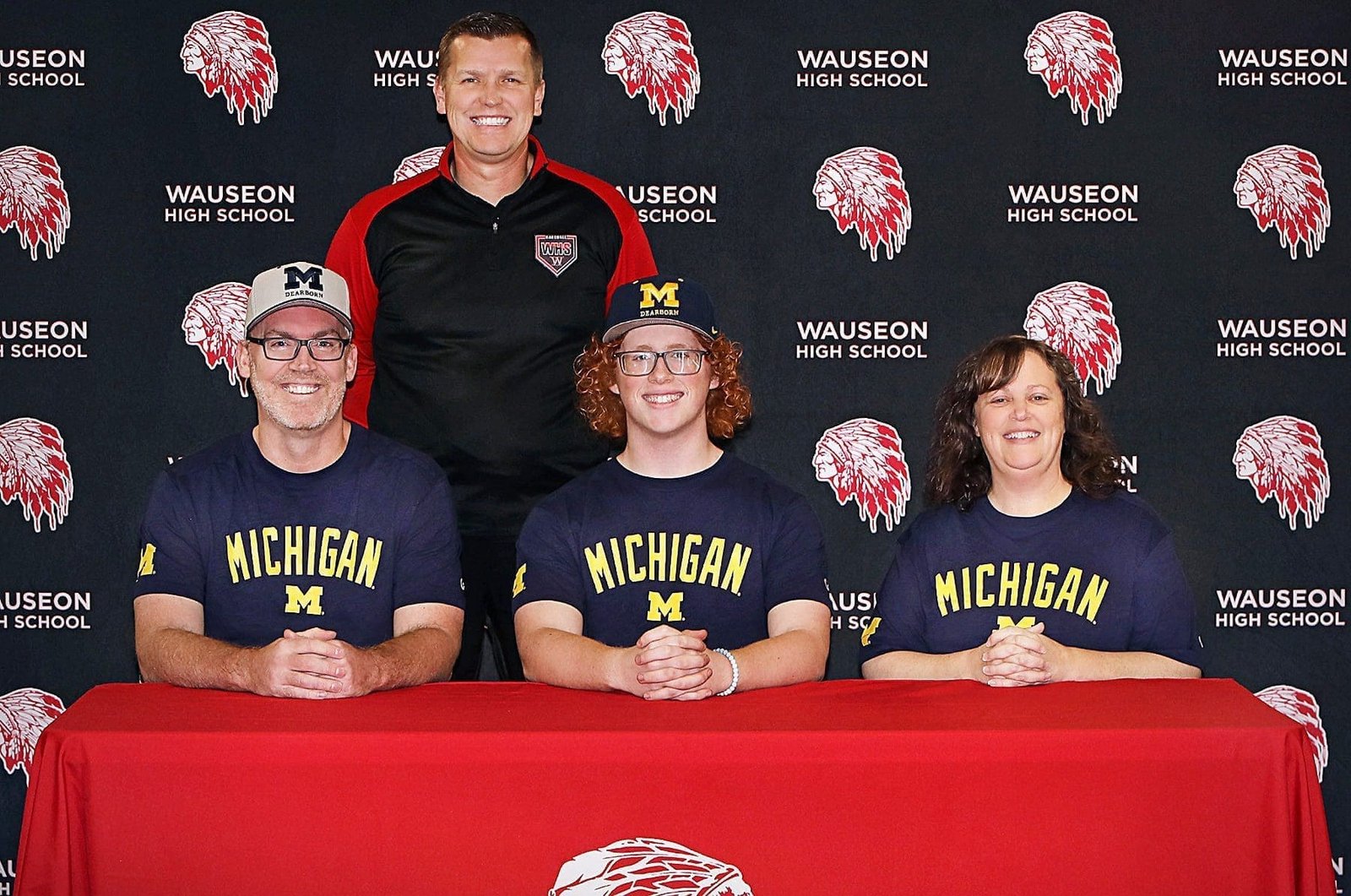 WOLVERINES … Wauseon's Kage Little recently committed to continue his education and baseball career at The University of Michigan-Dearborn (NAIA) in Dearborn, Michigan. Shown at his signing event are: Front row: Brian Little (father), Kage Little, Deanne Little (mother). Back row: Wauseon Baseball Coach Trent Thomas. (PHOTO PROVIDED)
---
By: Nate Calvin
WAUSEON – Growing up as a lifetime Michigan Wolverine fan, Wauseon senior Kage Little jumped at the opportunity to become an official Wolverine by signing a letter of intent to continue his baseball career at the University of Michigan-Dearborn.
"I chose this school because of its excellence in my field of study. I am also a lifetime Michigan Wolverines fan and it will be an honor to be a member of the UofM Alumni", said Little, who will be pursuing a double major in Computer Science and Cyber Security.
"I did look at some other schools who contacted me about baseball, Sienna Heights, Lourdes, Lawrence Tech, Spring Arbor & Jackson."
"Ultimately, UofM Dearborn was the best fit for what I'm studying and furthering my career in baseball."
Little holds 3.9 GPA, is a member of the National Honors Society, and has been on the honor roll all four years of high school.
Along with his academic achievements, Little is a four-year Student Athlete Award winner, a four-year varsity bowling team letterwinner and has an accomplished career in American Legion baseball.
Little will be entering his third season with Blissfield Legion Post 325 where he has earned Crossroads League Player Of The Week honors four times.
There has been plenty of hard work put in by Little to earn this opportunity to play at the next level.
"I am working on my baseball abilities 10 months out of the year. I am throwing, building strength in my arm with various exercises & programs."
"I also lift weights and do core training year-round. I use pickleball to work on my agility, hand-eye coordination as well as quickness."
"All this work has awarded me the opportunity to play for University of Michigan Dearborn. I couldn't be happier!"
"I just want to say a big thank you to my family for supporting & encouraging me in my baseball journey."
"I also want to send a special thank you to my Blissfield Legion Baseball family, especially my head coach Matt Jones who was instrumental in getting me in front of colleges and always trusting and believing in me on the mound."
"He was such a huge part in helping me achieve my college baseball dream", added Little.
Nate can be reached at sports@thevillagereporter.com
---