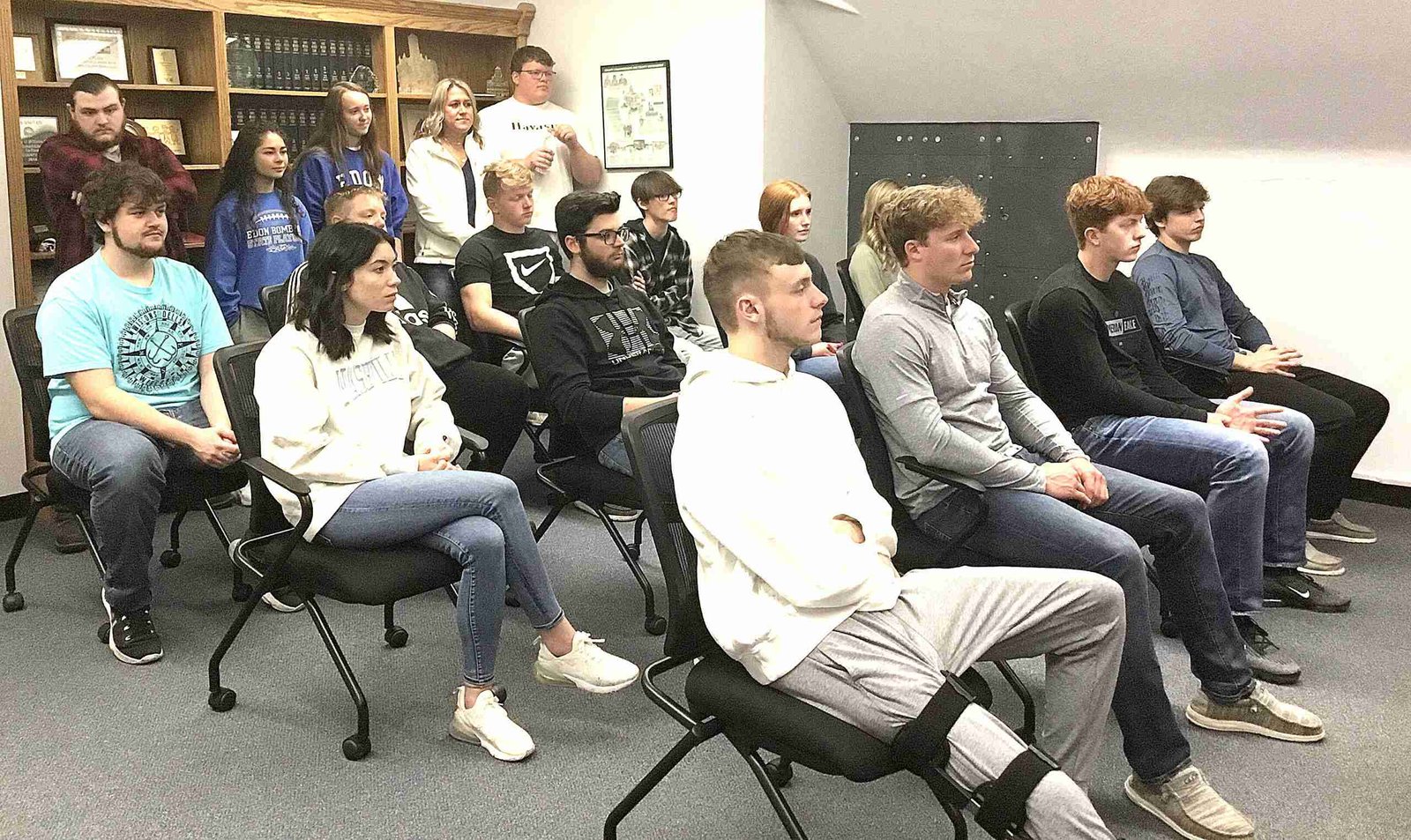 EDON GOVERNMENT CLASS … Juniors and Seniors who are taking the government class at Edon High School had opportunity during the Monday, May 2, 2022 sessions of the Williams County Commissioners, to ask a few questions. Seen here is the first group who was chaperoned by Tacia Livensparger, paraprofessional with the school. The second group toured with their teacher, Scott Staten. (PHOTO BY REBECCA MILLER, STAFF)
---
By: Rebecca Miller
Government classes from the schools in Williams County, Ohio are busily fitting in a visit to the Courthouse in Bryan before the end of the school year. On Monday, May 2, 2022, it was Edon High School's turn to tour the majestic building.
They had a tour schedule which put the first group in the Commissioner's Hearing Room at 10:15 a.m., ready to ask a few questions. The second group filed in to take their seats around 10:45.
In other business of the day, the Commissioners voted to approve:
-Resolution 121 Supplemental Appropriations on behalf of Commissioners, Common Pleas, Hillside and Victim Assistance
-Resolution 122 Rescinding Resolution 22-0118 regarding the Legal Notice for Courthouse Window Project (due to some inaccuracies within the legal notice)
-Resolution 123 Advertising for Sealed Bids for Project #04-2022 Courthouse Window Project to be received in their offices until 10:30 a.m. on Thursday, May 26, 2022.
-Resolution 124 Approving funding award on behalf of Department of Aging, in the amount of $40,000 from ARPA for a Meal Delivery Vehicle
-Resolution 125 Entering into MOU on behalf of JFS, between JFS and Adopt America Network with Wendy's Wonderful Kids for the purpose of outlining mutual responsibilities to recruit adoptive families for children in foster care with a term of July 1, 2022 to June 30, 2023 at no cost to the county
-Resolution 126 Authorizing purchase of Ricoh IM 4000 copier from Perry Pro Tech at cost not to exceed $5,879.29, on behalf of Juvenile Probate Court
-Resolution 127 Entering into a Lease Agreement on behalf of WC Juvenile Probate Court for professional services and products with Attenti US for the purpose of leasing GPS Monitor Devices with a term starting the date the contract is signed by Judge for one year with an auto renew, at a cost not to exceed $3.20 a day per devise in use
-Also Signed: Squire Patton Boggs continuing Disclosure Compliance – Disclosure Counsel for various purpose refunding bonds Series 2021; State of Ohio Department of Development Office of Community Development – request for release of funds and certification for Federally Funded State Projects; Travel request for Department of Aging employee Kelly Head for June 29-30, 2022; Credit Card Appropriation on behalf of Recorder for May 2022; Dog Warden Report for April 18-24, 2022; Permit for use of County Property for Fraternal Order of Police Captain Custar Lodge #181 for National Police Week for May 16, 2022; Dog Warden Report for April 25 – May 1, 2022; Monthly report of all dongs seized, impounded, surrendered, redeemed and destroyed in April 2022.
-Minutes for April 25, 2022 and payment of bills
Following a short recess, the commissioners met with Maumee Valley Planning Organization, as well as Edgerton Mayor Robert Day and Village Administrator Dawn Fitzcharles, for a Bid Opening in regards to the Edgerton Oak Street Project.
The pre-bid estimate $115,000; Ward Construction bid $91,862.10; D.L. Smith Concrete, LLC of Norwalk bid $123,749.00.
Dennis Miller, from MVPO, said he will wait for the village to make a recommendation first and then MVPO would make a recommendation to the commissioners.
With no further business, the sessions adjourned at 11:07 that morning.
Rebecca can be reached at rebecca@thevillagereporter.com
---