---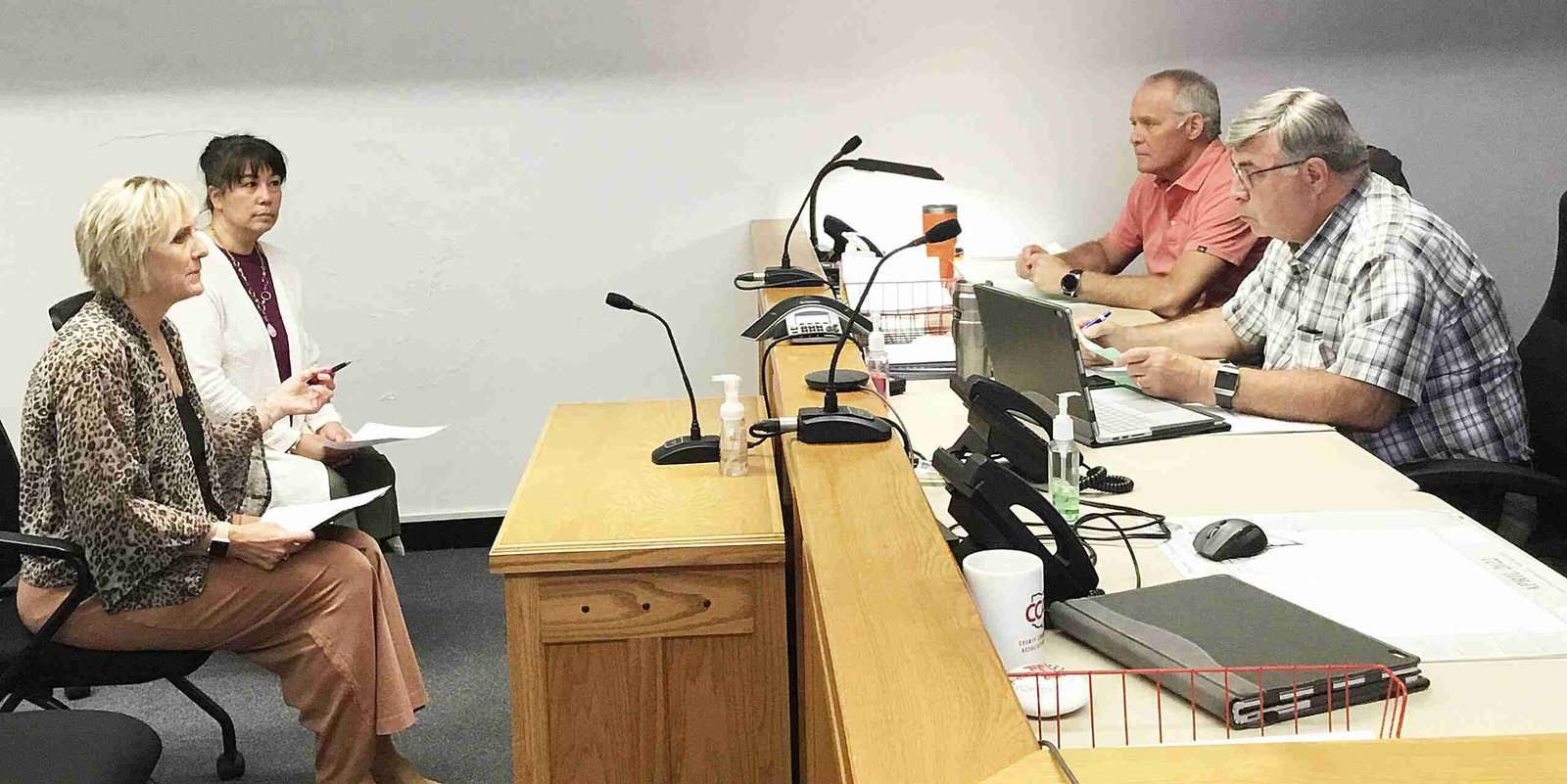 CHIP APPLICATION … MVPO representatives Liz Keel and Dottie Vollmar spoke with WC Commissioners during the June 9, 2022 meeting in regards to public hearing #2 for the 2022 CHIP application. (PHOTO BY REBECCA MILLER, STAFF)
---
By: Rebecca Miller
Thursday, June 9, 2022, regular sessions began at 8:30 a.m. for the Williams County Commissioners. A short meeting with Dave Newcomer, representing the WC Port Authority, was mostly discussion concerning how the books can be kept and who should be doing it.
Steyer Huber and Shultz Huber were mentioned along with Dawn Fitzcharles talking about using QuickBooks. No decisions were reached.
At 9 a.m., following a 20-minute recess, the commissioners went back into regular session and approved:
-Resolution 164 Supplemental Appropriations
-Resolution 165 Accepting the amount and rates as determined by the Budget Commission and authorizing necessary tax levies and certifying them to the County Auditor
-Resolution 166 Entering into an agreement on behalf of County Engineer
-Also Presented to be signed: Dog Warden Report for week of May 30- June 5, 2022; Dog Warden Report; purchase documents for engineer's van purchase; courthouse permit for Bryan Jubilee for June 16-18, 2022 with map attached; Environmental Review Documentation and Certification form for General Administration, Fair Housing and Planning.
-Minutes for June 6th and payment of bills
Commissioner Terry Rummel asked that they hold off on signing the Jubilee Permit until he gets a little more "information on security since we had such a problem with handicap parking last year. I want to make sure that we're covering that properly this year."
Commissioner Lew Hilkert pointed out that they had the judges and Chamber Director in for a meeting a few weeks ago and dealt with that topic, but Rummel said he just wanted to circle back real quick before they sign it.
Hilkert and Commissioner Brian Davis agreed, but with a reminder that it is next week. They went into recess for 25 minutes before reconvening.
The third portion of the Regular Session for the morning was held with WC Drainage Engineer Brian Fritsch and Drainage Tech, Jamie Burdine. Assistant Clerk Robin Kemp called the Fulton County Commissioners for a Phone Conference.
FC Commissioners Jon Rupp, Jeff Rupp and Joe Short were all present on the phone for the joint Ditch meeting, along with all three WC Commissioners in person.
Fritsch explained that the "two joint county ditches with Fulton County that we are looking at getting collections for 2023 on are 445 Wilson and 448 Owl Creek."
For Wilson he proposed a collection on that for $1000 to reimburse some spraying that was done in 2021 and to keep the balance at 20% unencumbered.
The percentages work out as WC 82.7% and FC 17.3%. For Owl Creek they proposed a $9000 collection for 2023, to reimburse the Spring cost and to keep that balance at the 20% unencumbered level. WC portion is 89.48% and FC percentage is 10.52%. With no questions, the six commissioners voted to approve:
-Resolution 167 for Wilson ditch
-Resolution 168 for Owl Creek ditch
Commissioner Davis assured the FC Commissioners they would forward copies of the resolutions for signing and the phone conference ended.
Another recess of 20 minutes was held before meeting with Liz Keel and Dottie Vollmar of Maumee Valley Planning Organization in regards to public hearing number two for the 2022 CHIP applications.
Keel said MVPO is going to be applying to the state, for the Community Housing Impact and Preservation (CHIP) in the amount of $700,000.
They will try to split it up between the city and the county. They are also applying for home rehab, home repair and rental home repair.
The board voted to approve Resolution 169 Authorizing and Directing the President of the Board of Commissioners to submit a CHIP Application to the Ohio Department of Health, Development Office Community Development.
Rummel was absent for this meeting but both Hilkert and Davis voted in favor and the motion carried. They thanked the ladies for their work with MVPO and for "stopping up."
The next session was held with Ryan Heitkamp and Ben Miller from Garmann Miller Architecture for the bid opening for Project #4-200 for Courthouse Windows Replacement. The pre-bid estimate was 1.8 million.
Heitkamp opened the only bid, from the Wilson Group and listed the following:
-For Contract A their base bid is $600,000
-For Contract B, which is Window Restoration, $43,050
-For Contract C, which is Window Replacement, the base bid is $1,900,000
-Alternate 1 under Contract 3, which is the bullet resistant glass, level 4, is $115,295
-Alternate 2 under Contract 3, which is the 3M window film, level 2, $66,390
-Alternate 3 under Contract 3, bullet resistant glass, level 2 is $92,240
-Combined bid for all three contracts is $1,679,005
Heitkamp explained that if split up the jobs cost more than if the bidder gets awarded all three contracts. He agreed to review the specs and report back with a recommendation.
The bond is with Alscott, and they did acknowledge that they had received Addendum 1 and 2.
With no further business for the morning, they went into recess for 10 minutes and then adjourned for the day.
Rebecca can be reached at rebecca@thevillagereporter.com
---