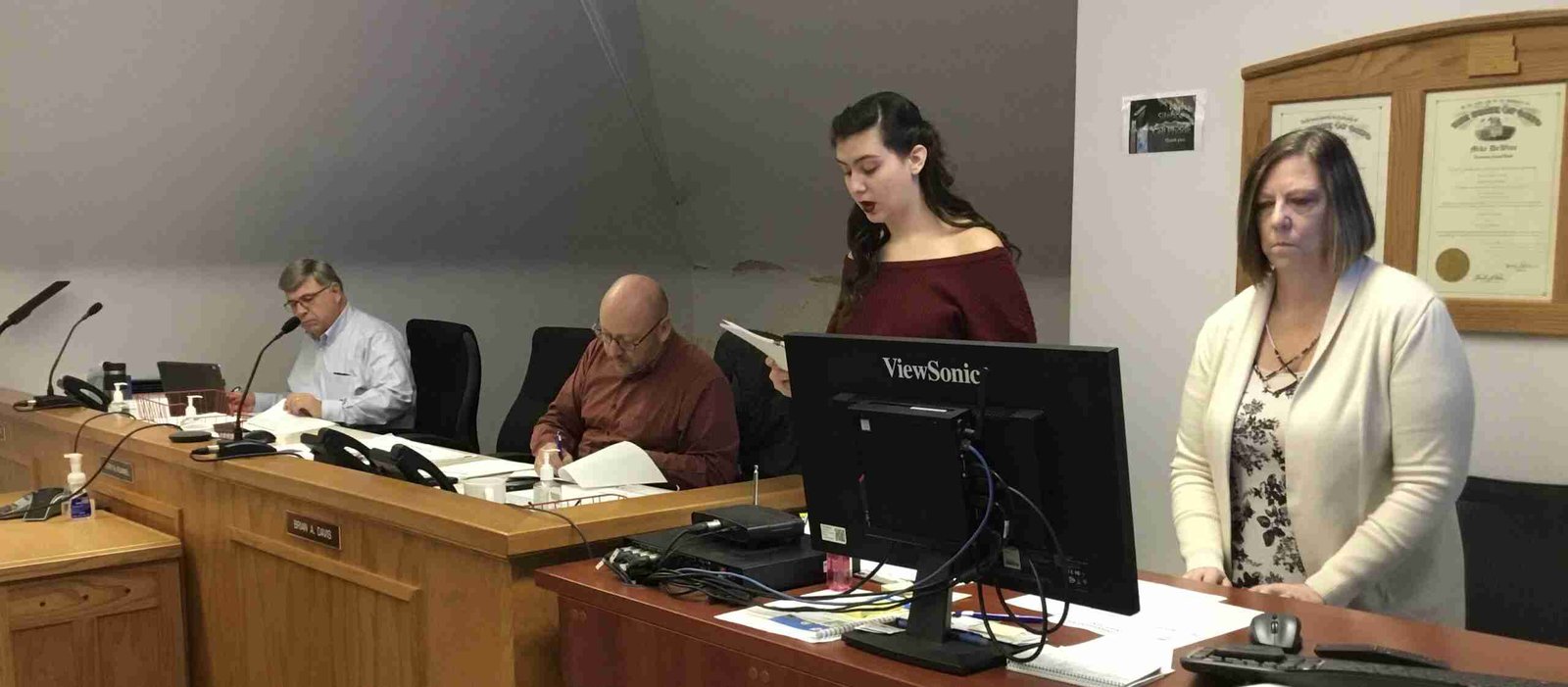 WRAPPING UP 2021 … Jillion Drinnon, working in the Commissioners' office during her college Christmas break, and Assistant Robin Kemp, along with Commissioners Lew Hilkert and Terry Rummel, pulled together the last of the year items that needed approval and signatures at the December 30, 2021 meeting. (PHOTO BY REBECCA MILLER, STAFF)
---
By: Rebecca Miller
A short meeting, with the passage of a few resolutions and an Executive Session, was held on December 27, 2021 by the Williams County Commissioners.
With Assistant Clerk Robin Kemp on duty, they voted to approve Supplemental Appropriations, Reductions in Appropriations for 2021 Budget and minutes for December 23, 2021.
They also approved three resolutions (411,412 and 413) entering into IV-E contracts for provision of Child Placement, between WC Department of Job and Family Services and (411) Ohio MHAS-Belmont Pines Hospital; (412) Inner Peace Homes, Inc.; and (413) New Beginnings Residential Treatment Center, LLC.
Following a short recess, they reentered General Session and went immediately into an Executive Session for Compensation with Sheriff Tom Kochert. There was no action taken.
Later in the meeting they also held an Executive Session with WC Engineer Todd Roth and Prosecutor Katie Zartman, for Economic Development Assistance. There was no action taken following this session either.
Thursday, December 30, 2021 held the last official meeting of the year for the WC Commissioners. Robin Kemp and Jillion Drinnon read the resolutions and the items that also needed signing, while Commissioner Terry Rummel led the meeting in the absence of Commissioner Brian Davis. Approval was given to:
-Minutes dated December 27, 2021
-Resolution 415 Supplemental Appropriations
-Resolution 416 Entering into IV-E Contract between WC JFS and Specialized Alternatives for Families and Youth of Ohio, Inc. (SAFY) for Provision of Child Placement
-Resolution 417 Entering into an Agreement between Ohio Department of Development and WC Commissioners for administration of Housing Revolving Loan Fund using CDBG and/or Home Program income
-Resolution 418 Entering into IV-E contract between WC JFS and Community Teaching Homes, Incl for provision of child placement.
One resolution was tabled for further discussion and the commissioners Also Signed: Competitive Retail Electric Service Affidavit; Credit Card monthly expenditures from Recorder's office for December 2021 and January 2022; and the Dog Warden Report for the week of December 20-26, 2021.
After a short recess, the commissioners welcomed Hannah McKee from CEBCO, via Zoom, for an update on Williams County Healthworks, which is to help with healthy living for the county employees.
Ms. McKee went through the data explaining the different percentages of the health checks done for participants. In Williams County, 284 of the 400 employees are participating, which is 71%. McKee said that is one of the higher numbers for the counties involved.
Commissioner Hilkert asked for past numbers to be sent to them so they can see any improvements for those who are participating.
The report covered Cholesterol – good and bad, triglycerides, glucose, hemoglobin A1-C, blood pressure, nicotine use, nutrition, exercise, preventative screenings, as well as stress and depression.
She expressed the point that the financial impact on businesses by tobacco users is very high and said that "paying for tobacco cessation is the most effective health insurance benefit an employer can provide for their adult employees."
The commissioners thanked McKee for the update and wished her a Happy New Year. With no further business they adjourned for the day and the year.
Rebecca can be reached at rebecca@thevillagereporter.com
---