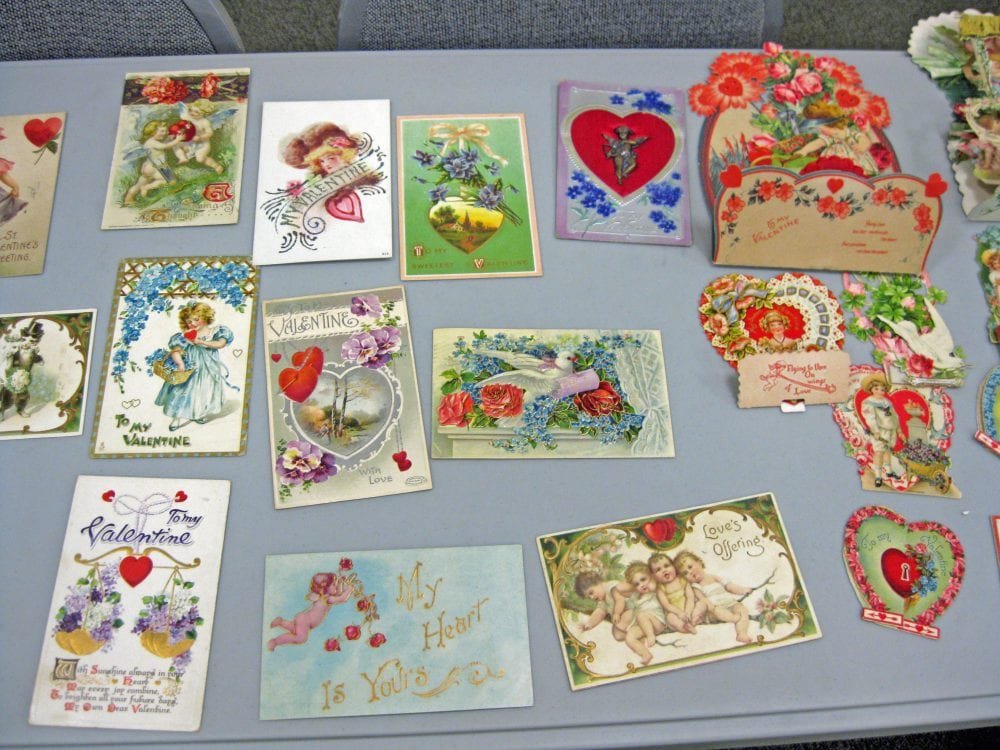 The Williams County Genealogical Society met Monday, February 13, 2017 in the Harmon Room of the West Annex, Bryan Public Library. In honor of Valentines' Day, members were asked to bring valentines to share and discuss.
Different authorities believe Valentine's Day began in various ways. Some trace it to an ancient Roman fertility festival called Lupercalia. Other experts connect the event with one or more saints of the early Christian church. Still others link it with an old English belief that birds choose their mates on February 14. Valentine's Day probably came from a combination of all three of those sources–plus the belief that spring is a time for lovers.
In Norman French, a language spoken in Normandy during the Middle Ages, the word galantine sounds like Valentine and means gallant or lover. This resemblance may have caused people to think of Saint Valentine as the special saint of lovers. Commercial valentines were made for the first time in the 1800s. source : Bain, Carol. "Valentine's Day." World Book Student. World Book, 2017. Web. 15 Feb. 2017.
WCGS members displayed their cards and shared their stories. Maggie Deitzen married Charles Richholt, his granddaughter Joanne Allison shared the valentine Charles gave her before they were wed. They were only married a short time as Maggie died of tuberculosis. Rita Brown brought valentines for everyone just like the students do in school. Pat Goebel brought candy to share.
On March 13, 2017, at 6:30 pm the WCGS will meet in the Harmon Room of the West Annex to the Bryan Public Library in Bryan, OH. Pamela Lash will be the featured presenter. She will discuss how divorce impacts your family tree. Please come and join us.
The purpose of the WCGS is the preservation of county records and family research. Monthly meetings are held the second Monday of each month, excluding July and Au-gust, in the Harmon Room of the West Annex of the Bryan Public Library. For further information concerning WCGS, email Pat Goebel wcgspg01@gmail.com, visit the Web-site at www.wcgs-orgs.com, or write to WCGS, PO Box 293, Bryan, OH 43506.
INFORMATION PROVIDED