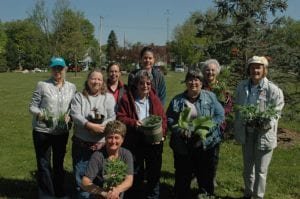 Anyone can plant something in their yard and hopes it grows, but to become a master gardener requires education and commitment.
The Williams County group hosted a plant sale at Main Street Park in Montpelier May 13 and a good rush of customers and raised money for speakers at their education programs. The chapter has 23 members from all across the county.
To achieve Master Gardener status requires 150 hours of education through Ohio State University, chapter spokeswoman Regina Partee said.
This is the fifth year the group has had a plant sale. The members grow the plants and then sell them for 50 cents to $5 each. The group maintains the county fairgrounds and the log cabin as well, Partee said.
Other members work on parks in towns such as West Unity and in developing community gardening in Bryan, Partee said. The speakers and projects help them accumulate the educational and volunteer hours they need to retain their status.
At Saturday's sale, about 20-25 people showed up to purchase plants in the first 90 minutes. The event overlapped with the village's plant swap next to the community pool.