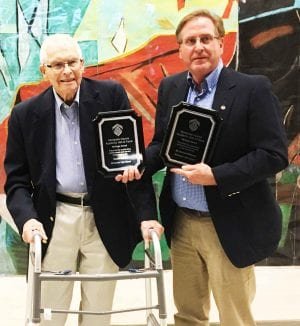 Montpelier Schools have been graduating seniors since the 1880s, but has never recognized its outstanding alumni.
Until now.
Two men who have gone to on to become leaders both at home and far away are the first recipients of the Heritage Award.
Richard Williams, Ph. D, (Class of 1945) and Robert Storrer, Class of 1943, were recognized for their life's work. The high school hosted the ceremony amidst handing out awards to students of the present.
The school is going add more classes every other year, District Administrator Mike Bumb said. The plan is honor its outstanding graduates who have walked away diplomas since 1884.
A committee was formed to select the inductees including school representatives Bumb, Principal Su Thorp and Stephanie Friend, 7-12 guidance counselor and three community members: Rick Eckler, Marshall Donaldson and Cynthia McDonald.
"We kind of bounced some ideas off of each other," Bumb said. "We thought that these two gentlemen, who were fortunate to still be with us today – both are in their 90s, were more than worthy of their nominations for this award."
Storrer still lives in Montpelier, while Williams lives in New Jersey and could not make the trip. Williams' nephew stood in his place.
The school recognized the men at the first part of the High School Awards ceremony. Their names will be hung in the hallways as will future recipients.
He holds a bachelor's and master's degree at Bowling Green State University and also attended Defiance College.
The name of Robert Storrer is well known in the community as he spent 38 years at the old elementary school either as a teacher or principal. The school was named in his honor in 1993. The new Elementary School Wing of the new school was named in his honor in 2010. He was the grand marshal of Montpelier Bean Days in 1993. The Village declared May 11, 1993 as Robert Storrer Day. He was inducted in the Williams County Hall of Recognition in 2011, the same year the village dedicated a park to him. The Montpelier Area Foundation named him Outstanding Citizen in 1997. He received an Appreciation Award for 30 years as statistician for Montpelier High School football and basketball teams.
Besides his work at Montpelier Schools, Storrer worked for six years at the Williams County Learning Disabilities supervisor and participated in the HOSTS program which tutored elementary school students. Other achievements included being one of three founders of Little League Baseball in the village. He coached junior high football, basketball and track. He served many years as clerk of session at the First Presbyterian Church in Montpelier; 30 years as secretary of the Montpelier Park Board; the United Way Board of Trustees and was a charter member and served seven years as secretary of the Montpelier Area Foundation.
He was married to Jane (deceased). He has two sons, John (Cindy) and David (Julie) and one daughter Julie (John) Trautman. He has six grandchildren and seven great-grandchildren.
Williams graduated in 1945 before earning his bachelor's degree in chemistry at Miami University in 1950. He earned his doctorate in chemistry at Harvard University in 1954. He credits his aunt and uncle, William and Fanny Shatzer, for rescuing his from the foster child system of Chicago in 1929 after his parents separated. He also acknowledged his high school science teacher, Harold Karnes. To his cousin Bob Seward he said learned how to act a as a sailor in the Navy.
He served two stints in the military, at Truk and Guam with the Navy 1945-46 and at the Army's Chemical Center in Maryland 1954-56.
Williams was an instructor at Harvard from 1955-58 and worked at RCA Laboratories, 1958-1981. He has written and published a book on physics in English, and Portuguese, as well as scientific articles in Chinese, Portuguese and Spanish.
Williams was a Fulbright lecturer in Switzerland and Sao Carolos, SP Brazil 1969-70. He was also an invited lecturer in China, Inner Mongolia and Taiwan, 1980-85.
Williams gave the first demonstration of the liquid flat-screen display and secured a patent in 1967. The invention is now ubiquitous in flat screen televisions, computer displays and smart phones. He also discovered a previously unknown crater in Brazil in 1969.
Williams received the Electro-chemical Society prize for insulator physics in 1978; the Informational Display Society, Karl Ferdinand Braun prize for pioneering LCD display in 2008 and is a member of the Brazilian Academy of Science and made honorary citizen of Sao Carlos, SP Brazil.