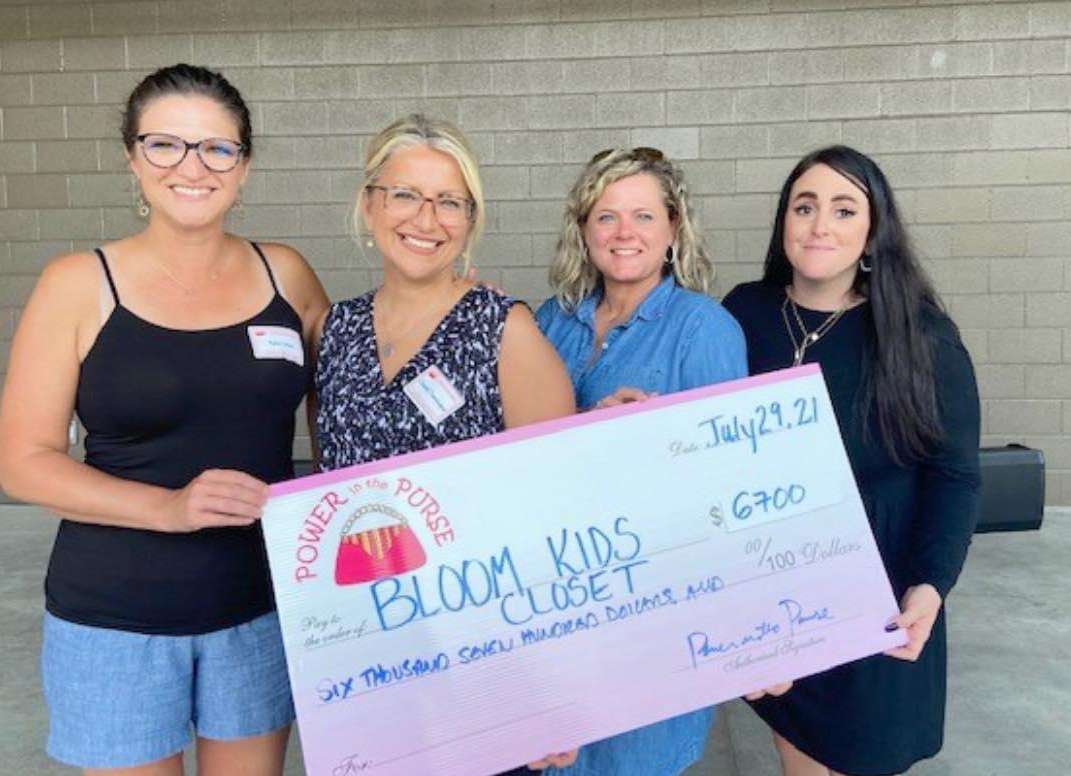 DONATIONS … What a happy day this was when Bloom Kid's Closet was awarded a check for $6700 from Power in the Purse. From left to right are Secretary Kylee Uran, Director Chantel Dominique, President Melissa Stockman and Board member Kylee Town, all smiles as they accepted this generous donation.
---
By: Rebecca Miller
During an interview with the Founder and Director of Bloom Kid's Closet, Chantel Dominique said she has had some chuckles over the many names given to this non-profit.
It has been called Sprout, Blossom, and most recently Broom's Kids Closet in a headline in this paper. We do apologize for the use of the wrong consonant in that headline and are glad the members have a good sense of humor.
The name Bloom for this Kid's Closet was chosen as it is a symbol of growth, change and perseverance.
Every spring we watch the trees begin to bloom, get hit with one or two last winter storms, and then struggle forth with perseverance.
The goal of this organization is to encourage a sense of dignity and self-worth in children who find themselves in hard circumstances, to help them persevere and get through it.
There is something about having nice clothing that makes us feel better about ourselves. No, clothes don't "make the man" as the old adage goes, but they certainly do help determine how we feel."
"On a cold, rainy day, if one stays in their pajamas all day, it lends itself to an unproductive day, peaceful and restful maybe, but not a lot gets done.
In the old days, they used to say, "Get up and get dressed as if you had places to go and things to do, whether you do or not." It helps you feel good about yourself.
An idea based on this concept started developing in the mind of Bloom Kid's Closet founder, Chantel, in 2019 while she was a CASA volunteer (Court Appointed Special Advocate).
CASA volunteers work with children in the court system and represent the children's voices in court. She started to notice that often the children were dressed in clothing that was not sufficient or giving them dignity.
As she saw the need for better clothes for these children, she began to ask friends and family for gently used clothes. She put it on social media as well, and "it snowballed."
When it snowballed, churches started donating, businesses started doing clothing drives and donating money, and organizations and individuals were asking how they could help. She quickly needed a storage place to set up all the clothing.
She began by having the children and their parent or guardian come in to choose what they would like, but realized that they did not feel comfortable with that.
It moved into a group of volunteers working with Chantel to fill Bloom Bags from a request form. In 2020 they began morphing toward all new clothing and since the summer of 2021 it is now all new items.
There is already a service with Community Pregnancy Centers that covers 0-14 yearolds for clothing, so they geared Bloom Kid's toward school age, with sizes 5T and up.
The original idea was to service foster children, but they have had such an influx of clothing that they can service any family in hardship. For shoes, they refer the family to "Just for Kickz", a non-profit which is located in Montpelier and services Northwest Ohio.
Any parent can request a Bloom Bag for their child or children. The only requirement is that they need a referral, which can be anybody in an agency or service, such as a pastor, teacher, guidance counselor, CASA, or foster care. Chantel shared that Sarah's Friends and the Sanctuary have connected them with a number of children in need.
"A lot of times the agency requesting is a guidance counselor, but if a parent sees this and wants to request for their child, they just need to ask someone they trust to refer them to Bloom Kid's Closet," Chantel explained.
If the person they ask is unaware of this non-profit, they can give them the website bloomkids.net, or Bloom Kid's Closet on FaceBook.
Chantel has been in touch with Angelle Reineck, who is a  Bryan City Schools guidance councilor, and she is her point person for other county guidance counselors.
In Montpelier, Michelle Kannel has been instrumental at the school in referring students in need.
The request form asks for sizes, likes and dislikes as well as the age of the child, and a Bloom Bag is packed to be given to that specific child.
The request form also lets them know if they get something that doesn't fit or they don't like, they can exchange it for something that works for them.
Each Bloom Bag consists of a brand-new backpack, with three tops, three bottoms, three pairs of underwear, and three pairs of socks.
The recipient can opt for hygiene necessities and a brand-new hand tied fleece blanket if they would like to have them. The blankets are tied and donated by the ladies at Wesley United Methodist.
As Chantel is no longer a CASA, she volunteers with Mentors of Williams of County, and works full time for Shalom Counseling and Mediation as office manager.
She explained that all of the Board members hold full time jobs, but find time to volunteer in this position. The Board members at present are President Melissa Stockman, Secretary Kylee Uran, Treasurer Brooke Bany and member Kylee Towne.
Chantel is Director and Founder and as they all work together to sort clothes and pack bags, she is the last person to check every Bloom bag before it goes to the designated child.
She mentioned that they are looking for more Board Members. The Board members attend quarterly meetings, help work the Ribfest which is four hours once a year, help sort clothes a couple hours a month, and vote on any policies they want to enact or change in the Articles of Incorporation.
With the need to have 3/4 of the board present to have a quorum, "the more there are on the board, the easier that is to do."
During COVID, when they could not do much of the actual work, she used the time to do the paperwork and make Bloom Kid's Closet a 501c3 non profit organization. This has helped as many people do not give to anything that is not official.
---
BLOOM BAGS … Five bags are packed and ready to go, each one holding three tops, three bottoms, three pairs of underwear, and three pairs of socks. They go to specific children and can also have some hygenic needs and a hand tied blanket if the child wants them.
---
Over the past three years many people have stepped up to help! Chantel spoke of -Cheryl Burlew, from Miller's New Market in Montpelier, who did a Ribfest and the proceeds go to Bloom.
She provides everything and the Bloom board man it for the day. The third one will be scheduled soon and will probably be a Saturday in June.
-Lowes donated new racks for the clothing space.
-They did a New Clothing drive and Michelle Tinkle from Edgerton helped with that.
-Last Easter New Hope Church gave all their Easter service offerings to Bloomkids. So churches can get involved.
-They received Bryan area Founder's Grant in 2021 of $2500
-PIP (Power in the Purse) Grant of $6700 in July 2021 – PIP is a group of ladies, of which they are a member. Every quarter the members pay $50 to be a member and then they vote on who gets the Purse. The organizations who want it give a presentation, and they all vote on who gets it.
-They partner with Max Nihart, who owns Nihart Trailer Rentals in Bryan, and has a Toy Giveaway across from Frankie's in his business parking lot. Bloom provides hats and gloves for every child. They are planning on the third one this year.
-Wesley United Methodist surprised them with a check for $7300 in January of 2022.
-Many people donate their abilities and time to supplement the needs, especially for the back-to-school time of year.
-Every service group where she speaks, they have had donations or a check. She is getting to spread the Word and she has met some really nice people as she shares.
For people who want to get involved, go ahead and buy things on sale when you see them or purchase double when you buy clothes for your own children.
If your child would like to wear it, then it would bring dignity and self-worth to another child who can't afford it, and might help them to not be bullied for their clothes. A good rule of thumb is "if your child wouldn't wear it, don't donate it to anyone."
Bloom Kid's Closet only takes necessities, so no snowsuits or dresses, housing items or anything like that. There are no drop off points at present, so in order to make a donation, just call Chantel Dominique at 419-553-6943 or email at bloomkidscloset@gmail.com.
That contact info can be used also if you are interested in becoming a volunteer to sort clothes, hang them up, or assist packing the Bloom bags.
In the past year they have given away 100 Bloom bags. Cash donations can be made at the website, bloomkids.net. Cash donations are used to purchase clothing that is needed, but is not in stock.
A creative way to raise funds or gather a box of new clothes, for a business or organization, is to challenge employees to bring in an item and receive something in return like pizza or getting to wear jeans for the day.
Be creative and have fun, and bring some joy and dignity to a Williams County child going through some hard times.
Rebecca can be reached at rebecca@thevillagereporter.com
---