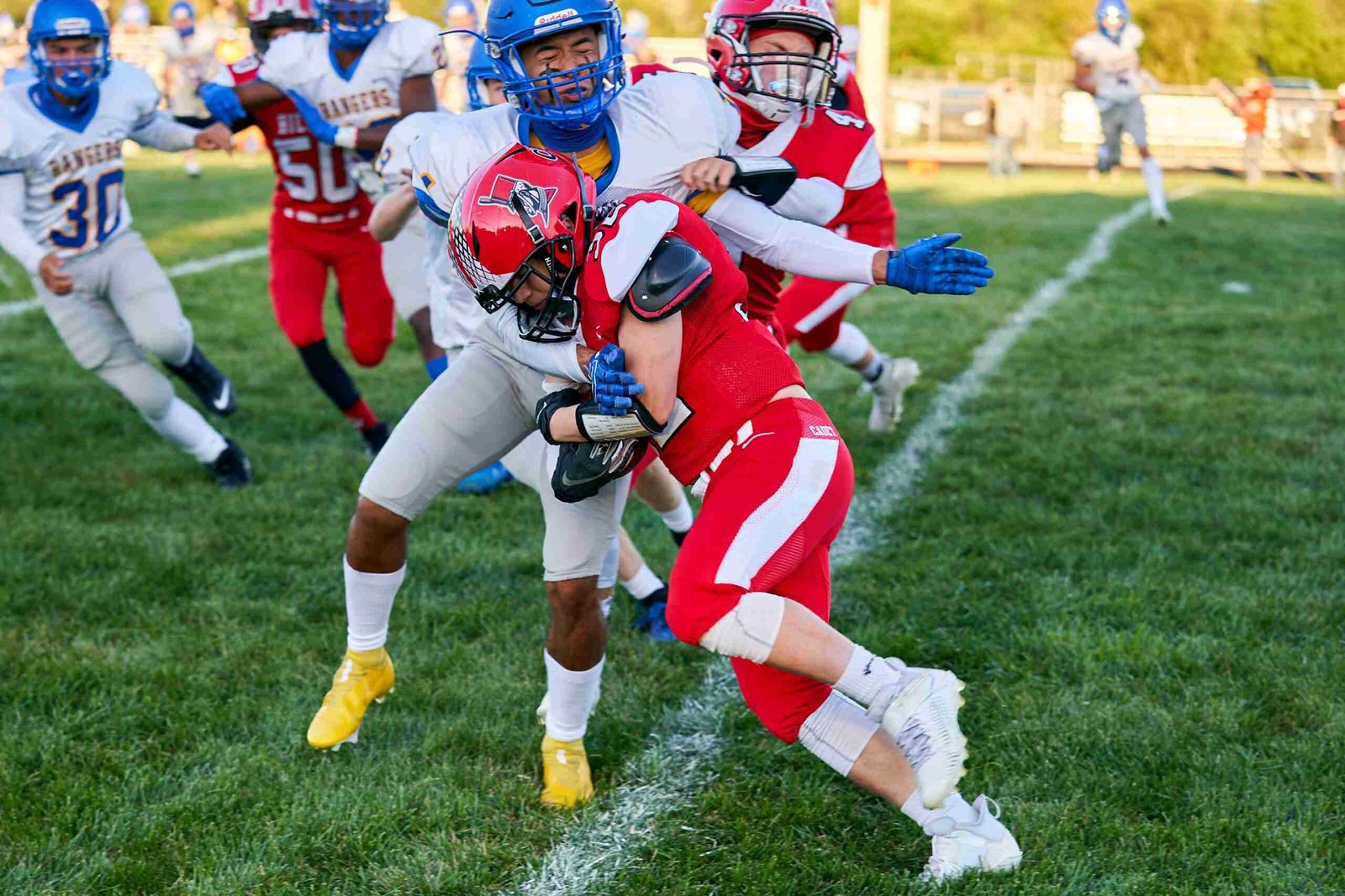 QUARTERBACK COMPETITION … Hilltop senior Andyn Haynes carries the ball against Northwood last season. Haynes is one of three players expected to compete for the starting quarterback job this season for the Cadets.
---
By: Nate Calvin
An injury to their starting quarterback in game two last year and an overall lack of depth made for a tough 2020 season (0-8) for Nate Massie and his Hilltop Cadets.
"We did the best we could and modified the offense to fit what we had. Lots of first year starters on the team who grew as the season progressed and have showed potential for this upcoming season", commented Massie, who enters his fifth season as head coach with an overall record of 14-23.
Hilltop will need to replace six starters and have eight returning letter winners to fill the void. Andyn Haynes, a 3-year lettermen, is one of the returners the Cadets will lean on this year as he is expected to compete for the starting quarterback job along with freshmen Devin Dempsey and Cameron Schlosser.
Last year, Haynes had 28 tackles and racked up 200 yards of total offense for Hilltop. The Cadets also return their leading tackler in linebacker Wyatt Beltz who recorded 55 tackles and one sack last year.
Defensive end Tyzon Pelfrey (30 tackles, 4 sacks, 6 TFL), safety Alex Richmond (20 tackles), linebacker Hunter Leupp (21 tackles), and linebacker Dalton Bauer (22 tackles, 2 TFL) are also back on defense to execute Massie's 3-4 defensive scheme.
"We have strong skill position players and will have an experience front seven on defense with depth", stated Massie when looking at strengths for this year's team.
Massie pointed to depth on the offensive line, inexperience at quarterback, and a lack of experience and depth at the defensive back position as concerns entering the season.
"For us to have a successful season, we need the younger players to step up at key positions quickly. We also need to have great execution on both sides of the ball."
LEAGUE OUTLOOK: "The conference this year is deep with Edon, Northwood, and Ottawa Hills returning a lot from last season."
ABOUT THEIR SCHEDULE: Hilltop will start their season at UT's Glass Bowl on August 21st against Jackson-Milton. The Cadets were originally scheduled to play Sandusky St. Mary in their opener but were forced to find a new opponent after SSMCC decided to play 8-man this year. TAAC play begins on September 17th at home against Ottawa Hills.
Nate can be reached at publisher@thevillagereporter.com
---