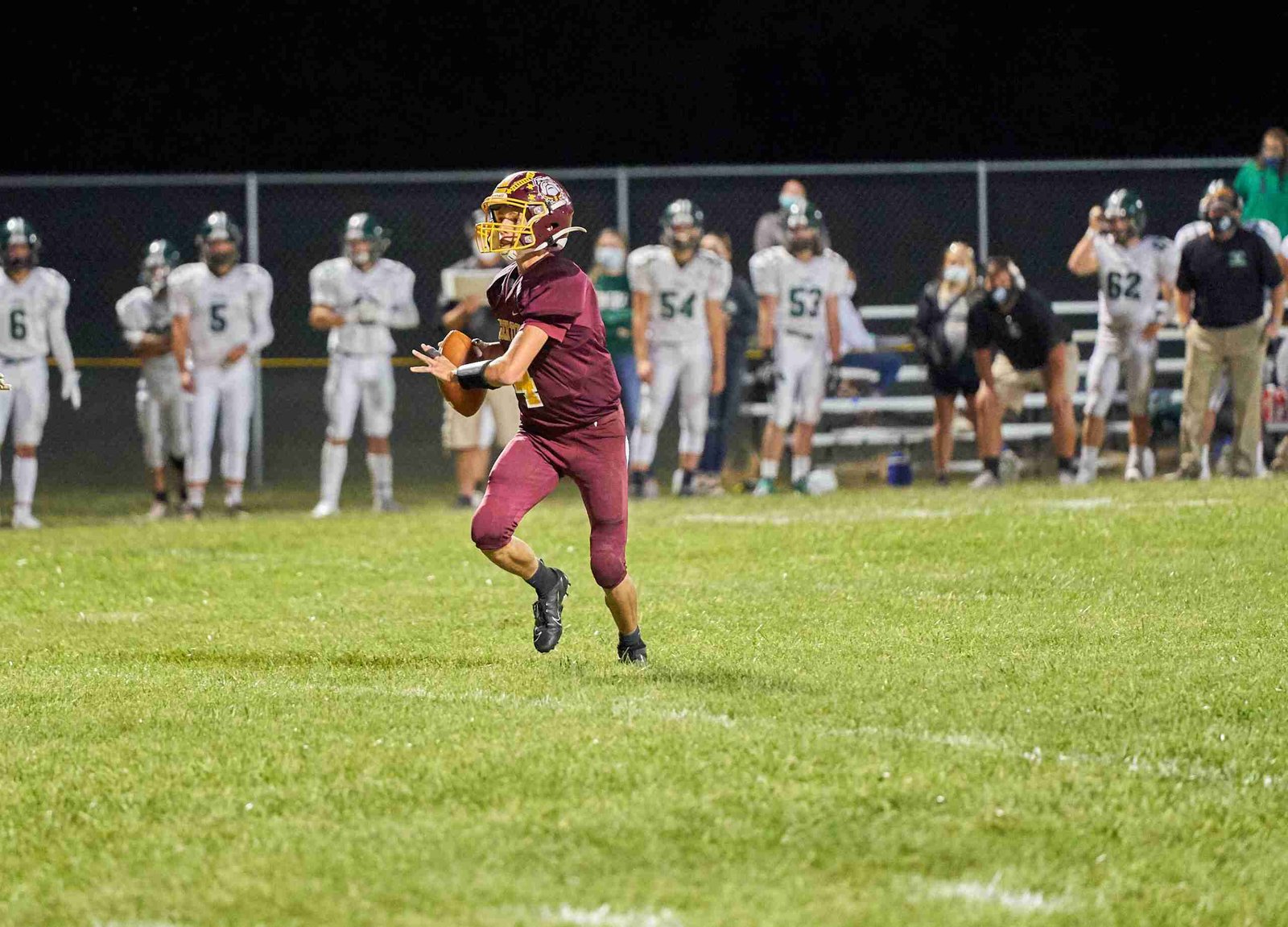 LEADER ON BOTH SIDES OF THE BALL … Edgerton quarterback Corey Everetts looks to throw a pass against Tinora last season. Everetts is not only the top returner on offense, but he is also the leading returning tackler on defense for Edgerton. (FILE PHOTO)
---
By: Nate Calvin
Edgerton bounced back last season after starting the season 0-2 to go 5-1 in their final six games to finish the season 5-3 overall and 3-3 in the GMC for head coach Brody Flegal.
The Bulldogs look to replace five starters and will have ten letterwinners back including Corey Everetts (QB/DB), Cooper Everetts (OL/DL), Isaiah Kellog (OL/LB), Blake Flower (OL/LB), Warren Nichols (RB/LB), Kadyn Picillo (WR/DB), Isaiah Fry (RB/LB), Nate Timbrook (TE/DL), Terrell Nickells (WR/DL), and Riley Kollar (WR/DB).
A strength for Edgerton will be at quarterback where Corey Everetts returns after throwing for 882 yards and eight touchdowns a year ago.
While Edgerton will also have experience on the offensive line, a lack of experience at the skill positions is a concern for Flegal.
On the defensive side, Flegal said the strength of the defense will be their defensive line and inside linebackers with outside linebackers being an area of weakness.
Corey Everetts is also the leading returning tackler for Edgerton after recording 36.5 tackles last year at defensive back while Warren Nichols returns at linebacker after tallying 35.5 tackles last year.
"We as a team will focus on competing and improving each day. We must execute the fundamentals (blocking, tackling) and be a disciplined football team to be successful", said Flegal when looking ahead to this year."
LEAGUE OUTLOOK: "The GMC is always a well-represented conference each year. Each week presents a challenge and we must be ready to compete week in and week out."
ABOUT THEIR SCHEDULE: Edgerton hosts rival Edon on August 20th to begin the season and will be at Ayersville to start GMC play on September 10th.
Nate can be reached at publisher@thevillagereporter.com
---