---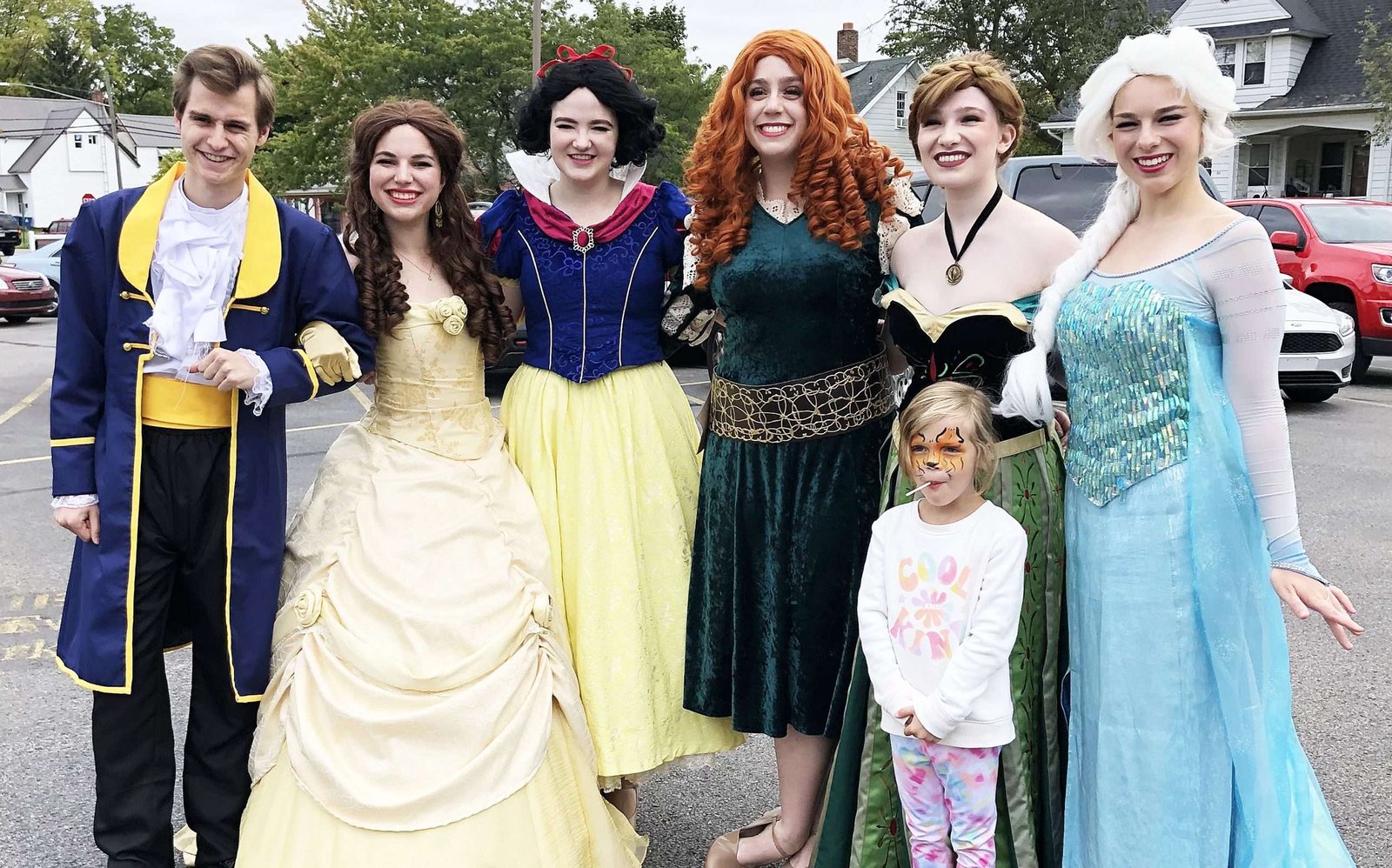 PRINCESS MOMENTS … This little girl, Bella Epling, got to meet and get her picture taken with Prince Adam and Bella from Beauty and the Beast, Snow White, Merida from Brave (who had a delightful accent), as well as Anna and Elsa from Frozen, all at the Fountain City Fandemonium on September 24, 2022. (PHOTOS BY REBECCA MILLER)
---
By: Rebecca Miller
Fountain City Fandemonium, a mini-Comic Con, being held on the same day as Bryan Fall Fest, certainly made for a great opportunity for families to have somewhere totally different to take their children.
With Batman wandering around looking formidable, there were sure not to be any criminals present, and with Disney characters bestowing their smiles and pleasantness on the children there were plenty of delightful moments available.
Parents and grandparents could be seen holding the hands of shy children, encouraging them to meet their favorite princess.
In the library parking lot tent, vendors sold their wares consisting of artwork, collectables and other items sought after by customers who are into cosplay.
Some of the visitors and some of the vendors were dressed as their own favorite movie, comic, show or game characters, along with those who had been brought especially for the event.
---
SCOOBY DOO … This mom took a moment to take her little baby who wasn't so sure about that big dog and show her there was nothing to be afraid of. Scooby Doo got down and gently gave mom a high five. Moments like this one were seen all over the place as opportunities were given to children to meet their heroes and fun characters at Fountain City Fandemonium on September 24, 2022 in Bryan, Ohio.
---
Kids could step up and get their picture with Scooby Doo as he sat happily outside the Scooby Doo van in the parking lot, or be amazed by the life size Chewbacca who joined the Star Wars robotics being displayed in the Historical section of the library.
Food trucks were also available in the parking lot, rounding out the experience for everyone there.
Inside the library, tables were set up with a number of fun crafts for the children to enjoy, and of course, face painting par excellence was available.
For parents who might have been tired from all the walking around the square to see the dozens of vendor items, or from visiting the Barn Fest on the other end of town that day, having a nice place to sit down and relax while their children had some fun, was a great addition to the day.
Other things available included trivia door prizes, a costume contest, a gaming area, a panel giving a Trivia Game Show, Lego Tables, and the opportunity to get one's picture taken with The Hulk.
Rebecca can be reached at rebecca@thevillagereporter.com
---