---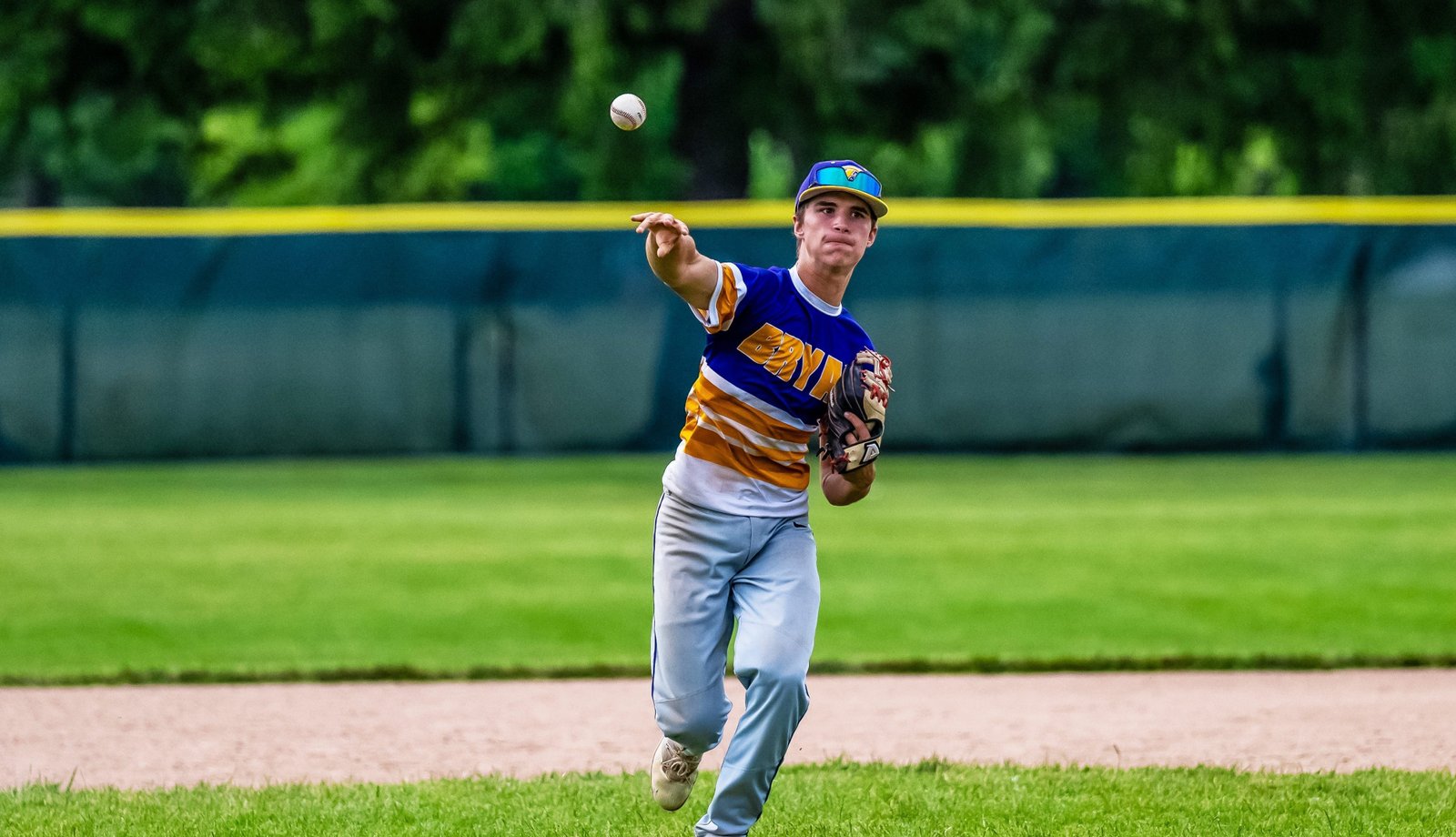 ACME BASEBALL … Bryan shortstop Noah Huard charges the ball before throwing to first base for the out last week against Montpelier. (PHOTO BY RICH HARDING / THE VILLAGE REPORTER)
---
By: Daniel Cooley
BRYAN (JUNE 22, 2023) – Bryan took advantage of wildness by three Montpelier pitchers to claim a win by the 10-run rule, 13-3, in five innings.
The Golden Bears had just three hits, but took advantage of 11 walks, four hit batsmen, three wild pitches and two Montpelier errors.
In the bottom of the fifth inning, Bryan tallied seven runs, while getting just two hits. Cade Carlin led off the fifth with a single, and after a hit batsman and a walk, scored on a bases loaded walk.
Dom Malanga then collected an RBI on a fielder's choice play, in which the throw to home plate was too late, making the score 8-3.
wo runners then scored on a throwing error and Lazarus Lane knocked in the 11th run with a single.
The final two runs scored on wild pitches. With the score at 13-3, the game was then stopped because of the 10-run rule.
Interestingly, Montpelier jumped out to a 3-0 lead, by scoring three runs in the top of the first inning. Kenneth Smeltzer had an RBI double, and he then scored on a Bryan throwing error. Landon Fackler, who singled, scored the third Montpelier run on a wild pitch.
Bryan came back to score two runs in the bottom of the first inning, Lazarus Lane, who led off the inning with a walk, scored on a Montpelier throwing error. Jase Kepler then knocked in the second run with a double.
"Coming right back with two runs was big for us and gave us momentum," said Bryan coach Jason Spiess.
"A lot of times this year when we have gotten behind early, we really struggled to get back in the game."
Montpelier threatened to increase its lead in the third inning, loading the bases with one out, on an error and two straight walks.
Bryan's Elijah Fry then came in to replace starting pitcher Lane and got out of the inning on a double play groundout.
Bryan third baseman Kepler stepped on the bag for an unassisted out and then threw to first baseman Landon Bassett, to complete the double play.
Fry pitched the final 2 2/3 innings to pick up the win. He allowed just one base runner, on a hit batsman.
"Elijah came into a tough spot and pitched well for us," Spiess said. "His curve ball was working really well, and the key was that he was throwing a lot of first pitch strikes."
Bryan then answered the Montpelier threat by scoring four runs in the bottom of the third inning, to take a 6-3 lead.
Kepler and Bassett collected RBIs on consecutive walks with the bases loaded, to give Bryan a 4-3 lead.
Fry then had an RBI ground out and Kepler scored on a throwing error. That put Bryan up, 6-3.
Two innings later, Bryan scored seven runs to end the game with a 13-3 win.
"Though we didn't get many hits, we got them when we really needed them," Spiess said. "As a team, we're starting to figure things out and are coming together at the right time."
MONTPELIER 300 00 –  3 2 3
BRYAN              204 07 – 13 3 3
Records: Montpelier 2-7, Bryan 8-5
WINNING PITCHER: Fry (2.2 innings, 0 runs, 0 hits, 1 strikeout, 1 walk) Other: Lane
LOSING PITCHER: Sharps (2.1 innings, 5 runs, 1 hit, 3 strikeouts, 7 walks) Other: Stahler, Cooley
LEADING HITTERS: (Montpelier) Smeltzer – double, RBI (Bryan) Kepler – double, 2 RBIs; (Bryan) Kepler – double, 2 RBIs, 2 runs; Fry – 2 RBIs
Dan can be reached at publisher@thevillagereporter.com