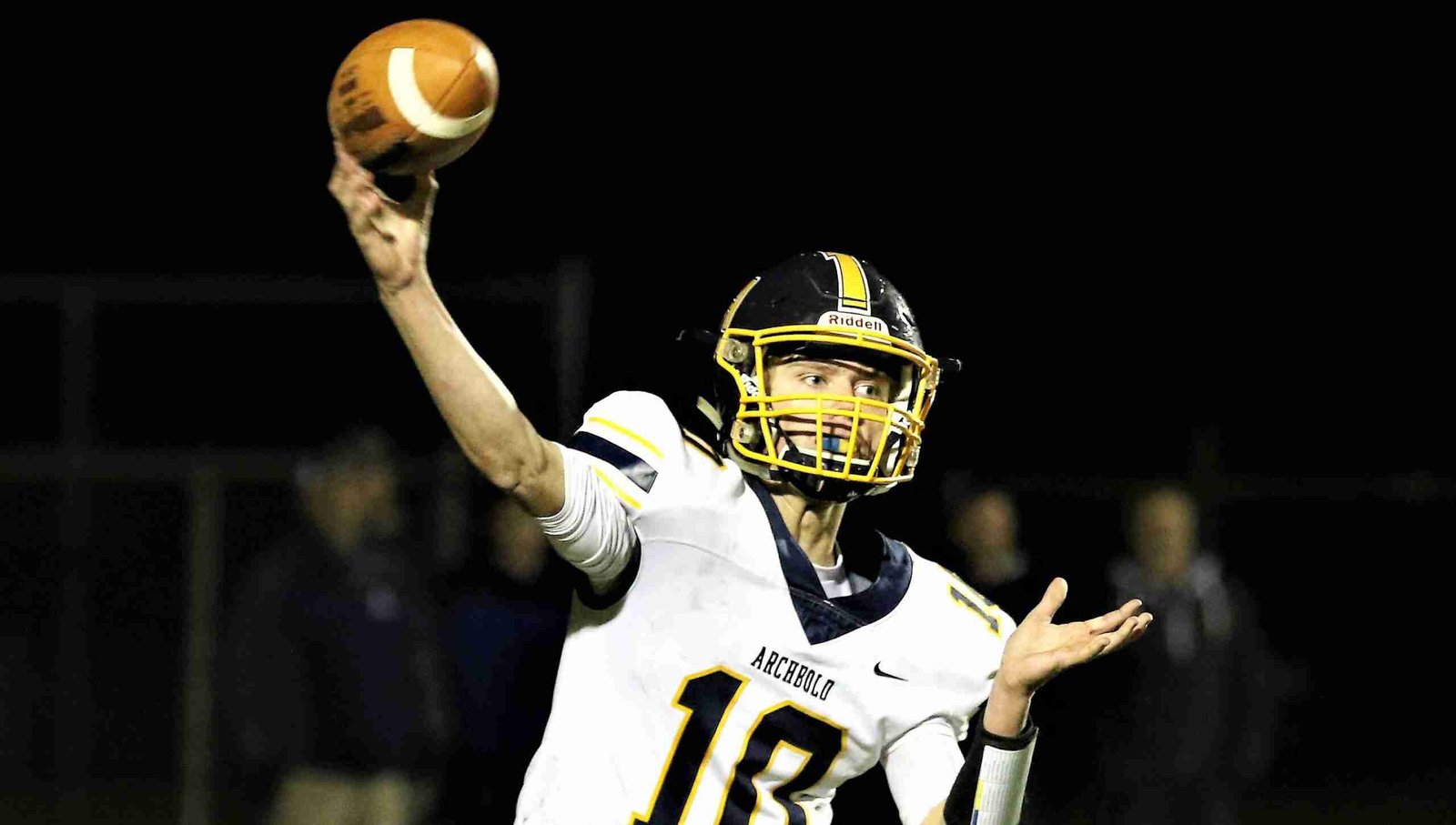 ARCHBOLD QUARTERBACK DJ NEWMAN
---
By: Nate Calvin
The 2020 NWOAL football season is guaranteed to be like nothing we've seen before, and that's even before a game is played. One thing that does remain the same is the teams considered to be the favorites for the league title.
In the preseason voting done online this year by the league coaches as a result of Media Night being canceled due to the pandemic, the Archbold Bluestreaks (63 points, 7 first-place votes) were the overwhelming choice to repeat as league champions. Wauseon (53 points, 1 first-place vote) was picked second followed by Liberty Center (50 points) who was co-champs with Archbold last season. Bryan (37) and Patrick Henry (37) tied for fourth, Evergreen (17) and Swanton (17) tied for sixth and Delta (14) was eighth in the voting.
Not only will the games look different as everybody complies with the orders from the Governor DeWine's office, but the schedule will be different too. Traditionally teams start their season with three non-league games before entering NWOAL play. This season teams will jump right into their NWOAL schedule the first six weeks before the State Playoffs start on October 9th.
As of right now, October 23rd (Week 9) is slated for the final night of NWOAL games. If a team is still alive in the playoffs, which this year will include everyone since computer points have been suspended this season) they can play their final league game at a later date.
Teams will be allowed to play games after they've been eliminated from the playoffs meaning you'll see a lot of the normal non-league games that are at the front of the schedule at the end of the season instead.
As was stated earlier, the 2020 high school football season in Northwest Ohio will look like nothing we've seen before. Below is a team by team preview in order of the coach's preseason voting.
1.Archbold (11-2, 6-1 in NWOAL (Co-Champs), Lost in D6 Regional Finals to Anna 42-7)
HEAD COACH: David Dominique-6th Season
KEY LOSSES: Matthew Gladieux-C/DE, Elijah Zimmerman-FS, Mason Babcock-T/DT, Spencer Short-WR, Shane Eicher-G, Tony Grime-CB, Adrian Juarez-DT, Brayden Hall-TE, Devin Witte-K
KEY RETURNERS: DJ Newman-QB (144/217 for 2,017 yards, 20TDs/8 INTs; 115 carries for 623 yards, 8TDs); Noah Gomez-RB (148 carries, 976 yards, 12 TDs; 22 catches for 262 yards, 19 Tackles); Antonio Cruz-WR (64 catches for 952 yards, 13 TDs), Brandon Taylor-WR (30 catches for 438 yards, 3 TDs, 16 Tackles); Bishop Tuckerman-T; Josh Richer-G; Caleb Ranzau-DE (49 tackles, 5 sacks); Devon Morris-DT (16 tackles); Carson Meyer-LB (110 Tackles, 9 TFLs); Johnny Yoder-LB (70 tackles, 5 sacks); Caleb Hogrefe-SS (47 Tackles, 2 INTs)
Archbold features six starters back on offense and seven returning on defense as they look to build on a 2019 campaign that saw them come within one game of the State Final Four in Division VI.
Like teams everywhere, the COVID-19 pandemic has had an effect on the Bluestreaks offseason program. "Unfortunately, the pandemic has put us behind in terms of the weight room and conditioning side of things. Although we have lost some time together as a team, I am hoping that this time off has given everyone a chance to clear their heads and come focused for the upcoming season", said Dominique.
Archbold brings a wealth of talent back in both the offensive and defensive backfields, including quarterback DJ Newman, running back Noah Gomez and receivers Antonio Cruz and Brandon Taylor. The Bluestreaks were hit by graduation at the linemen position, but Dominique is hoping to continually improve up front and watch the competition for those open spots unfold throughout the preseason.
With the limited weight room time, Dominique says remaining healthy will be more important than ever. "Just like any other season, one key for us will be to remain healthy", elaborated Dominique.
"With not having as much weight room time as we are used this is a concern entering the season. We are going to really rely on our experience returning to help our underclassmen get a feel for varsity football to compete against our very difficult schedule".
Dominique expects the NWOAL race to be competitive like always with Liberty Center and Wauseon to be near the top.
Archbold opens the season at home this week against the Bryan Golden Bears.
2. Wauseon (9-3, 5-2 in NWOAL, Lost in D4 Regional Semifinals to Ottawa-Glandorf 21-14)
HEAD COACH: Shawn Moore-2nd Season
KEY LOSSES: Cody Figy-QB, Noah Tester WR/DB, Sean Brock-WR/LB, Holden Serres-OL/DL, Wes Spadafore-OL, Trenton Sauber-OL, Sammy Sosa-DL, Alex Moore-LB, Gavyn Dunn-DL
KEY RETURNERS: Connar Penrod-WR/DB (73 rec., 1,254 yds, 16 TDs, 39 Tackles; 5 INTs); Tyson Britsch-RB/LB (43 carries for 248 yds, 2 TDs, 46 Tackles, 2.5 Sacks, 2 INTs); Isaac Wilson-RB/LB (63 rushes for 309 yds, 3 TDs, 79.5 Tackles, 3 Sacks, 1 INT); Kolton DeGroff-WR/DB (14 rec., 249 yds, 1 TD, 28 Tackles, 1 INT); Jaden Banister-OL; Jack Shema-OL, Samuel Blanco-K, Jonas Tester-WR/DB (31 rec., 336 yds, 3 TDs, 85 Tackles, 3 INTs); Matthew Shaw-DE (19.5 Tackles, 6 Sacks)
After a successful first season, Shawn Moore and his Wauseon Indians return a lot of players who played significant roles in last year's team. Wauseon will look to take advantage of their athleticism at the skill positions by getting the ball to those players in the open field and allowing them to make plays.
One of the voids that the Indians will be looking to fill is at the quarterback position with the graduation of Cody Figy. "We again have some good players on the outside and we will be looking for someone who can manage our offense by making the correct reads and getting those guys the ball in space. We must also continue to play swarming defense looking to not give up the big plays that set us back in our losses last season", concluded Moore.
As far as the NWOAL race is concerned, Moore considers Archbold the team to beat with Liberty Center also being a factor.
Wauseon will get a big test to start the season this week when they host Liberty Center at Harmon Field.
3. Liberty Center (10-2, 6-1 in NWOAL (Co-Champs), Lost in the D6 Regional Semifinals to Archbold 31-30)
HEAD COACH: Casey Mohler-4th Season
KEY LOSSES: Zach Bowers-RB (1,434 yds, 17 TDs); Caleb Kahle-OL/DL; Connor Keller-WR/DB (27 rec., 369 yds, 84 Tackles, 4 INTs); Jake Lubinski-OL; Trent Murdock-TE/OLB (24 rec., 610 yds, 11 TDs, 33 Tackles, 10 Sacks); Alex Righi-WB/OLB (27 rec., 358 yds, 42 Tackles, 2 INTs); Aaron Shaffer-WR/DB (11 rec., 190 yds, 28 Tackles, 5 INTs); Maguire Vollmar-LB (82 Tackles, 5 Sacks); Logan Watkins-DL, Matt Winterfeld-OL/DL
KEY RETURNERS: Cam Krugh-QB (101/162, 1709 yds, 18 TDs, 6 INTs); Dylan Matthews-DB/WB (59 Tackles); Trey Patterson-WR/DB (34 Tackles, 2 INTs), Evan Cramer (OL/DL); Max Phillips-RB/LB (160 rushes, 1010 yds); Karter Kern-RB/LB (90 rushes, 563 yds); Evan Hogrefe-OL/DL; Zane Garber-OL/LB; Riley Weaver-OL/DL; Devin Robinson-OL/LB; Carsen Hageman-TE/LB, Brecken Garretson-RB/DB; Evan Conrad-TE/LB; Cameron Foster-RB/LB; Owen Johnson-OL/LB (49 Tackles); Owen Box-OL/DL (30 Tackles, 5 Sacks); Matthew Orr-RB/LB
The Liberty Center Tigers boast a large senior class and they will be looking to continue their success which included a Co-NWOAL title last season. The Tigers will be looking to replace most their receiving corp and secondary but do return quarterback Cam Krugh along with running backs Karter Kern and Max Phillips who combined for 1,573 yards rushing last year.
"We look to get better every week develop depth, and compete win in and week out", Head Coach Casey Mohler, who considers Archbold the odds on favorite to win the league.
Liberty Center gets the season started this week with a trip to Wauseon.
T4. Bryan (5-5, 4-3 in NWOAL)
HEAD COACH-Grant Redhead-6th Season
KEY RETURNERS: Titus Rohrer-TE/DE, Caleb Kepler-CB, Cannon Lamberson-WR, Breven Deckrosh-OLB, Parker Vollmer-OL, Zain Bell-OL, Noah Phillips-OL, Dylan McCandless-DE
Bryan will look to improve after a 5-5 season last year, a season Head Coach Grant Redhead hopes was a learning experience for the team. "5-5 was disappointing for us, we lost three close games. Hopefully, we have learned and matured", said Redhead when reflecting on the 2019 season.
Redhead likes his team's speed and athleticism but is concerned with their offensive line play. "Execution of assignments and matching the physicality of our opponents will both be key for us to have a successful season", added Redhead.
Bryan has a challenge on their hands to start the season this week as they travel to Archbold to take on the league favorites.
T4. Patrick Henry (10-4, 4-3 in NWOAL; Lost in D7 State Semifinals to Marion Local 40-6)
HEAD COACH: Bill Inselmann-28th Season
KEY LOSSES: TJ Rhamy, Wil Morrow, Kolton Holloway, Spencer Gerschutz, Garrett Schwiebert, Josh Stout
KEY RETURNERS: Caleb Rosengarten-C, Clayton Feehan-WR/DB, Noah Kistner, Jr.-FB/LB, Owen Jardine-DB, Timmy Johnson-DB
The Patriots lost as much as any team to graduation including the D7 State Defensive Player of the Year in TJ Rhamy, who was also the team's quarterback. Also graduating for Patrick Henry were Will Morrow (1st Team NWOAL-RB), Kolton Holloway (1st Team NWOAL-WR), Spencer Gerschutz (1st Team NWOAL-OG), and Garret Schwiebert (1st Team NWOAL-T).
Sophomore Gavin Jackson is projected to step in at quarterback and junior Noah Kistner is expected to be one of the playersto contribute at running back.
"It will be a rebuilding year for us. We lost eight starters on offense and seven on defense from our Final Four team last season. That included four all-state players. We will have a lot of competition and youth on our team this year", said Inselmann.
"We need to stay healthy and stay positive through a tough schedule and continue to improve throughout the season", added Inselmann.
The Patriots coach views Archbold as the league front runners, adding that he thinks that they have a great chance for a state title, something he says the NWOAL hasn't had for a number of years.
Patrick Henry starts the season at Swanton on August 28th.
T6. Evergreen (4-6, 2-4 in NWOAL)
HEAD COACH: Aaron Schmidt-4th Season
KEY LOSSES: Nick Beemer-OL/LB; Jack Etue-QB/DB; Jack Krispin-RB/LB; Brian Floyd-RB/LB; Will Smithmeyer-OL/DL; Levi Moore-OL/DL; Tyler Peppers-OL/DL
KEY RETURNERS: Jacob Fuller-OL/LB; Jacob Riggs-WR/DB (22 rec, 500 yds, 5 TDs); Landon Vance RB/WR/DE; Payton Boucher-QB/DB; Colin Smith-WR/DB; Cody Sheller-OL/DL; Sam Worline-OL/DL
Aaron Schmidt starts his 4th season as the head man at Evergreen and he'll have plenty of new faces to work with as he looks to replace his quarterback, two running backs, and several linemen.
"There has been a lot of turnover since the past season. Lots of new faces in prominent roles for this year", said Schmidt.
"There is a lot of learning to be done for all the kids on this team. Our season outcomes will depend on how well the kids improve throughout the course of the season. That job falls on both the duties of the players and coaches as well", he concluded.
Looking ahead to the NWOAL, Schmidt expects Archbold, Wauseon, and Liberty Center to be at the top vying the league title.
Evergreen begins their season at home versus Delta on August 28th.
T6. Swanton (2-8, 1-6 in NWOAL)
HEAD COACH: Denton Saunders-2nd Season
KEY LOSSES: Tyler Gowing-RB/LB; Riley Hensley-K/WR/DB; Brendan Keith-OL/DL; Xavier Wiemken-RB/OL/LB
KEY RETURNERS: Josh Vance-WR/DB; Trent Weigel-QB/DB; Devon Crouse-RB/DB; Nate Vance-QB/DB/OLB; Cole Mitchey-WR/DB; Lathan Pawlowicz-WR/DL; Kaden Keivens-WR/DB; Ian Saunders-RB/LB; Connor Cass-OL/DL/LB; Bryce Marvin-OL/DL; Austyn Gossett-OL/DL/OLB; Eric Betinger-OL/LB; Andrew Smigelski-OL/DL; Josh Towns-OL/DL; Aaron Thomas-OL/DL
Swanton is coming off a 2-8 season, a season that saw them lose several close games. The injury bug hit the Bulldogs last year also with injuries at five key positions and for two weeks all of Swanton's team captains were hurt at the same time.
This year Swanton will have roughly 48 kids on the roster with 12 seniors, 7 juniors, 18 sophomores, and 11 freshmen. Overall, the Bulldogs have a lot of experience returning with 12 players on offense and 11 players on defense who started multiple games last season.
Despite the returning players depth is still a concern for Saunders. "If a player or two gets injured I am not sure we will have the quality depth to fill their spot. So, for us to be successful we have to stay healthy, come together as a team, tackle, force turnovers, protect the football, and put points on the board", added Saunders.
Swanton starts the season at home on August 28th when they host Patrick Henry.
8. Delta (0-10, 0-7 in NWOAL)
HEAD COACH: Nate Ruple-2nd Season
KEY RETURNERS: Austin Kohlhofer-OL; Max Hoffman-RB/LB; Nick Mazurowski-QB/DB; DJ Davis-RB/DB; Josh Tresnan-Reighard-RB/LB; Evan Perry-OL/LB; Rollin Robinson-OL; Blake Schauwecker-DE; Austin Michael-DE; Kalvin Tenney-DB; Ty Osborn-DL
Fifthteen letterwinners are back for Head Coach Nate Ruple who begins the 2nd season of his second stint leading the Panther program. Delta will be looking to build on the experience gained by returning players from last year's 0-10 season.
"We will need to work to build and may need to rely on some younger players as key contributors at some positions. With a roster that includes many experienced players, we expect to be much more competitive in the NWOAL this year", stated Ruple.
The 2020 season gets underway for Delta on August 28th when they travel to Evergreen.
Nate can be reached at publisher@thevillagereporter.com
---