---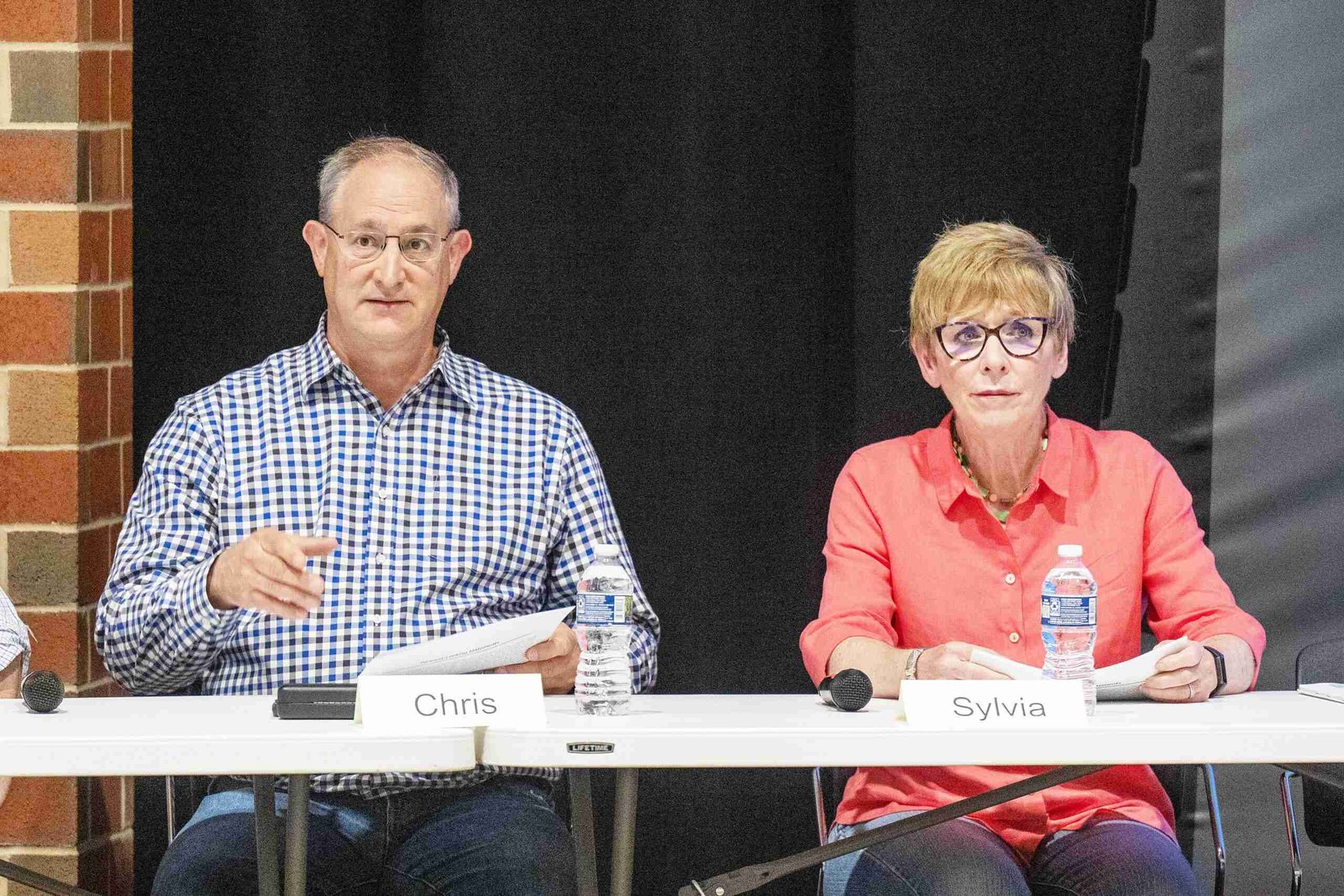 PANEL … President and CEO Sylvia Wulf and Vice President Chris Bucich who leads the buildout for the Ohio farm sit to help answer local resident's questions about their new facility. (PHOTOS BY JACOB KESSLER, STAFF)
---
By: Jacob Kessler
The company AquaBounty held a town hall meeting at the North Central High School on Wednesday, June 22nd in order to discuss opposition to their new facility. The new facility has broken ground and is currently being built in the village.
The facility currently being built will be around 479,000 square feet in size. Jobs expected to be created from the project, on a permanent basis, is expected to range from 100 to 140. Costs for the facility are currently in the $300 million plus range.
Production estimates are currently expected to be around 22 million pounds of fish annually. As stated during the town hall, the company expects to stock their first fish in the facility during the last quarter of 2023.
Before the town hall took place, around twenty protestors met at the school with signs to express their opinions on the matter.
Signs held up made statements such as "No Frankenfish," "Good neighbors do not exploit the resources of others for their own benefit. It's our water," "No GMO Fish Farm," "Protect our water," and "Aquabounty cannot be a good neighbor."
Signs were held up to show concerns for many different issues that they have in regard to the new facility being built.
"We are out here to show our opposition to the AquaBounty project. There are so many levels involved to this."
"In our area it's about withdrawing 5 million gallons a day from the aquifer and then turning around and dumping into the St. Joe almost that same amount of water."
"First of all, we don't believe that it's a wise use of such a pure source of water to be used essentially for a fish tank. Then when you look at the discharge, it goes into the St. Joe which is one of the sources of drinking water for the people in Fort Wayne and there really hasn't been a lot done as far as environmental assessments to see what all is in that discharge," said Sherry Fleming who was one of the protestors.
Fleming also explained that other concerns of people at the protest, including herself, involve the "genetically engineered salmon" escaping and getting out into the Great Lakes where they may "wreak havoc on the local ecosystems."
Inside, seating was provided to accommodate approximately 150 people. By the time the town hall had begun, only 41 seats had been filled with this number not changing by much throughout the event.
Megan Hausch with the Williams County Economic Development Corporation kicked off the nights town hall and introduced Sylvia Wulf who is the President and CEO of AquaBounty.
Wulf first introduced herself and the rest of the panel before speaking about AquaBounty, its history and what they are about. Some information was also given regarding their current facilities in Albany, Indiana and Prince Edward Island in Canada.
Wulf then shifted and began speaking about the new facility coming into Pioneer. Some points talked about by Wulf include the fact their fish are all females who are sterile.
There are also numerous safety measures in place, including nets that will ensure that none of the fish escape, explained Wulf. She also explained that water being discharged will either meet or exceed standards set by the EPA who will also be monitoring the discharges.
Wulf also spoke about the current supply chain, and how this new facility will have an impact on our local area.
---
PROTESTORS… Protestors stand outside North Central High School where the AquaBounty town hall meeting was held.
---
She explained that currently, the supply of salmon is mostly flown in from Norway and Chile, and that the salmon grown in Pioneer will be able to be used in the US without having to rely on having it flown in.
A slide show with information also played up on the stage with Wulf as she went through her presentation. Information on the slides stated some of the following information.
"Our approach is to utilize a recirculating water system with the following capability. 99.5% of the water will be recirculated. Only 0.5% of the water will be brand new water.
New water is recirculated for approximately six days before it is discharged from the facility. All the water that is extracted, at a minimum, will be conditioned to comply with EPA standards before it returns to the river.
The facility incorporates a Wastewater Treatment Plant where organic matter (fish waste) is treated and removed prior to being returned to the river."
Another slide also discussed the expected water usage on the approved well field and results from completed studies.
"Test wells have been drilled and pumped to determine if the correct quality and quantity of water is available. Water quality was tested to determine it was suitable for raising our fish and we concluded the water quality is very good.
A water model (aka hydrology model) was developed to accurately check for the impact." The slide continues on to explain each of the steps taken to check for an impact. Several other slides were also discussed before moving on to the question-and-answer portion.
Questions were broken down into categories which included financials, St. Joseph River, Employment, Water/Aquifer/Water Discharge, Wells, ODNR, Opposition, Facility, Pioneer, Fish, Community Partnership, Town Hall, and Legal/Miscellaneous.
74 questions were submitted online previously before the town hall took place. Some questions and answers given are as follows.
"Please explain the poor financial condition of Aqua Bounty in regards to the $22.3 million dollar net loss in 2021 and $16.4 million dollar loss in 2020." Sylvia Wulf responded with the following.
"So were an early-stage company, and often early-stage companies don't make any money. What I can tell you is we have extremely strong balance sheets. We've got lots of cash available to continue to run, not just the farm, but our continuing operations on Prince Edward Island and in Indiana."
"It's not unusual to see financials like this, and our investors believe in the promise of what we're doing, and they continue to invest in the company."
"How will the used water from the salmon factory be taken to the St. Joe River?" Chris Bucich took this questions and responded with the following.
"When we say the used water, first before it leaves our premises it has to be treated. And that is treated to what the Ohio EPA's given us for standards."
"Those are the standards we want to use to meet or exceed any of the water that leaves the facility. We will have underground pipes that are at least five feet or more below the ground to take it to the river."
"Why do you insist on dumping 3 to 5 million gallons of water a day into a river that is not able to handle it?" Chris Bucich took this question as well and responded to it with the following.
"First, I want to dispel a myth here about it not being able to handle it. When we do the models, we are being ultra conservative when we develop the models."
"One of the things you will see and its of public record, and it's not from us, it's from the USGS. The water, as it says can't handle it in the creek, part of our first application for the water, some of the public comments asked us and there are other geologists that did some reports, we include those."
"What those reports looked at was the flows during all times of the year. So, there's records Ohio keeps that says what are the water levels at different times, so those times where everybody sees it in the spring when there's flooding, they looked at that and they said, the explanation to us was, if you took a gallon of water, it would be like putting a gallon of water into an Olympic pool."
Numerous other questions were asked throughout the night such as, "How can the St. Joe River possibly hold that much additional water without overflowing it's banks? That much flooding already occurs with too much rain."
"What will your pay scale be?" "Why do you refuse to recycle the water drawn?" "How can you take 5 million gallons a day of our pure drinking water out of the aquifer, and think there will be no consequences?" "How exactly will all these millions of gallons of water get back into the aquifer?"
"Is there any scientific evidence our area will not suffer water loss?" "The ODNR report mentions a ten-foot drop in the water levels in the surrounding area."
"How big of a concern is this for the town of Pioneer wells and other residents in the area?" "How will AquaBounty help property owners with wells in 2-mile radius of new well field."
"For instance, my well is only 73 ft. deep. I do not think it can withstand a 10-18 feet drop daily and still provide adequate water for my household."
---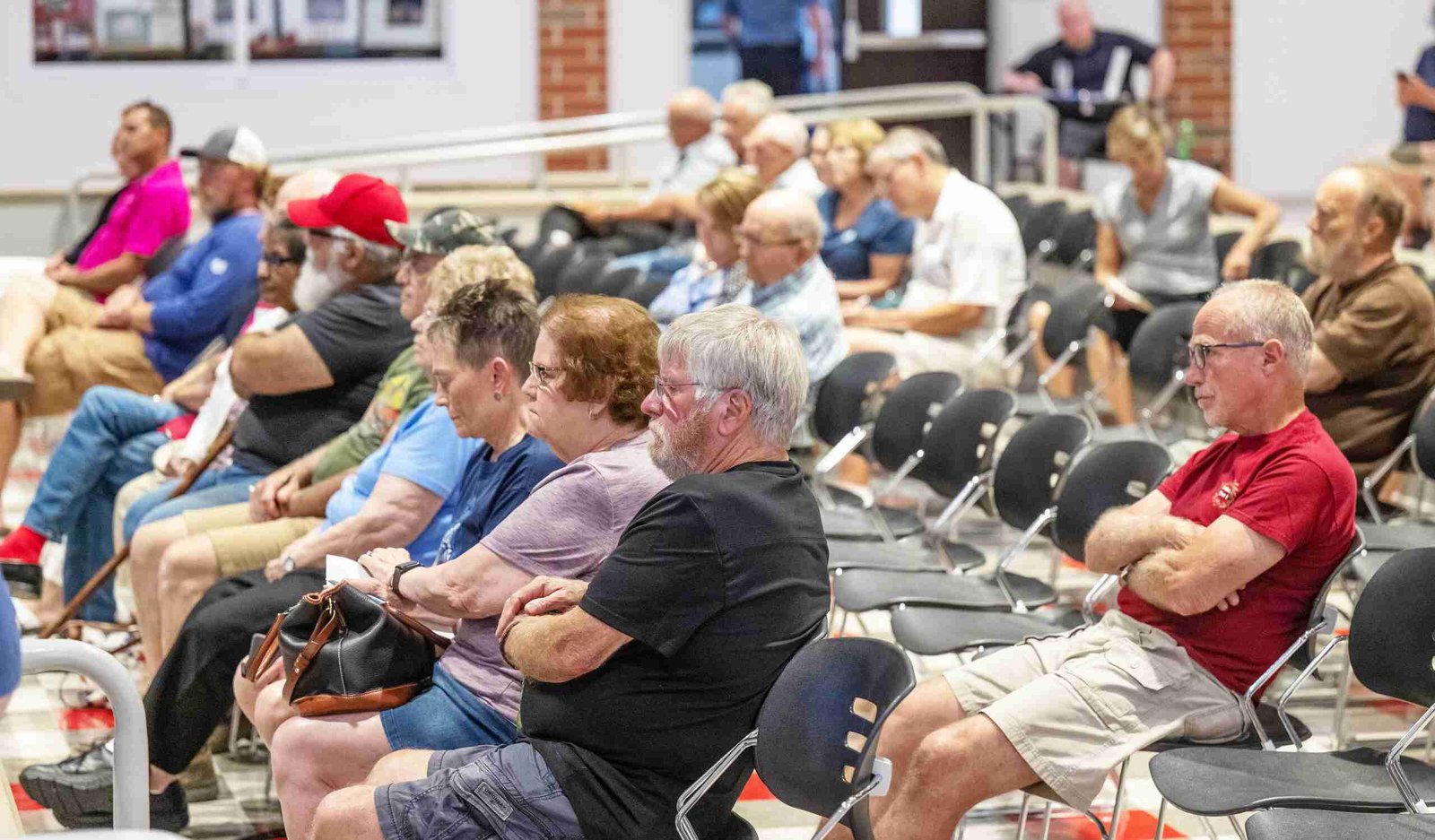 TOWN HALL … Local residents take their seats for the AquaBounty town hall meeting at the North Central High School.
---
Answers were given for each of these questions and more throughout the night. It was stated before and after the meeting that information shared during the meeting will be posted on-line at www.wedco.info
During the question-and-answer portion some members of the audience spoke directly with the panel.
Towards the end of the meeting one audience member asked questions regarding how much the public road extension will cost and also spoke about Mayor Ed Kidston.
CEO Sylvia Wulf stated, "We didn't come to Pioneer because of Ed Kidston." The audience member then stated, "yes you did." Sylvia Wulf and Chris Bucich responded with "no we didn't."
The audience member then stated, "He told me himself, he met you guys down in Tennessee," with the rest not being able to be heard when Wulf interjected with "no he didn't, we did not. I can tell you that no we did not."
"We didn't meet Ed until we had identified Pioneer as a potential site. Just so you know, never met him before. I can tell you that."
"Every single site we looked at went through exactly the same selection criteria and the same process and we did not come to Pioneer because of Ed Kidston."
"We came because Pioneer checked all the boxes that we were looking for in terms of a place to locate our site."
Another audience member then stated that "when it comes down to the end of it, you would be welcome here. But there's so much controversy in this town now. We are not against you, were concerned about the water."
Following the discussion with those audience members, the town hall meeting had reached its conclusion.
Following the town hall meeting, President and CEO Sylvia Wulf spoke to The Village Reporter and stated the following about the meeting.
"I would say it went according to my expectations. There's a lot of concern in this community and most of it doesn't have to do with AquaBounty."
"But it gives us a chance to have those discussions with people who are concerned about who we are and what we are going to do."
"And so, any time we have an opportunity to help them understand just exactly what we're going through and make sure they know that our data is available, I think that's a positive." Members of the audience were also spoken to by The Village Reporter and had this to say.
"My concern is the aquifer and I got involved back when they were going to pump water to Toledo. I ended up talking to the people in the Ohio State and the Ohio State did a bunch of studies because they were looking at nutrient run off into Lake Erie."
"And one of the sidelines of that study was they discovered when fields had been tiled for agriculture, it made a tremendous difference to the amount of water that made it down to the aquifer."
"They found that when it was tiled, almost 100% of the water came out into the stream, very little of the water got the chance to soak down through. I talked to the guy who was in charge of the study, he was retired, at home and I finally got a hold of him one night."
"He said yea, my statement would be that tiling the field is like putting a well on the aquifer. And so, then a lot of the studies that had been done in the past that they always cite, nobody's done a study since then."
"If you look up what percentage of the land in Williams County is tiled, its huge," said Gary Crider.
"I was leaning against it, but now because of the openness I am more willing to consider it. The draw down and the withdraw of water has been a concern."
"I'm not sure if the aquifer can sustain that type of draw down, but now that they brought up the RAS recycling system, that is a big plus," said Jeff Wetmore.
Further questions are able to be answered in regard to the project. Questions can be sent to office@wedco.info where they will then be forwarded on to AquaBounty.
Jacob can be reached at jacob@thevillagereporter.com
---