---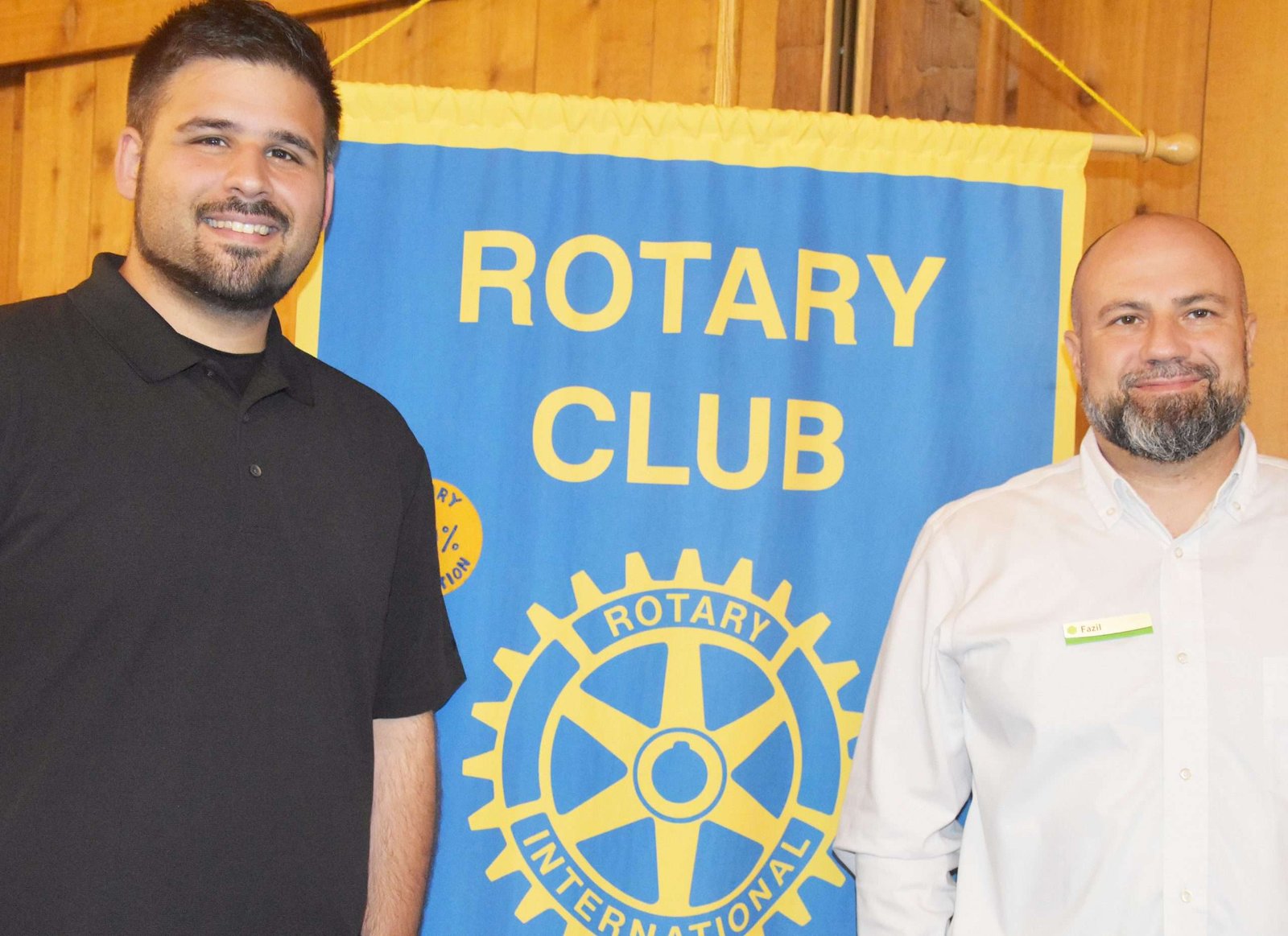 SHARING BUSINESS STRATEGY … Business and community banker Mike Alfarah, left, with Huntington Bank shared some ideas for businesses as interest rates continue to climb and retaining employees remains a challenge. Mike's territory includes all areas served by Huntington banks west of Toledo. The program was arranged by Fazil Gorgun.
---
Shortly after Mike Alfarah completed his presentation to Rotarians on the impact of rising interest rates on businesses, the Federal Reserve raised the cost of borrowing another three-quarters of a percent in its attempt to bring inflation down.  He began his talk saying that such an increase was likely to occur.
However, he said forecasters at Huntington Bank believed that this might be the last large increase this year because further increases of this magnitude could easily cause a recession.
Even in these times, he noted that there are some opportunities.  For example, businesses having cash flow problems might want to consider talking with their bank about something called a "credit sweep."
He explained that the bank would credit each day's deposits toward the business's loan obligations overnight and then return the funds to the business the next morning.
While there's a fee for the transactions, he said some of his business clients have found the "credit sweep" to be helpful for them.
Additionally, he said that businesses or individuals with cash that they don't need for awhile might want to consider investing in CD's while interest rates are rising.
It could very well be a better, safer investment that could be locked in for a number of months while the rate of return is higher than it has been in a long time.
Also, if this is the top of the interest rate spike, then persons seeking loans might want to consider variable rate loans instead of fixed rate loans.
Alfarah also talked about the on-going challenge of keeping workers and finding new employees since the COVID work at home experience has started.
Persons looking for jobs are clearly in the drivers' seat now as reports say that 66 percent of all employees are quietly looking for a new job — up 4 percent from last year.
He said many persons are either looking for a job where they can continue to work from home or even turn an interest that they are passionate about into a business that they own.
Some jobs, he explained, don't require face to face contact with customers, so current employees are looking for jobs with out-of-town employers that they can continue to do from home.
In many cases, the companies are based in large urban areas where salaries are high, and they are looking for employees who will work from home at a better salary than they currently make, but at a lower salary than the company would have to pay an employee who lived in the city.
For employees, it's a work life balance issue.  For companies, Alfarah said they should use the self-reflection process to ask whether they are doing a good job of creating a work environment that continually trains and supports its employees so they can do the job that's expected.
"Most people don't quit their job.  They quit their manager," he said.  "It costs less to retain workers than it does to train new employees."
---