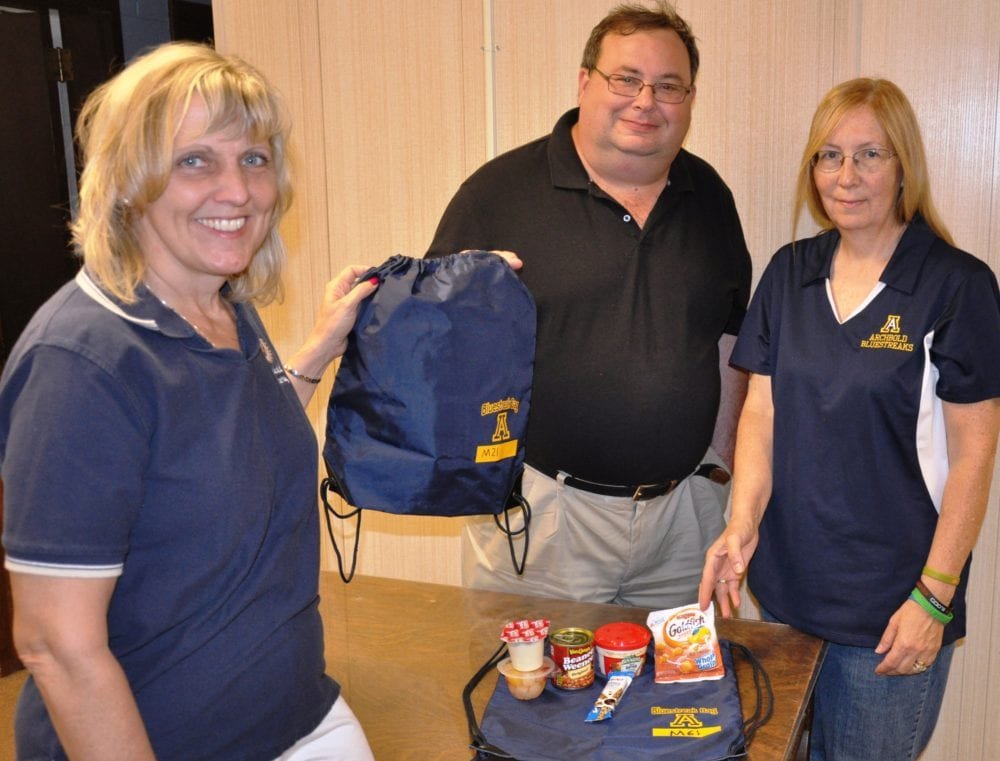 During the recently completed 2015-16 Rotary year, Archbold Rotarians and the club donated $33,222 to a wide variety of school and youth programs, community organizations, and student scholarships as well as Rotary International's PolioPlus program and The Rotary Foundation to support international projects.
Mari Yoder was president of the club for the year ending June 30.
The club donated $3,000 to a new community and school program called Bluestreak Bags. During the school year, every elementary and middle school student whose family qualifies for the free and reduced lunch program will be eligible to receive a "Bluestreak Bag" every Friday with six food items to supplement their weekend meals.
An estimated 250 students will be eligible for the program; however, families will have to sign up for the program.
Other 2015-16 donations include $6,250 in college scholarships that were awarded to Archbold seniors and two $500 scholarships awarded to Archbold school district residents attending Northwest State Community College.
School-related donations were given to the high school art club to purchase a pottery wheel, $1,300; the Archbold vocal music boosters to help with lighting improvements to the high school auditorium, $2,300; Junior Achievement, $500; the Hugh O'Brien Leadership program, $400; the Archbold After Prom, $200; and the Archbold Elementary book fair to provide a book for students who otherwise could not buy a book, $300.
The club also sponsored a student to attend the World Community Workshop at Defiance College, $200; gave the Archbold athletic boosters $500 for athlete yard signs and donated $3,200 for the new baseball field scoreboard.
Other donations were the Four Way Test speech and essay contest awards, $700; third grade classroom dictionaries, $339; and support for Ridge Project youth programs, $100.
Community organizations or programs receiving Rotary support during the year included Fulton County Christmas Cheer, $500; Fulton County Heart Radiothon, $1,000; sponsoring and serving a community meal, $575; Archbold Area Chamber of Commerce, $500; Sauder Village, $1,000; Community Health Professionals, $250; Fairlawn Auxiliary, $150; and the Parade of Lights, $100.
All 60 members of the Archbold Rotary Club made donations totaling $5,980 to The Rotary Foundation to support the organization's international projects. And, the club donated an additional $500 to The Rotary Foundation.
Members and the club also donated a total of $2,326 to Rotary's PolioPlus program to eliminate polio from the world. When the program started in 1988, new cases of polio were recorded in 125 countries. Today, new cases of polio has been reduced to just two countries – Pakistan and Afghanistan.
Last fall, the Archbold Rotary Club agreed to sponsor and organize Archbold's Sesquicentennial parade that will be held Saturday morning, July 16. Mari Yoder and Dale Kern have been the co-chairpersons of the parade committee.
The single largest fund-raiser for the club is a game show themed dinner and reverse raffle held the third Friday in November. Last year, it netted nearly $16,250.
INFORMATION PROVIDED