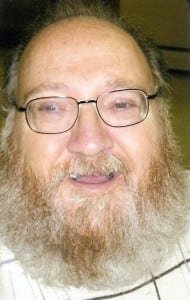 Arnold "Max" Musser, Jr., age 59, of rural Edgerton, Ohio, died at 3:31 P.M. on Monday, September 3, 2012, at St. Joseph Medical Center in Fort Wayne, Indiana, after an illness of several months. Mr. Musser was a 1970 graduate of Edon High School and was a member of the baseball team that was runner-up in the state baseball championship game in 1967.
He was employed by Spangler Candy Company, retiring with thirty-eight years of service, and also owned the Christmas Manor in Bryan for five years, where he enjoyed playing Santa Claus for young and old alike. His memberships included Teamsters Local #20 and the Lick Creek Church of the Brethren in Bryan. Most of all, he was an avid North Carolina Tar Heels fan.
Arnold "Max" Musser, Jr. was born on December 9, 1952, in Bryan, Ohio, the son of Arnold Max and Arlene Gaye (Parsons) Musser, Sr. He married Loretta Mawk on May 5, 1973, at Mount Olive Church near Blakeslee, Ohio, and she survives.
Survivors also include two daughters, Laura (Kenny Baron) Musser, of Fort Wayne, Indiana, and Shannon (John) Mason, of Bryan, Ohio; five grandchildren, Chelsea, Peyton and Taylor Shafer and Destinee and Tyle Mason; one brother, Mike (Sue) Musser, of Edon, Ohio; and two sisters, Marie (Monte) McKelvey, of Bryan and Marcia (Todd) Derrow, of Auburn, Indiana. He was preceded in death by his parents and twin brothers, Ronald and Donald Musser.
Visitation was held Thursday, September 6, 2012, in the Krill Funeral Home, Bryan. Services were held Friday, September 7, 2012, in the Lick Creek Church of the Brethren in Bryan with Pastor Eric Wetzel officiating. There was also visitation in the church for one hour prior to the service. Interment followed in Williams Center Cemetery.
Memorials are requested to the Lick Creek Church of the Brethren Benevolent Fund.
To sign the online register or to send condolences, please visit www.krillfuneralservice.com.