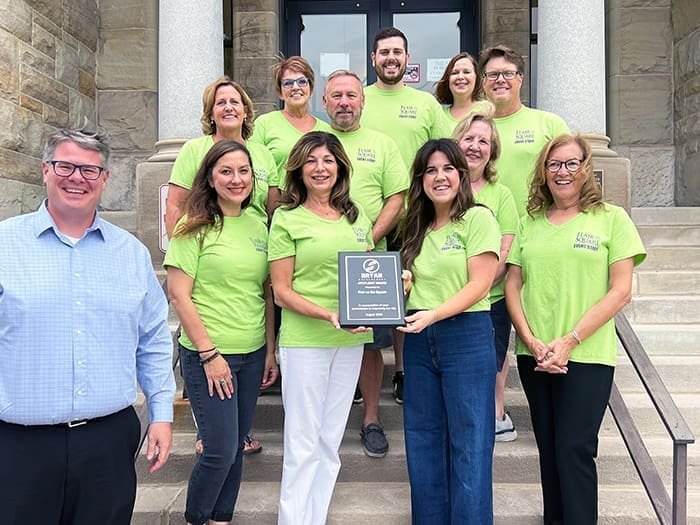 ---
To recognize local investment in buildings, landscaping, events, and other improvements, Bryan Development has created a monthly "Spotlight Award."
August's recipient is Flair on the Square, an art, music and food festival, which held its inaugural event Saturday, July 29th.
Flair on the Square was well executed and filled the downtown square with activities and visitors. The day's activities included a juried art fair, an emerging artist exhibit, sidewalk chalk art, a children's theater presentation, make and take art projects, food trucks, and live music.
The Flair on the Square steering committee also worked in conjunction with Black Swamp Arts Council to present an art walk shown in store fronts around the square.
"Flair on the Square provided an incredible venue for artists to express themselves, share their talents, and receive support from our community" says Russ Davies, President of Bryan Development.
The public response was excellent with many enjoying the art, music and food that lasted from 10 am to 9:00 pm. It took a dedicated, organized group to bring the festival to life.
"This event is a wonderful opportunity to promote the arts in northwest Ohio, and it's something our area has been missing for a long time," says Pam Steel, chair of Flair on the Square's steering committee.
"It's exciting to have one event that brings professional artists, emerging artists, and local art groups all together."
"Between the juried art fair, live demonstrations, community art, music and food, there really is something for everyone," said Drew Kleinhen, arts coordinator for the steering committee.
Bryan Development's mission is to enrich the community by encouraging economic activity, preservation and community pride.
The BD presents the Spotlight Award to a resident, business, industry, or institution that has invested in new construction, preservation, restoration, or beautification efforts, in Bryan.
Spotlight Award recipients are recognized by Bryan Development with a plaque and through social media and local news outlets.
The community is encouraged to submit Spotlight Award Nominations at developbryan@gmail.com.
---