---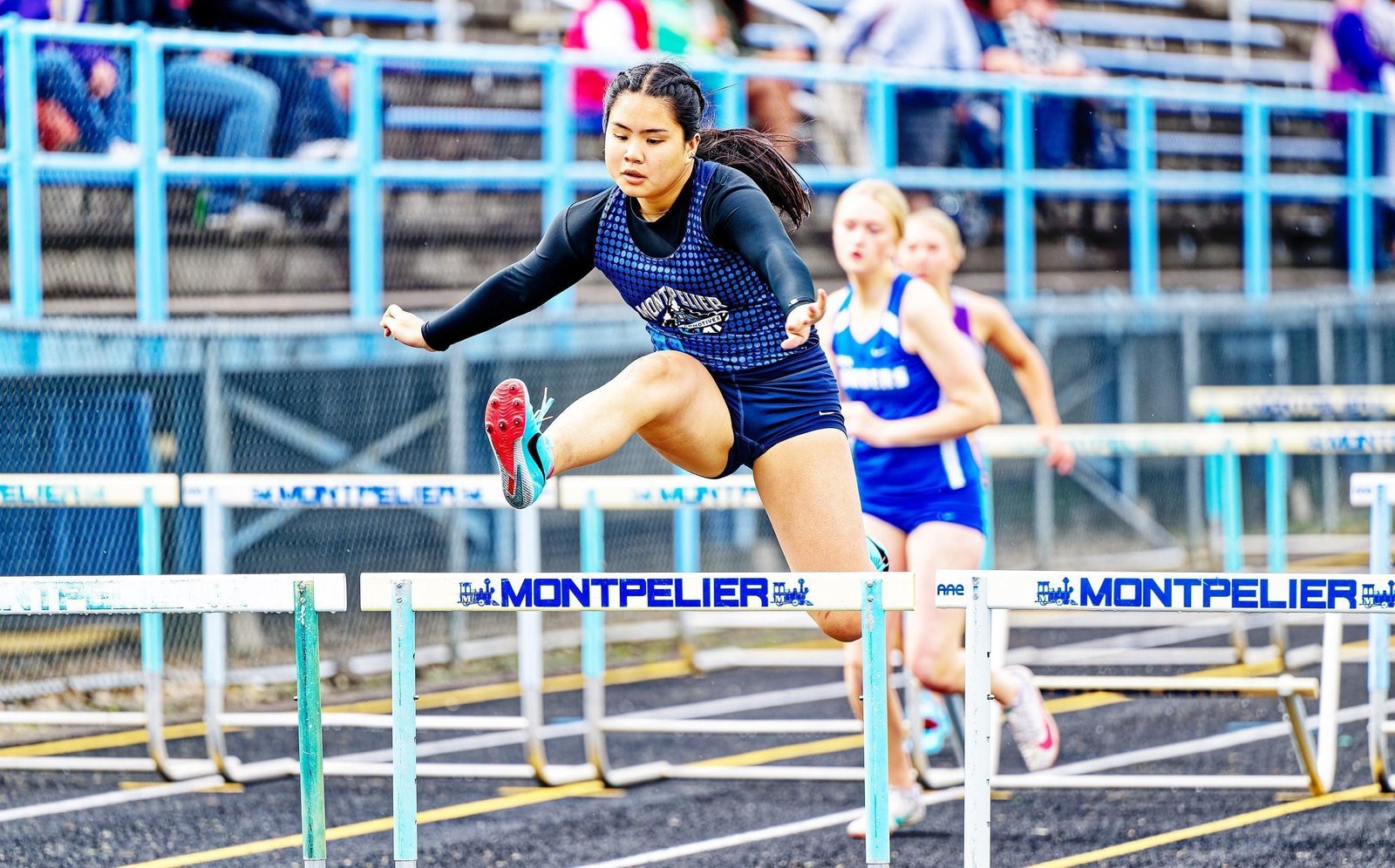 BBC CHAMPIONSHIPS … Emily Manisaeng from Montpelier clears a hurdle during the 100 meter hurdles prelims. Manisaeng went on to place second in the 100 finals and was third in the 300 meter hurdles. (PHOTO BY JACOB KESSLER / THE VILLAGE REPORTER
---
By: Nate Calvin
MONTPELIER (MAY 13, 2023) – After a venue change due to possible weather, the BBC Track & Field Championships were held at Montpelier where the host school brought home the girls title while Pettisville was the top team on the boys' side.
The Pettisville boys totaled 159.5 points followed by Edon (102) and Montpelier took third (98).
Sam Haley fronted the Blackbirds effort by taking first in the 100 and 200 meter sprints along with being part of the 4×100 and 4×400 relay teams that took the gold.
Pettisville also grabbed first in the 4×400 relay and Zach McWatters placed first in the 3200 with a time of 10:13.
The third-place Bombers also had a multiple event winner as Eli Dickman won the 110 hurdles (16.8) and the 300 hurdles in a time of 42.2.
Fayette had three first place finishes on the day led by Jose Blanco who set a new league record in the 800 at 1:59 and won the 1600 with a time of 4:34, just edging out McWatters.
The Eagles third win of the championships came from Evan Beauregard who cleared 10'0" to win the pole vault.
Stryker, who placed fourth in the team standings, had two winners in the field events as Jacob Myers took the long jump (18'6.5") and Jake Gaskill won the discus (130'6").
On the girls' side of things, Montpelier racked up 173.5 points for a BBC title with Pettisville taking second (148.5) and Fayette was third (88).
Montpelier and Pettisville both were dominant in the running events with Bria Friend winning the 100 meter dash for the Locos and Aleigha Hillard captured the 200 and 400.
For Pettisville, Grace Remington won the 800 (2:30) and Amanda Grimm won the 300 hurdles, just ahead of Montpelier's Kharleigh Kitchen, who won the 100 hurdles with a time of 18.4
The Locos and Blackbirds were strong in relay events also with the Locos taking the 4×100 and 4×200 while Pettisville won the 4×400 and 4×800.
Holgate had two athletes pick up two wins on the day with Elisabeth Willett winning both the 1600 and 3200 and Justine Eis won both the shot put and discus.
BOYS RESULTS
TEAM SCORES: 1. Pettisville 159.5; 2. Edon 102; 3. Montpelier 98; 4. Stryker 73; 5. Holgate 71; 6. Fayette 58; 7. Hilltop 46.5; 8. North Central 44
RUNNING EVENT WINNERS: 100 meters – S. Haley (P) 11.6; 200 meters – S. Haley (P) 23.7; 400 meters – Graffice (52.9); 800 meters – Blanco (F) 1:59; 1600 meters – J. Blanco (F) 4:34; 3200 meters – Z. McWatters (P) 10:13; 110 hurdles – E. Dickman (E) 16.8; 300 hurdles – E. Dickman (E) 42.2; 4×100 relay – Pettisville (L. Graffice, S. Adkins, C. Bowers, S. Haley) 46.0; 4×200 relay – Montpelier (E. Fackler, B. Brink, J. Camper, B. Friend) 1:36; 4×400 relay – Pettisville (L. Graffice, S. Haley, J. Leppelmeier, Z. McWatters) 3:38; 4×800 relay – Holgate (N. Milller, E. Fritz, J. Westrick, L. Miller) 9:10; FIELD EVENT WINNERS: High jump – J. Burt (NC) 5'10"; Pole vault – E. Beauregard (F) 10'0"; Long jump – J. Myers (S) 18'6.5"; Shot put – Pontious (M) 46'7.75"; Discus – J. Gaskill (S) 130'6"
GIRLS RESULTS
TEAM SCORES: 1. Montpelier 173.5; 2. Pettisville 148.5; 3. Fayette 88; 4. Holgate 85; 5. Edon 70; 6. Hilltop 44; 7. Stryker 41; 8. North Central 4
RUNNING EVENT WINNERS: 100 meters – B. Friend (M) 13.5; 200 meters – A. Hillard (M) 27.0; 400 meters – A. Hillard (M) 1:02; 800 meters – G. Remington (P) 2:30); 1600 meters – E. Willett (Holgate) 5:25; 3200 meters – E. Willett (Holgate) 12:13; 100 hurdles – K. Kitchen (M) 18.4; 300 hurdles – A. Grimm (P) 51.2; 4×100 relay – Montpelier (J. Altaffer, M. Crisenbery, B. Friend, E. Manisaeng) 52.9; 4×200 relay – Montpelier (M. Crisenbery, J. Clinger, J. Altaffer, B. Friend) 1:52; 4×400 relay – Pettisville (M. Remington, E. Holyman, K. Sears, G. Remington) 4:30; 4×800 relay –  Pettisville (M. Remington, E. Hoylman, K. Sears, G. Remington) 10:21; FIELD EVENT WINNERS: High jump – G. Rodriguez (Hilltop) 4'6"; Pole vault – Grimm 8'6"; Long jump – Altaffer (M) 15'0"; Shot put – J. Eis (Holgate) 37'8.5"; Discus – J. Eis (Holgate) 133'10"
Nate can be reached at sports@thevillagereporter.com
---